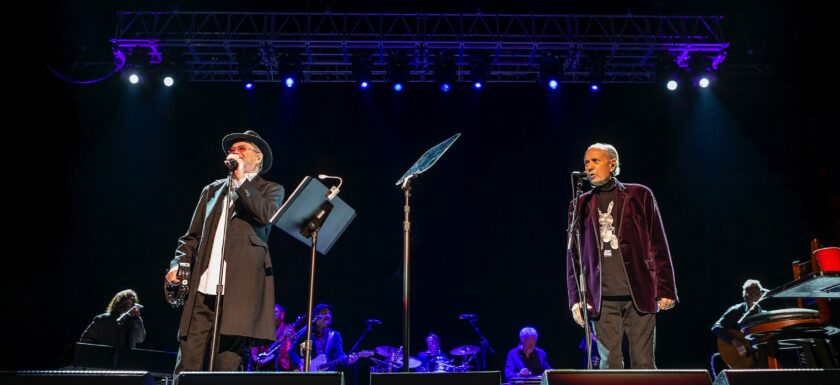 THE MONKEES
Mohegan Sun Casino Arena
Uncasville, Conn.
October 29, 2021
Photos & Review by Tom Bogus
UNCASVILLE, Conn. – The last two remaining members of the legendary 60's rock band The Monkees, Michael Nesmith and Micky Dolenz brought their forty-stop Monkees Farewell Tour to the Mohegan Sun Arena in Uncasville, Connecticut. This tour was a celebration of fifty-five years of Monkeemania and to give a final farewell to a band that has entertained so many over the past five decades, both musically and the visual entertainment of their 60s music television show.
The group was formed in 1965 by two television producers who wanted to make a situational comedy television show. The show aired from 1966 to 1968, though the show would continue to air in re-runs in various markets, even to this day. The Monkees reruns had been able to educate generations of fans through the years on the music of The Monkees.
The band's original line-up consisted of the American actor/musicians Micky Dolenz (drums, vocals), Michael Nesmith (guitar, vocals) and Peter Tork (bass guitar, keyboards, vocals) with English actor/singer Davy Jones (percussion, vocals). Sadly, Davy Jones passed away of a heart attack in 2012 and Peter Tork passed away in 2019 from cancer. Although Davy and Peter are no longer with us in body, they live on through their music.
The Monkees took to the stage at about 8:20pm opening up with "Good Clean Fun", a song off of their 1969 release The Monkees Present, which set the wheels in motion for the 31 song, 2 hour concert in which they broke into two parts with a short intermission in between. The show featured most of The Monkees biggest hits like "Last Train to Clarksville", "Pleasant Valley Sunday" and "Daydream Believer" along with many fan favorites such as "Mary, Mary", "Porpoise Sky (Theme From Head), "(I'm Not Your) Steppin' Stone" and lots of others. The Monkees ended the show on a high note with "I'm a Believer".
THE MONKEES photo gallery
SETLIST
Set 1:
1- Good Clean Fun
2- Last Train to Clarksville
3- The Kind of Girl I Could Love
4- Different Drum
5- Sunny Girlfriend
6- Mary, Mary
7- You Just May Be the One
8- For Pete's Sake
9- The Door Into Summer
10- Randy Scouse Git
11- Love Is Only Sleeping
12- Birth of an Accidental Hipster
13- St. Matthew
14- As We Go Along
15- Circle Sky
16- Pleasant Valley Sunday
Set 2:
17- Porpoise Song (Theme from "Head")
18- While I Cry
19- Me and Magdelena
20- Papa Gene's Blues
21- The Girl I Knew Somewhere
22- A Little Bit Me, a Little Bit You
23- Tapioca Tundra
24- Auntie's Municipal Court
25- What Am I Doin Hangin' 'round
26- Goin' Down
27- Sweet Young Thing
28- (I'm Not Your) Steppin' Stone
29- Daydream Believer
30- Listen to the Band
31- I'm a Believer