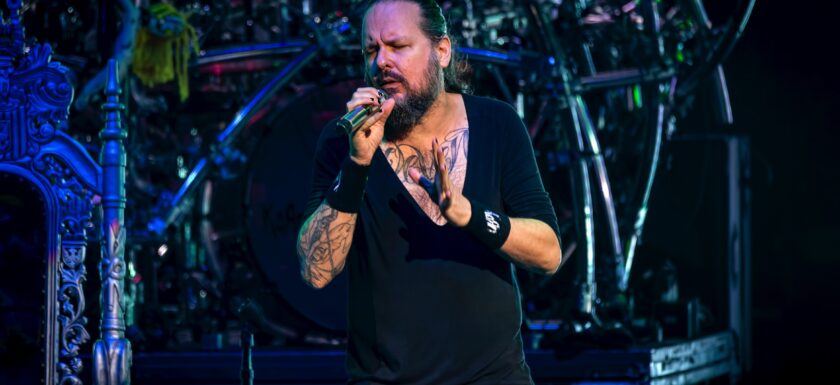 KORN
Xfinity Theatre
Hartford, Conn.
October 2, 2021
Photos & Review by Tom Bogus
HARTFORD, Conn. – Two time Grammy award winning Nu-Metal band Korn made it to the Xfinity Theatre in Hartford along with supporting bands 68 and Staind. It was not an easy road for the band to get there, after Korn vocalist, Jonathan Davis, tested positive for Covid-19 on August 16th, the band was forced to cancel and reschedule six tour dates, including this Xfinity Theatre show originally scheduled for August 20th. The band resumed touring on August 27th at the Hollywood Casino Amphitheater in Tinley Park, Illinois. On September 9th, while in Salt Lake City, Utah, Korn guitarist James "Munky" Shaffer tested positive for Covid-19 and had to sit out a couple of shows. While recovering, JR Bareis of the band Love and Death filled in for Munky until his return to the stage on September 21st in Dallas, Texas. The band has stayed Covid-19 free since.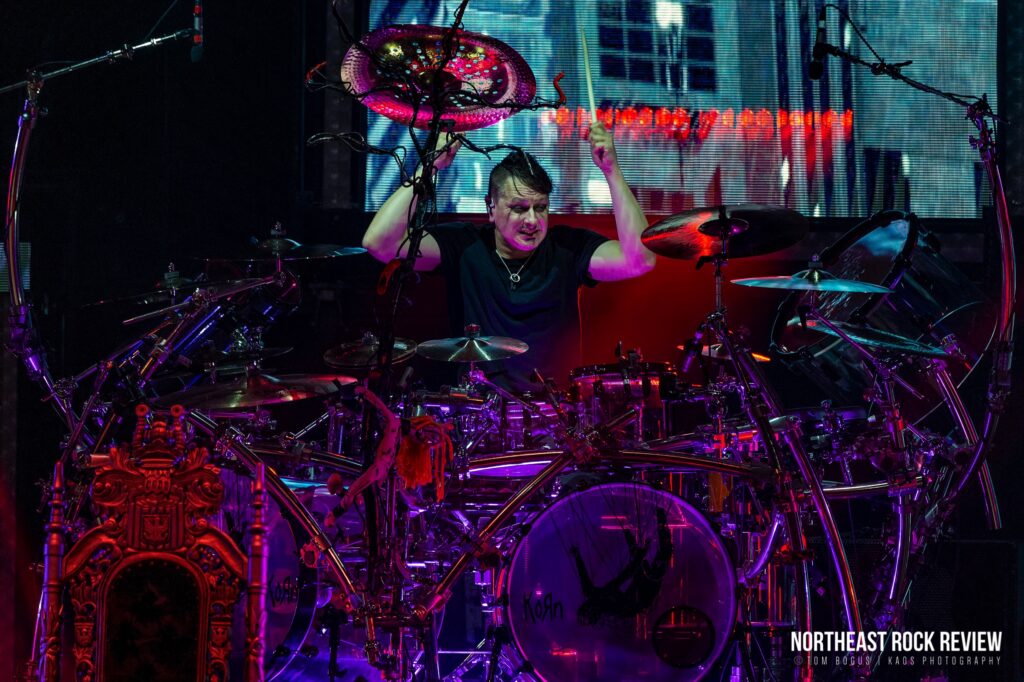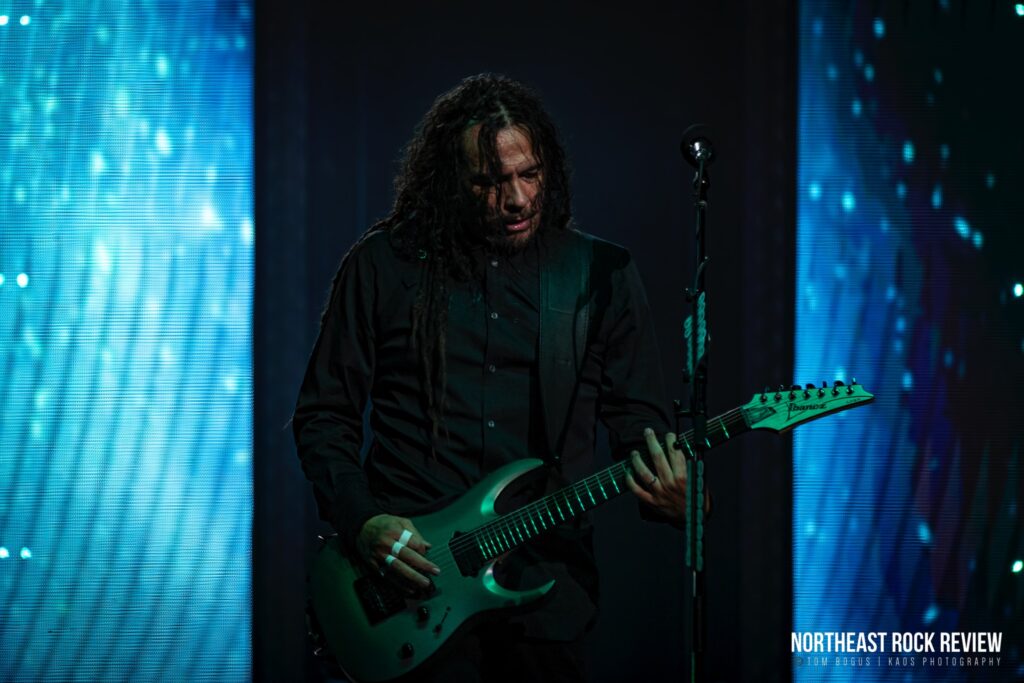 After show openers 68 and Staind dominated the stage and got the audience ready for Korn. The house lights went dark at 9:20pm and as "The Seduction of Indulgence" played over the P.A., the curtain dropped and Korn kicked into "Insane", from their 2016 release The Serenity of Suffering. Right out of the gate the whole band sounded incredible. I did notice that Jonathan Davis was not doing his headbang/freak-out that he is known for and was moving around the stage a little slower than he normal. Vocally he still sounded amazing.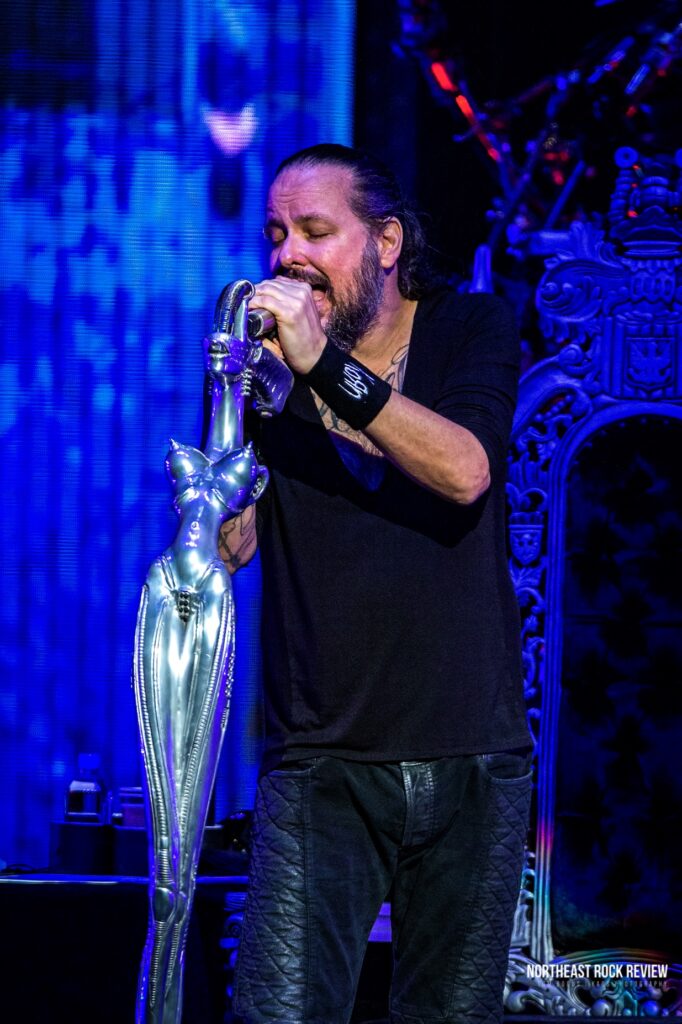 Wasting no time, the band kicked in to fan favorite "Falling Away from Me" from their 1999 release Issues and followed by another favorite "Here to Stay". The band continued the set with with "Victimized," "Cold," "Dirty" and "Shoots and Ladders." After the song "Clown", bassist Ra Diaz did a killer bass solo with the help of drummer Ray Luzier. Ra Diaz is the bassist from the band Suicidal Tendencies and has been filling in on bass this tour for original Korn member Reginald "Fieldy" Arvizu, who needed some time off to deal with personal stuff. I'm glad the band picked Ra to fill in because he is definitely a perfect fit for the band. Korn went on to play "You'll Never Find Me," "Coming Undone," "Can You Hear Me ," before ending the set with "Freak on a Leash" and exiting the stage. After a couple of minutes, the band reemerged and played a 4 song encore with a medley of "It's On, Trash and Did My Time" followed by "Twist," "A.D.I.D.A.S" and then completely closed the night out with "Blind".
KORN photo gallery
Korn Setlist:
1. Insane
2. Falling Away From Me
3. Here to Stay
4. Victimized
5. Got the Life
6. Cold
7. Shoots and Ladders
8. Clown
9. You'll Never Find Me
10. Coming Undone
11. Can You Hear Me
12. Freak on a Leash
Encore:
13. It's On / Trash / Did My Time
14. Twist
15. A.D.I.D.A.S. (shortened version)
16. Blind