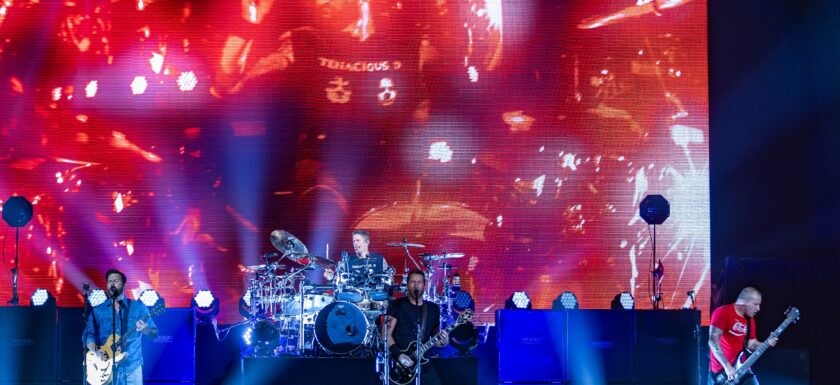 NICKELBACK
WITH FOZZY
Mohegan Sun Arena
Uncasville, Connecticut
August 22, 2019
Photos & Review by Tom Bogus
Nickelback brought their "Feed the Machine" tour to the Mohegan Sun Arena in Uncasville, Connecticut on August 22nd 2019. Supporting Nickelback on this tour is the band "Fozzy" who is fronted by WWE Star Chris Jericho.
Fozzy hit the stage at 7:40PM. They opened up with their hard hitting song "Judas" which is the title track on their newest studio release. They followed that up with "Drinking with Jesus" and that now is my favorite song. A majority of the set was comprised of newer songs from the "Judas" album. Ofcourse they had to play a couple of the old hits like "Do you wanna start a war" and "Lights go out". They closed their set with "Sandpaper". Fozzy's set was great. The energy with every band member was through the roof, especially guitarist Rich Ward.
FOZZY Photo Gallery

At 9 pm sharp the house lights went out and Nickelback takes the stage opening up with "Feed the Machine" from their recent release "Feed the Machine". They went back to their "Silver Side Up" cd for their second song by playing "Hangnail. Their 17 song set was nicely put together, mixing many old hits with some newer favorites and even a country music cover. The band sounded great. Nickleback are definitely seasoned performers. Once on stage they had the whole audience captivated. This was my first time seeing Nickleback and I was impressed with the performance and production.
NICKELBACK Photo Gallery

SETLIST:
Nickelback
1 Feed The Machine
2 Hangnail
3 Photograph
4 Far Away
5 Hero
6 Figured You Out
7 Someday
8 Lullaby
9 Animals (w/ fan on guitar)
10 When We Stand Together
11 Friends in Low Places (Garth Brooks cover)
12 This Afternoon
13 Rockstar (2 fans singing)
14 Million Miles an Hour
15 How You Remind Me
16 Gotta Be Somebody
17 Burn It to the Ground
Fozzy
1 Judas
2 Drinking with Jesus
3 Burn Me Out
4 Painless
5 Elevator
6 Do You Wanna Start A War
7 Lights Go Out
8 Sandpaper