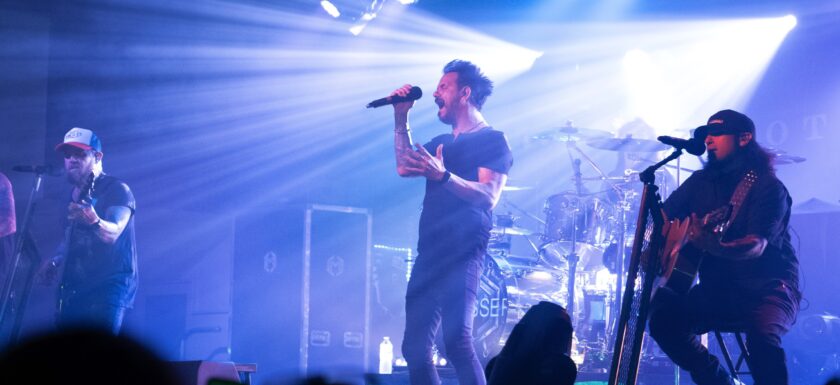 MESSER
Interview & Show Photos
Blue Ocean Music Hall
Salisbury, Massachusetts
July 24, 2019
After enjoying my interview with the guys from Weapons of Anew, I had the privilege of hanging out with Dereak and Maddox Messer from the exciting band Messer. They had just performed an acoustic set as a VIP experience for some fans so I started off asking them about this…
D&M (Dereak and Maddox): We just got off of a VIP visit with fans, in our home (The RV), with old fans and new VIP acoustic in the trailer. One fan in search of new music found us and even blew off Killswitch Engage who is performing tonight, to see come see us instead.
Mike: So is this tour almost over?
D&M: No, we are 50 dates into the tour with Scott Stapp (of Creed fame), not even halfway there, with some headlining dates on our own on off days, plus our own tour in October, so we are scheduled out to November right now.
Mike: What's the best part of being out on the road?
D&M: Meeting new fans, turning on tons of people who have never heard of us and ones that have. Seeing the crowds grow. Of course "​Simple Man​" reaching 23 on the Billboard charts and having the fans singing the songs right back to us has been great​!
Mike: Coming from Dallas getting started now all these years ago, what got you started and kept you going all these years till now.
D&M: Happened more in a rehearsal space before it was a show. At Kenny's house (the compound as it is known). It was like the Mötley Crüe story they needed a bass player, ran into me as a hairdresser, lugged up all the equipment hanging out the back of the car up three flights of stairs, we had a lot of chemistry. From those jam sessions and then going out and doing shows, we got the attention of producer LA based Chad Gendason while playing on the Sunset Strip, and he said​: "C​ancel your plans ​- ​come with me to my house. We are going to write a hit song together​"​ and that's how "Simple Man" was written.
Mike: Got that right…
D&M: We took some time to write and record this album (The self-titled "​Messer​")​ – o​nce we realized there's more than the songs being great. But we​'​re​ a​ great live band and our delivery of the songs I believe is what people are connected to. So we have a great live sound and part of that helps to allow the audience to have a real visceral connection in the moment with our songs because ​t​he​y​ can hear the words,​ and​ they can sing-along even if they have never heard it ​before – ​they can catch up ​q​uickly. Songs like "Fight of My Life" or "One More Time" just got me… Every night somebody tells us a song moved them​ – that's when ​You know you​'​r​e​ doing it right…
Mike: What inspired you to put so much into the live show? You've got quite a reputation to put on a hell of a show.
D&M: We are fans of music production,​ and​ we are audiophiles​.​ These days you really have to "​wow​"​ people. It was really out of necessity because in this day and age where there ​are​ more independent ​artists that ever before, it's incredibly competitive. W​e don't have a record label writing checks for us ​- ​we write our own checks. T​hat being said you can't afford to go out and travel the world or travel the country and leave your show live sound up in the air as to whether not it's going to sound good or sound good this night​,​ but not that night. It needs to sound great every single night and from an economic standpoint consistency is key and that's really what motivated us to bring a consistent live show that was ​also ​economical​. I​t didn't require massive amounts of crew to pull off​. ​Some bands don't take the time and r​ ush things – our​ motto ​from the beginning has been "​No wine before its time" and one day it was time​. Now ​it's ​OUR ​time and we've been drinking ​this musical wine we made ​ever since!
D&M: We made sure that when we stepped on a stage that​ the album recording will​ translate on stage​. The show you see tonight is essentially the same show from day one and it's gotten better as we just become more seasoned and more comfortable on stage delivering it. But essentially we came out of the womb looking fully grown. We have a studio back home where we will watch and listen from different parts of the room with our camera phones like is it for an audience member in the crowd. I challenge you to do that tonight​:​ Go back and listen to the audio​ – ​it's going to sound good on your phone when you take that memory home​!
Mike: That's really impressive
D&M: It's like a 4K TV​: I​t is literally the same exact thing​, but​ it's more pixels ​so the picture is clearer. We've made more audio pixels ​for your ears at a higher resolution. We ​pride ourselves on the ​technical​ aspects we bring to the live show,​ and can go off for hours on that stuff​! B​ut basically we ​"​weaponize​"​ the sound and make sure that sonically you ​get ​the goosebumps when you hear our live show​.
Mike: I was reading you were creating your own technology​?
D&M: We have There's not a whole lot people you can call and ask a question about our system like "Hey we're having this issue"​.​ ​W​e consult with some of the companies we use because we're doing stuff that they've never seen done before​. Its kind of​ revolutionary, mind blowing stuff​ – ​there are new tools available, we just saw the opportunity to ​use them in a new way.
Mike: It just reminds me ​of ​the story of Queen and bassist John Deacon ​- h​ow he built his own amps.
D&M: It's not like "This is my guitar tone because I believe ​in ​these amps and I'm a bad ass guitar player" We ​use​ sonic mathematics that we deliver ​f​or stacking frequencies in a way that vibrate molecules in your body. I like how we can make you piss your pants​!​ I bet you could get the brown note​, LOL​.
Mike: Right, they will be passing o​ut​ diapers on the way in to the show. Are you going to ​have another album coming out​ anytime soon​?
D&M: We have some stuff ready, working on ​it ​right now​ – but ​taking ​our ​time to do a full album won't be as much of an option going forward​. The cycle of the system in the modern business now, you need to deliver content and new material ​much​ faster. We have amazing songs right now ​and ​our plan is we're going to shoot some more videos for some of the songs on the album that haven't seen the radio attention, ​so we can get them more exposure​. We ​also ​have a remix album coming out. We ​had​ a contest in place where we gave everybody a​ccess to the streams from "Simple Man" ​on a website​. It has been one of the most successful fan ​projects​ we've ever done, with ​over 10,000 downloads​ of the "Simple Man" stems. It produced​over 150 remix versions from all over the world​!​ One winner was from Morocco, another ​from ​South Korea​… There were SO​ many remixes that we ​were ​originally thinking o​ f picking just ​three winners​… B​ut the​re​ were so many good ones that we ​finally picked​ 23 and that's what we're gonna be releasing. They are high quality, I mean like top-notch. I'm not talking like someone sitting with a little computer. A funky dance-tronic version from some kids in South Korea. There's a country version. A girl did her own vocals over mine and sang with me like a duet​!
MESSER Photo Gallery
That was all for the interview​, a​fter telling ​Messer ​where why should get the best Lobstah Roll​s! I photographed the show and shot from all around the venue to take them up on their challenge. I was impressed by the lighting and the sound. ​Guitarists ​Javier Contreras and Donnie Deville sounded great. I think beyond the great fast paced and well put together music​ – ​the most impressive thing was the drumming of Kenny Youngar, who was clearly in his element with the long flowing hair on an elevated drum riser with wind blowing through his hair. I ​think​ Maddox had something to do this​, as he has been planning their approach for a long time​. Great hair, great overall look, ​and great music​ that sounds killer live​. I want to thank the guys from Messer, for the opportunity to meet with them, their hospitality and the great show!
FOR MORE INFO and Tour Dates, visit & follow at:
Official website: ​https://www.messerband.com
Spotify: https://open.spotify.com/track/2coMKvuQMhaFGFKGfq95Pu?si=x5Uta9daSWWrH4_0vbNuPw
iTunes: ​https://itunes.apple.com/us/album/messer/1348892084?app=itunes&ign-mpt=uo%3D4
Google Play​: https://play.google.com/store/music/album/Messer_Messer?id=Bwgg2vbrw53gkx3q3prnxdhhqu a&hl=en
Youtube: ​https://www.youtube.com/watch?v=jMCCaRiF6Bo
Facebook: ​https://www.facebook.com/messerband
Instagram​:​ ​https://www.instagram.com/messerband/
Twitter: ​https://twitter.com/messerband
Soundcloud: ​https://soundcloud.com/messerband
Slacker: ​https://www.slacker.com/song/messer/save-myself