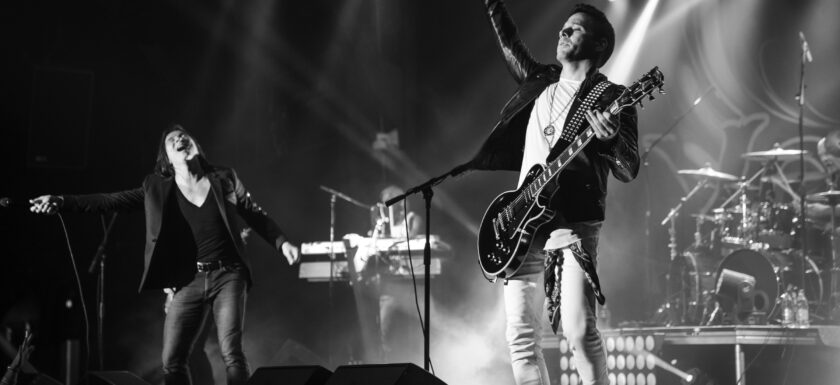 VOYAGE
Casino Ballroom
Hampton Beach, New Hampshire
August 2, 2019
The historic Hampton Beach Casino was packed full of people looking for the feel-good hard driving rock and smooth ballads of Journey. They came to the right place with the band Voyage taking responsibility for doling out hit after hit to the swooning sold out house.
The resemblance of this band to Journey is unmistakable, with lead singer Hugo Valenti being a dead ringer for Steve Perry both in appearance, demeanor and most importantly, the incredible vocal pipes. The entire band is made of of great musicians with their own achievements over the years. This is not your local cover band playing at the neighborhood pub, that is certain.
The band is made up of Hugo on vocals, who also maintains a recording career of his own while he is not asking "Who's Crying Now?" On guitar is Berklee College of Music grad Robby Hoffman, who has been involved with many headlining acts over the years. On bass was Les Jansson and on the drums, Dana Spellman, who also plays in Gary Cherone's band Hurtsmile.  And Lance Millard on the standing keyboard, who also leads his own Elton John tribute band!
The set included all the hard rock hits like "Anyway You Want It" and "Stone in Love". The crowd literally went crazy for "Wheel In The Sky" with everybody screaming word for word. The band responded well with the thousands in the audience as they matched the crowds intensity and visa versa.
As the classic ballads like "Faithfully", "Open Arms" and the sexy "Lovin' Touchin' Squeezin' were played Hugo had everybody on their feet, and in many corners of the hall, there was dancing in the small amounts of open space that were not filled with fans.
Of course, the show was not complete with the great guitar work of Robby on "Don't Stop Believing" with the entire band showcasing the talents they have for making music and making people believe!
Great show, highly recommended, go see them while they are still on tour in the area in the Northeast right now…
FOR MORE on VOYAGE, News, Tour Dates, etc., visit:
https://www.voyageband.comhttps://www.voyageband.com