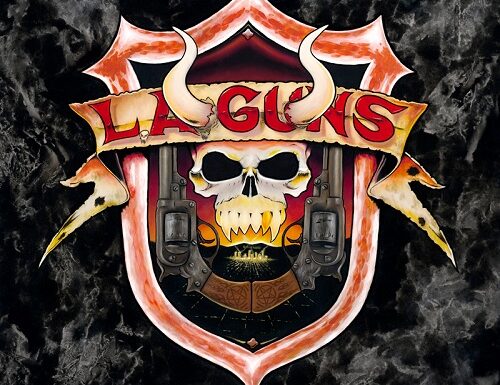 L. A. GUNS
The Devil You Know
March 29, 2019
I did something I don't normally do a few weeks ago. I preordered a limited-edition record album from one of my favorite bands on the circuit today, a band I have been a fan since they released their first album back in 1988. Imagine to my surprise when I received an email with the digital download a whole day before the official release of the album. I just had to do this write up after listening to the album.
The Devil You Know is the latest album released by L.A. Guns and the second album to feature a reunited and re-energized Phil Lewis and Tracii Guns. Both of which are sounding the best they have in years (and I have seen Phil's version many times and Tracii's at least twice, over the last 30 years or so). All I can really say about this album is done succinctly with just one word…WOW!
It is like the day I picked up their second album, "Cocked and Loaded". Thinking to myself "Holy Shit!!! Can they get any better???"
The Missing Peace was the perfect restart for Phil and Tracii, and The Devil You Know is the defining statement, the 2010's (this decade not year) one two punch, that yes we are back, yes we are going to kick your ass.
PURCHASE THE DEVIL YOUR KNOW ON AMAZON:
Here is the tracklist with my thoughts:
1. "Rage" I love the way the opening track starts, but for me that is about the best part of this song, but that is just me, there are songs that just don't sound right when played on the computer, and need to be played loudly while in the car (or truck while I am working) or on the turn table after I open the new record.
2. "Stay Away" This song harkens back to the old days, to me it has a "Hollywood Vampires" feel to it. That's not a bad thing, that is one of my favorite albums and this song is going to be played at a high volume.
3. "Loaded Bomb" This one starts out with a riff that just sticks to the roof of your mouth, that starts giving you what can only be described as a Zepplinesque aftertaste, I wish I was a wine drinker, because I am sure that I could give a better example, but I had a blueberry beer once, after a swig or two, I am thinking what blueberries, but then after my third swig, there it was… Much like the Zeppelin influence in this song.
4. "The Devil You Know" This song is what I have been waiting to hear on the album. In 2018 I was lucky enough to see L.A.Guns live once again, seeing as how I was there to shoot Ryder, who were opening for them and I was early, I got to hear them play this song during their sound check. This song is great and after hearing it live is going to kick ass.
5. "Needle to the Bone" This song sure isn't like a needle hitting straight to the bone, catchy song. This would be another great song to add to their setlist.
6. "Going High" Any song that starts with drums is gonna grab my attention combine it with a deep chunky freight train riff and I am going to keep listening, then after the first verse it lightens up only to leave the station once more to the guiding voice of Phil.
7. "Gone Honey" I hear Blue Oyster Cult when this song starts, it has a nice laid back feel to it when it begins, not quite a ballad, but a nice slower paced song when compared to the songs before it.
8. "Don't Need to Win" is another rocker that blasts into your face at the start, this one feels like old school 1980s L.A. Guns.
9. "Down That Hole" Another song that starts off with an interesting hook, an almost Velvet Revolver feel to it, something a bit grungy to it with a side of Jimmy Page, mind you these are just my thoughts and I was sheltered in a lot of my musical tastes. There were periods of time (1990s and 2000s) that I didn't find much musically interesting and stuck with what I knew 80s Rock and Metal. It is still a great song with a fantastic guitar solo in it.
10. "Another Season in Hell" Alright, I said "Gone Honey" was the closest thing to a ballad, well if not that is what I was thinking, but I was wrong this song is. Clocking in at just over 6 minutes, this Opus is now on my work playlist and the longest song on the album. This is the ONE song I cant wait to hear on the turntable after I get the album. My poor family and neighbors… It's going to be loud.
11. "Boom" (Bonus Track) This is a bonus track on the digital download and also the CD I believe, this is definitely a song that has that old classic L.A. Guns feel and sound to it, definitely something that would fit on their first album and not be out of place. A great song!
And there you have it, those are my thoughts on this new L.A. Guns album. One that I have only listened to so far, digitally on my computer. In due time it will be blasted properly once the vinyl hits my turntable.
This album is kick ass rock n' roll and proof that the Lewis/Guns reunion was not really that, but a rebirth, The rebirth of L.A. Guns.
For more on L.A. Guns, Tour Dates, Music News and More, visit: https://www.lagunsmusic.com