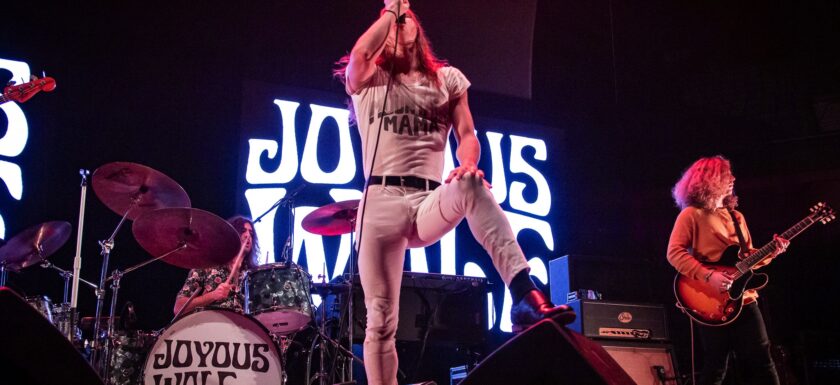 JOYOUS WOLF
Mohegan Sun Arena
Uncasville, Connecticut
October 9 2019
Photos & Review by Dan Wenc
Based out of Southern California, Joyous Wolf is a name that has been gaining great buzz and popularity as a young up and coming rock band. Joyous Wolf had the honors of opening up for the legendary Deep Purple this leg of The Long Goodbye Tour.
In a short time Joyous Wolf has gained musical momentum. The band was formed in 2014 by vocalist Nick Reese, guitarist Blake Allard, bassist Greg Braccio and Robert Sodaro on drums. Joyous Wolf pulls some their influence from the early classic rock, their sound can best be described as having a bluesy / metal sound. A unique sound and high energy live performance that makes them stand out from many of the new, modern rock bands. They have created a sound that is worthy of supporting a band that built the foundations of rock music as we know it, the iconic Deep Purple.
Joyous Wolf first surfaced into popularity with a single release of a cover version of Mountain's rock classic, "Mississippi Queen". In April 2019, Joyous Wolf released their seven song album, Place In Time.
Joyous Wolf took the stage and gave the crowd a boost of energy to start the night. Straight to the music, a no frills rock n' roll show; the band started the night with "Undesired". Vocalist frontman, Nick Reese laid out the vocals along with stage gymnastics that had him moving all over the stage. A band with a certain personality, Nick Reese did a few flips and worked the crowd bringing them into their world of music.
The setlist for the night was music from their own new album, Place In Time. They did perform the Mountain cover, "Mississippi Queen". A cover that they released early in their career which became both an internet shared and live sensation, putting the spotlight on this bad as a band to watch.
Joyous Wolf put on a stellar performance, mastering the art of good old rock and roll music, a band that stands out from the clamor of the current world of popular music. This is one of those bands to keep watch on. One of those bands that years from now you are going to say, I saw them back when they opened for Deep Purple.
Check out their new album, Place In Time.
For more Joyous Wolf news, music and tour info, visit: https://www.joyouswolf.com
For more info on upcoming Mohegan Sun Shows and Entertainment, visit: https://mohegansun.com