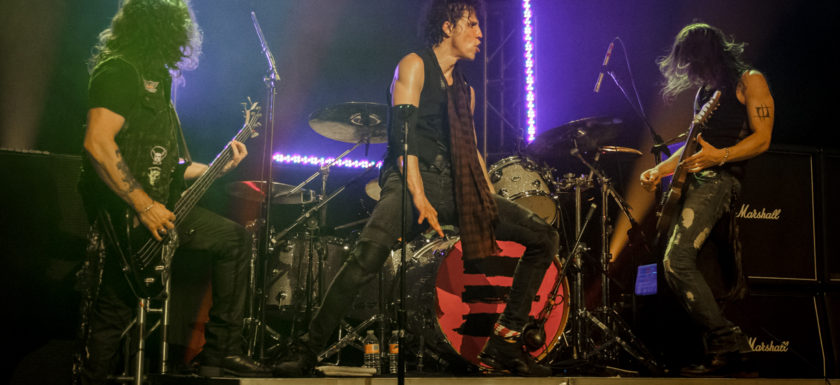 EXTREME
The Palladium
Worcester, Massachusetts
September 23, 2017
Photos & Review by Dan Wenc
It was a night of high energy and musical excitement with this Bay State based band performing in front of a hometown crowd in Worcester, Massachusetts at the Palladium. EXTREME was in the house and the crowd was fired up. The minute the band took the stage, they could have blown the roof off with the energy in the room. A night of all the EXTREME hits in Worcester.
The Palladium was recently updated and cleaned up, with some fresh paint, updates and additional balcony seating. The place looked much cleaner and gave room for more fans in the balcony area too. A great place to see a rock show.
EXTREME has been a local and worldwide favorite since the tail end of the 80's with the release of their self titled album, Extreme in 1989. This night they rocked it like it was 1989 again. Gary Cherone was high energy from start to finish, displaying the energy and enthusiasm of a 20 year old rocker, animating the stage, firing up the crowd. Gary's stage presence made the show and helped to fuel the crowd energy.
Nuno Bettencourt, a most talented guitarist, a guitarist of guitarists, kept the songs going right along tearing it up with the riffs that have stayed with us over the years. Nuno, with local roots from nearby Hudson, Massachusetts took time in between songs to talk with the fans with local references and appreciation. Nuno played an acoustic solo set in addition to "Flight of the Wounded Bumble Bee".
The atmosphere on stage was fun and light. A band that looked like they were having as much fun playing the music as the fans were to see them. The night kicked off with It('s a Monster), Lil' Jack Horny. Then up was "Get the Funk Out" which kicked things up even more. There were no dull moments in this show.
Original member, Pat Badger was on bass and Kevin Figueirdo "Kfig" on the drums with the band since 2007.
The night continued with the EXTREME classics. During the 1991 hit, "Hole Hearted", the band formed at the front of stage with Nuno's white acoustic guitar and Figueirdo with the bass drum and china cymbal. The night was non-stop excitement and a celebration of the Extreme music, that has adored by fans for the past few decades. EXTREME is one of the last great rock bands to form out the end of the great 80's rock era. The music was still as fresh as it was back then, which is apparent from the turnout and dedication of the band's fans and followers. This was one of the most high energy shows that I've seen in a while, between the band, the crowd and the chemistry between the two.
EXTREME has concluded U.S Tour dates with this show. With several overseas dates coming up at the tail end of 2017.
Check out the photos from EXTREME at Worcester, MA
For more EXTREME info, visit their webpage:
https://www.extreme-band.com