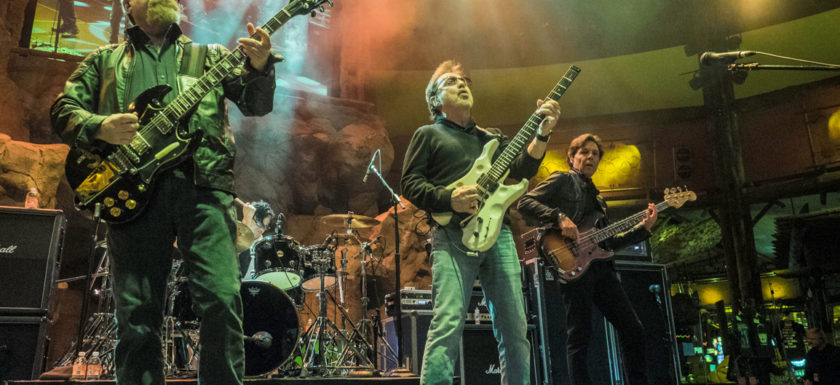 Blue Oyster Cult
January 9, 2017
The Wolf Den at Mohegan Sun Casino
Uncasville CT
It is January, I shouldn't be surprised that it was cold and snowing to beat all hell on Saturday. I shouldn't be surprised that there were winter storm warnings and accidents on barely plowed roads heading down towards Southeast Connecticut. I am surprised that I made it there in one piece and so did a bunch of other people, most importantly, Eric Bloom, Donald "Buck Dharma" Roeser, Richie Castellano, Kasim Sultan and Jules Radino, who are more commonly known as Blue Oyster Cult.
The crowd was definitely there for a BOC show, as I overheard stories of encounters with Eric or Buck, debating which album was better or regaling stories of shows of long ago and checking out the older tour shirts. A few fond memories came to mind, one of the first concerts I took my wife to a long time ago was a BOC show at a place called the Sting, I think I still have the shirt from then,but I digress.
The night started off with a little banter from Eric Bloom, as he brought the crowd into "The Red and Black", followed by "Before the Kiss a Redcap". "Burnin for You" was next and the crowd was singing along louder than before as Buck sang the first of several songs. "Dancing in the Ruins" and then into one of my favorites, the instrumental "Buck's Boogie", "True Confessions" had Eric singing again then back to Buck for "Shooting Shark".
It was audience participation time as we all raised our can of beer on high (or pretended to if we weren't drinking) and helped start off "Golden Age of Leather". We were unfortunately coming close to the end of the set as Eric set us up for "The Last Days of May" which saw Richie show off his prowess on the guitar and Eric taking over the keyboards. "Godzilla" showed us he wasn't afraid of a little snow and cold. "Don't Fear The Reaper" brought an end to the show.
Blue Oyster Cult may not be the same lineup as it was back in the 70's and 80's, unfortunately bands do tend to split apart and members are sometimes lost to the beckoning of the Reaper. Their acknowledgement of the late Allen Lanier during their set, hearkening back to their Golden Age was a touching moment for us. Fortunately the current line up with Richie on guitar and keyboards, Kasim on bass and Jules on drums does justice to that era, and brings a new life to the band. A life that will soon, if the rumors are true, bring something to us fans we haven't gotten from BOC in over 15 years, new music.
Other than some technical difficulties with Buck's guitar, the show was great and the band was in rare form, seemingly enjoying being there as much as the audience was, joking and smiling throughout the set, with either Eric or Buck talking about the songs they were playing. The set list was different then the last time they played the Wolf Den covering a little bit of everything from the 70s and 80s. Personally I would've liked to have heard ME 262, but when you have as many albums as they do spanning 40 years it is hard to please everyone. The one thing that is certain, it was a great set and a great time was had by all.
Check out the photos of the show: