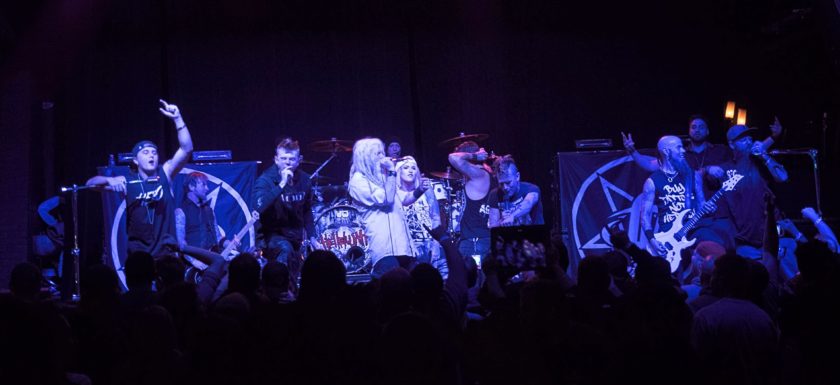 DROWNING POOL
December 9, 2016
Stafford Palace Theater
Stafford Springs CT
5 O'Clock on a Friday and the only thing on my mind was that I was going to a Rock Show at Stafford Palace that night. Although it is well over an hour drive from home to the Stafford Palace, it is still my favorite place to see a rock show and one of my favorites to shoot at. Plenty of room to move around (unless your planted at the stage for the whole show), reasonable drink prices and fantastic staff. I have covered shows at a lot of venues about the same size of the Palace, and none of them have the atmosphere of this place. The Main reason for making the trek on this night tho was to see Drowning Pool, but before they hit the stage there were a few other bands.
The night started off with a couple of acoustic songs from Sage King, a local musician who is also the lead singer and guitarist of the next band up, Hero.
Hero is a new rock band from here in Connecticut, consisting of Sage King, Singer and Guitarist, Marc Beaulieu on Drums and Andrew Nave on Bass. A nice hard rock sound that to me does show a good mix of their influences, which according to their Facebook ranges from Drowning Pool, Shinedown, Adelitas Way, Blink 182 to Staind. A good stage presence that was downsized due to the amount of space they didn't have on the stage.
After Hero came off the stage, a band from Denver Colorado, Red Tide Rising, made their way to the stage. At first I was concerned when I saw that they were wearing masks and thought to myself "Oh God not another Slipknot rip off" I am not that big of a Slipknot fan and was afraid I would be listening to blatant non talented attempts at being their favorite band. However being a fan of theatrical rock and bands that put on a show (or should I say costumes?) I was willing to give them a shot and I wasn't disappointed. A mix between heavy metal and nu metal, brothers, Andrew (Guitar) and Matthew Whiteman (Vocals) along with Glendon Crain (Drums) and Jasen Moren (Bass) that night, they put on a great show full of energy. They were one of the two surprise performances that evening.
There are two things that will keep a band on my radar, stage presence and sound. The band that came up next hit the mark high on both counts and were the second of the two bands that surprised me this evening. 9 Electric hit the mark on both of those that night. An LA band that has an eclectic sound, mixed of Nine Inch Nails, Prodigy, Marilyn Manson, at least on their CD's but onstage more of a mix of Manson, Rob Zombie with the energy level of Bruce Dickinson. Singer Ron Underwood ("Thunderwood"), guitarist Mike Lopez, bassist Casey DC, and drummer Micah Electric put on one of the best sets of the evening, all over the stage and interacting with the crowd. Definitely a crowd pleaser, with quite a few fans in the crowd.
The band that had the unenviable task of following them was a band I have been hearing of alot over the last year or two, Gemini Syndrome. Consisting of Aaron Nordstrom, lead singer, Brian Steele Medina, drummer, Alessandro Paveri, bassist, Daniel Sahagún and Charles Lee Salvaggio manning their guitars. Another band tonite that had quite a few fans in attendance nd put on a great set. Watching Brian play drums was a treat, always smiling he put just the right amount of panache into his performance. Aaron was the trooper tonite as he performed while battling a cold that from what I was told, made the rounds thru the bands on the last few dates of this tour and affected his voice just enough to be noticed. This was another band I feel was affected by playing on a stage that was not as big as they are used to, and one to watch for when they come around headlining.
Stafford Palace has brought in some great rock acts and tonite was no different, Drowning Pool was the headliner tonite and finally coming to the stage. The large crowd erupted into cheers as Mike Luce took his place behind the drums, followed by guitarist CJ Pierce and bassist Stevie Benton. Slowly walking out was singer Jasen Moreno, another victim of the forsaken cold.
The set started off with one of my favorites, "Sinner" followed by "Think", "Step Up" and "We Are The Devil". The crowd enthusiastically singing along as Jasen worked the stage milking a hot tea from a very unmetal looking coffee mug between songs. "Feel Like I Do" had everyone raising their hands into the air, "37 Stitches" was an unexpected song, with a few hardcore fans surprised by its inclusion, followed by "Sermon" which had Andrew from Red Tide Rising join him onstage and sing, which he did a fantastic job of, then "Tear Away" with Gemini Syndromes merch girl, Erin, surprising a few people with her voice when she joined Jasen onstage to sing,then came "Pity" and "Told You So", the end of which brought us to the last song of the evening the crowd pleaser for more than one reason, "Bodies". This became an all star jam as members from all the evenings bands came out to help the crowd sing this.
Drowning Pool was fantastic, CJ was a unrestrained bundle of energy, all over his side of the stage, jumping and smiling the whole set. The people in front of him being the recipients of numerous thumbs ups and grins when they pointed their phones at him to take pictures. Jasen even tho he was sick as a dog, sounded good and didnt miss a beat thru the set. At the back of the stage, Mike was the point man keeping it all together and in time. I hope to be able to catch Drowning Pool again when they all are healthy, they were great for this show and they must be awesome when no one is sick and feeling like they are going to die.
I was really impressed with all the bands in this lineup. They all kicked ass, so much so that I ended up catching the tour again the following Sunday night. The tour is going on until Dec 23rd if they are going to be in your neck of the woods, I recommend a night out with Drowning Pool.