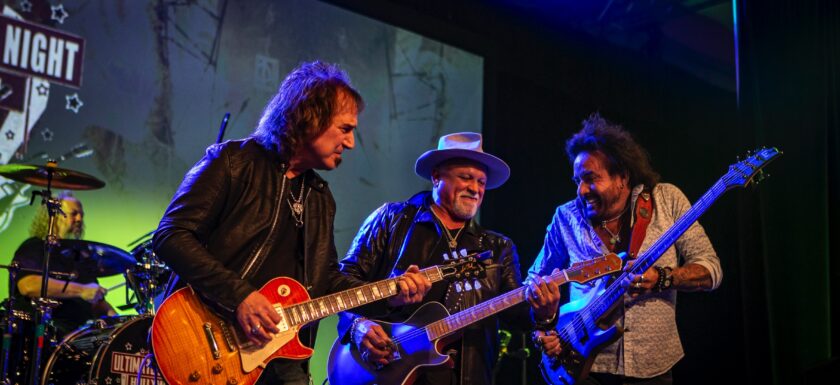 ULTIMATE NAMM NIGHT
Anaheim, California
January 18, 2020
Photos & Review by Tom Bogus
Ultimate NAMM night held their star studded event on Saturday, January 18th 2020 at the Anaheim Hilton. The All-Star line up had over 100 special guests like Jack Russell (Great White), Carmine Appice (Vanilla Fudge), George Lynch (Dokken, Lynch Mob), Doug Aldridge (Whitesnake, Dead Daisies), Derek St. Holmes (Ted Nugent), Chuck Wright (Quiet Riot, Alice Cooper), Frankie Benali (Quiet Riot), Mike Portnoy (Dream Theater), Calico Cooper (Beast Blanco, Alice Cooper), Carla Harvey (Butcher Babies), Mitch Perry (The Sweet, Talas), Eddie Trunk, Randy Jackson (Zebra) and former teen pop sensation Tiffany…to name a few. A special thank you goes out to all of the sponsors RCF, Morley, DW drums, Axis, Evans, Sickboy Motorcycles, Whisky A Go Go, Mezzabarba, Ampeg, Fireball Whisky, Sharkeys, CAD, Xotic, Gear Secure and anyone I may have missed.
The show started promptly at 7:30 pm and went for over three hours. During the night there were so many amazing performances several line-up changes. Too many to describe all of them in this review. One of my favorite performances was when Gary Holt (Slayer). Ira Black (I Am Morbid), Carla Harvey (Butcher Babies), Chuck Garrick (Alice Cooper), Art Cruz (Lamb of God) and Calico Cooper (Alice Cooper, Beast Blanco) performed Motörhead's song Ace of Spades. Another favorite performance of mine was when Tiffany and her band did I Hate Myself for Lovin You by Joan Jett and the Blackhearts. She totally nailed it perfect. Tiffany has always had a great and powerful voice.
The whole show was great. Every artist that performed did an amazing job. What makes this show so interesting besides the amount of special guest stars is the fact that none of it's rehearsed. That to me shows you the level of musicianship all these performers possess. I love attending this show and I hope they continue to have it during the winter NAMM season.