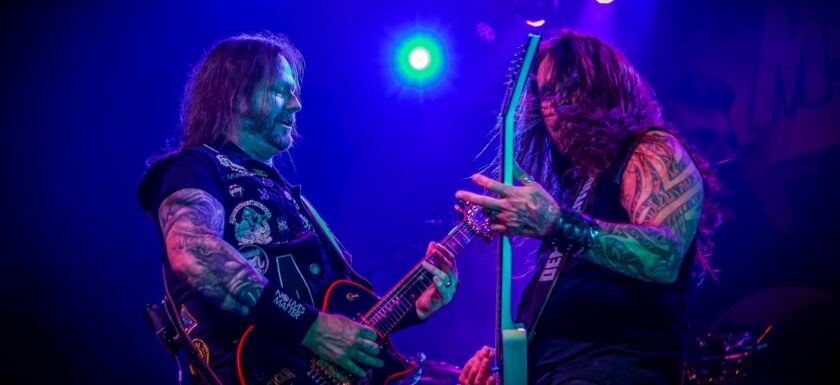 METAL ALLEGIANCE
with Trauma, Exmortus & Weapons of Anew
NAMM 2020
House of Blues
Anaheim, California
January 16, 2020
Photos & Review by Tom Bogus
On January 16th 2020 the House of Blues in Anaheim, California hosted another winter NAMM Metal Allegiance show. This "Super" version of Metal Allegiance had a killer line-up with many special guests like Chuck Billy (Testament), Bobby "Blitz" (Overkill), Dave Lombardo (Slayer, Suicidal Tendencies), Jeff Loomis (Arch Enemy), Gary Holt (Slayer, Exodus), Dave Davidson (Revocation), Andreas Kisser (Sepultura)….the list goes on.
Bay Area thrash metal band Trauma opened the the night up. I've the pleasure of seeing these guys a couple of times and they always deliver. They played a couple older songs and a few new ones off their newest release As the World Dies.
TRAUMA Photo Gallery

Next band up was Weapons of Anew. This was my first time seeing these guys and I was impressed. They have a great unique sound. I was impressed with guitarist Freddie Ordine's playing. His rhythm chops were heavy and his leads where clean and fluid. My favorite song from their set was their closing song Speed from The Collision of Love and Hate release. I'm interested in hearing more from this band in the future.
WEAPONS OF ANEW Photo Gallery

Exmortus was up next with a 30 min thrash fest that left us wanting more. The guitar harmonizing between Jadran Gonzalez and Chase Becker makes me think of the band Cacophony (Marty Friedman and Jason Becker). The whole band was amazing. I'd love to see these guys perform a headline set.
EXMORTUS Photo Gallery:

WWE Superstar Eric Rowan came out to pump the audience up prior to Metal Allegiance taking the stage. Alex Skolnick (Testament), Phil Demmel (Machine Head), Andreas Kisser (Sepultura), Mike Portnoy (Dream Theater), Mark Menghi and Troy Sanders (Mastadon) started the set with The Accuser followed by John Bush (Armored Saint, Anthrax) taking over the vocals for Bound by Silence. This All-Star line-up changed up several times over the night and played several great classic metal songs and a few original Metal Allegiance songs.
One of my favorite parts of the night was when Dave Lombardo (Slayer, Suicidal Tendencies) got on the drums and jammed out Postmortem, Raining Blood and Angel of Death (Slayer) with Gary Holt (Slayer, Exodus), Jack Gibson (Exodus), Phil Demmel (Machine Head) and Mark Osegueda (Death Angel). The performance was beyond amazing and Mark Osegueda's vocals were perfect.
After a killer 19 song set, all the performers came out on stage for two encore songs. First they played "Running Free" (Iron Maiden) and then "Overkill" (Motörhead). I have attended a couple Metal Allegiance shows over the years and they seem to get better every year. When attending the NAMM show, this is one of the shows not to miss.
METAL ALLEGIANCE Photo Gallery:

Metal Allegiance Setlist:
1- The Accuser
2- Bound by Silence
3- Can't Kill the Devil
4- Leper Messiah (Metallica)
5- Exciter (Judas Priest)
6- The Toxic Waltz (Exodus)
7- Princess of the Night (Saxon)
8- Refuse/Resist (Sepultura)
9- Wrecking Crew (Overkill)
10- Mother of Sin
11- Let Darkness Fall
12- Lights Out (UFO)
13- What Doesn't Die (Anthrax)
14- Only (Anthrax)
15- Postmortem (Slayer)
16- Raining Blood (Slayer)
17- Angel of Death (Slayer)
18- Tom Sawyer (Rush)
19- Pledge of Allegiance
20- Running Free (Iron Maiden)
21- Overkill (Motörhead)