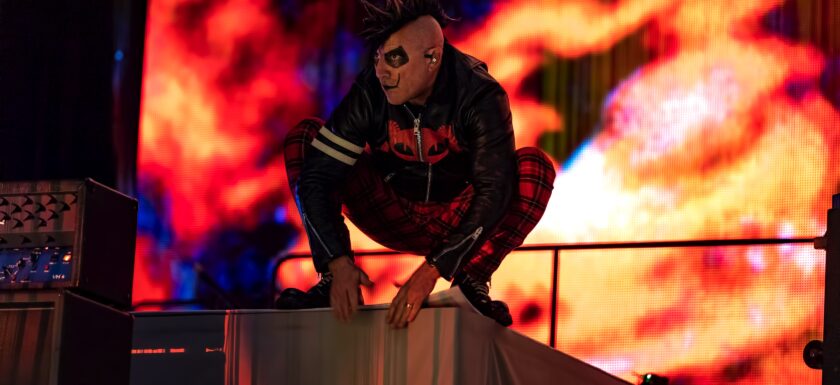 TOOL
Mohegan Sun Arena
Uncasville, Connecticut
November 21, 2019
Photos & Review by Tom Bogus
TOOL returns to Mohegan Sun with a brand new tour, supporting a brand new album. The new album Fear Inoculum is TOOL's fifth studio release. This is the band's first album release in 13 years. With the release of the long awaited  album, the tour, and the album topping out on the Billboard chart, earning them a couple of Grammy nominations, this became one of the most anticipated tours to see this year. Support for this tour was Killing Joke
TOOL took to the stage at approximately 9pm. Opening with the title track from their new release "Fear Inoculum". Drummer Danny Carey was in the center of the stage, guitarist Adam Jones was to the left of the stage, bassist Justin Chancellor was to the right of the stage and vocalist Maynard James Keenan was perched on a riser on the right rear of the stage. The 10 minute and 15 second song had the audience in a trance as they listened to the melodic drumming and watched as the band play.The band had the audiences full attention because there were no cellphones or cameras were allowed during the performance. Anyone caught taking any pictures or video were ejected immediately from the show. Some agree and disagree with this rule. I will admit I did enjoy the show a lot without having a bunch of cellphone screens in my view, distracting me from seeing the stage. It was great to see people into the music and not into their phones.
The band sped things up a little next with their Grammy award winning song "Ænima" and from that point the energy level of the crowd rose. They tore through their set, song by song, covering TOOL's 29 year career of songs concentrating heavily on the new music. In fact, they played 5 songs from Fear Inoculum. TOOL ended the night with "Stinkfist" and allowed everyone to take out their cellphones to take pics or video.
This was a great show. TOOL's sound was perfect and their light show was top notched. I would highly recommend this show to anyone.
TOOL Photo Gallery:

For More Info on TOOL, news, music and tour dates, visit: https://toolband.com        
TOOL SETLIST:
1- Fear Inoculum
2- Ænima
3- Parabol
4- Parabola
5- Pneuma
6- Schism
7- Jambi
8- Vicarious
9- Intolerance
10- Descending
11- Forty Six & 2
INTERMISSION
12- Chocolate Chip Trip
13- Invincible
14- Stinkfist