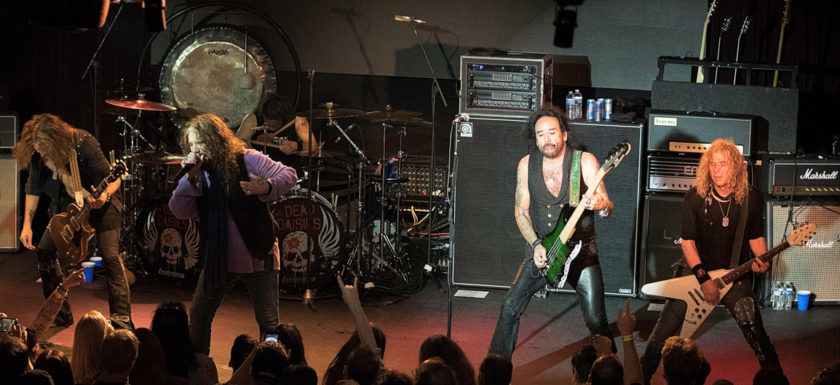 THE DEAD DAISIES
Highline Ballroom
New York City, New York
August 17, 2017
Concert photography and reviews has taken me to many places over the last few years. New York City being one of the many places. Small hole in the walls to places as big as Madison Square Garden. One of the most diverse places I have ever been.
My drive down into the city was to catch one of the most talked about bands in the circles I frequent online, a band full of heavy hitters from the 80s and 90s. The Dead Daisies is a hard rock outfit founded by Australian guitarist David Lowy and after a few lineup changes, He is joined on stage by John Corabi on vocals, Marco Mendoza on Bass, Brian Tichy on drums and Doug Aldrich on guitar. A very impressive super group, with former members of Motley Crue, Whitesnake, Dio, Thin Lizzy and Ted Nugent.
The Highline Ballroom is a small venue that reminds me of a local favorite, The Cannery in Southbridge, Massachusetts. A place with a huge floor and tables and booths along the outside and a very comfortable balcony.
First up on the bill this evening was a very popular local act, The Dives. They are a power pop band, with a distinct sound. Their sound reminding me of a more 90s alternative band then a hard rock band. I have never heard of them before and are now on my playlist.
The Dead Daisies are playing a small 12 date tour in the U.S., hopefully testing the waters for a longer run here, from what I have heard the turnout has been good.
These guys know how to play a crowd, from John's crowd pleasing banter to Marco's constantly handing out picks. The music is what everyone was here for though. Touring in support of their latest CD, "Live and Louder" which has been on constant play in my house, and pretty much the setlist for tonight's show.
This was a feel good rock show, with everyone firing on all cylinders and not missing a beat. It has hard to find the right words, watching and listening to this band on stage was a gift. I don't want to focus on just one player, but John's voice and their playing just seem to fit. The ease that Marco exuded while playing solidified the pounding Brian was giving those skins. Doug was blistering, and his energy gilles the room. This was my first time seeing Dave play, i was impressed. Calm cool and collected as he ripped the white V.
There is just one scary part. These guys all are involved in many different projects. I hope those don't impact the longevity of this band. That would truly be a shame and a great loss.
So go on, head out to see them or at the very least buy a CD, you won't be disappointed.