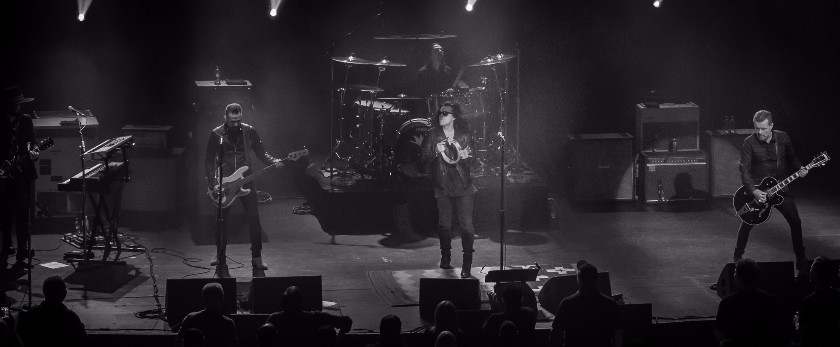 THE CULT
Foxwoods Casino – Fox Theatre
Ledyard, Connecticut
April 3, 2016
Photos & Review by Dan Wenc
The Cult is one of many legendary bands to rise out of the 80's rock era. On April 3rd they took to the stage at the Fox Theatre at Foxwoods in Connecticut for the Alive in the Hidden City Tour. The Cult has always had a very unique sound that set them apart from other bands from that era. From Sonic Temple to Hidden City, they continue to be a strong band making new music.
Ian Astbury with his unique and distinct vocal styling and the hard ripping sounds of Billy Duffy on guitar make this band stand out from the others. The two original founding members took the stage that night along with John Tempesta on drums, Grant Fitzpatrick on bass and Damon Fox as keyboard wizard and second guitar. Amidst an amazing stage lighting display The Cult took control of the night with opening with "Wild Flower". The crowd went immediately to their feet. At the direction of Ian called them towards the stage to fill in, the crowd obliged and the night was set to go for a great set with new and old Cult classics. The place was packed and the crowd appeared to have thoroughly enjoy the show. Several lucky fans walked away with some of Ian's signature tambourines, as he occasionally dispensed them into the crowd.
Side note, The Cult's latest album Hidden City is really good new music and definitively worth a listen if you haven't heard it yet. Click here to listen to preview or purchase Hidden City on iTunes. "Dance the Night, "Dark Energy" and "GOAT" are a few of the best tracks from the album to name a few. Unfortunately we did not get to hear Sun King or Edie (Ciao Baby). The Cult put on an overall amazing performance. They sounded great. Check their webpage for tour dates, if they are coming to a city near you, do not miss this tour.
Song list from the night:
Wild Flower
Dark Energy
Rain
Hinterland
Rise
Gone
Lil' Devil
Birds of Paradise
Deeply Ordered Chaos
Sweet Soul Sister
Fire Woman
The Phoenix
She Sells Sanctuary
Encore:
G O A T
Love Removal Machine

For more information on THE CULT:
THE CULT Official Webpage
THE CULT Facebook
THE CULT on Twitter @officialcult
THE CULT YouTube Channel