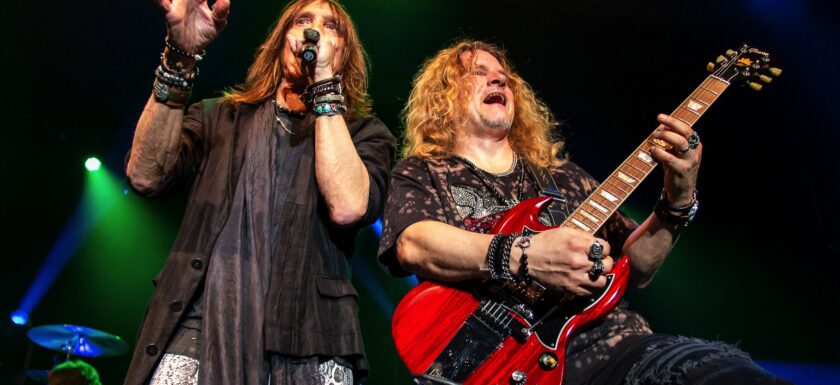 TESLA
Casino Ballroom
Hampton Beach, New Hampshire
April 19, 2019
Photos & Review by Dan Wenc
TESLA was out on the road on a headlining tour in support of their latest album release, SHOCK. This was the third New England area show that week, having previously rocked Boston and Maine. Tesla is no stranger to the Casino Ballroom, they have played numerous sold out shows over the years. It had been a couple years in between as Tesla had been out on the road touring with Def Leppard. This time it was Tesla's turn to be back touring the country in a headlining capacity. Tesla at the Casino Ballroom has almost become a usual tradition.
Tesla brought their high energy performance that night to entertain the SOLD OUT crowd. Tesla was born out of the 80s Rock era. Their music has always stood out from their counterparts of the 80's rock genre. Tesla holds a sound all of their own. Another great thing about Tesla is that they have always been consistently making new music and albums.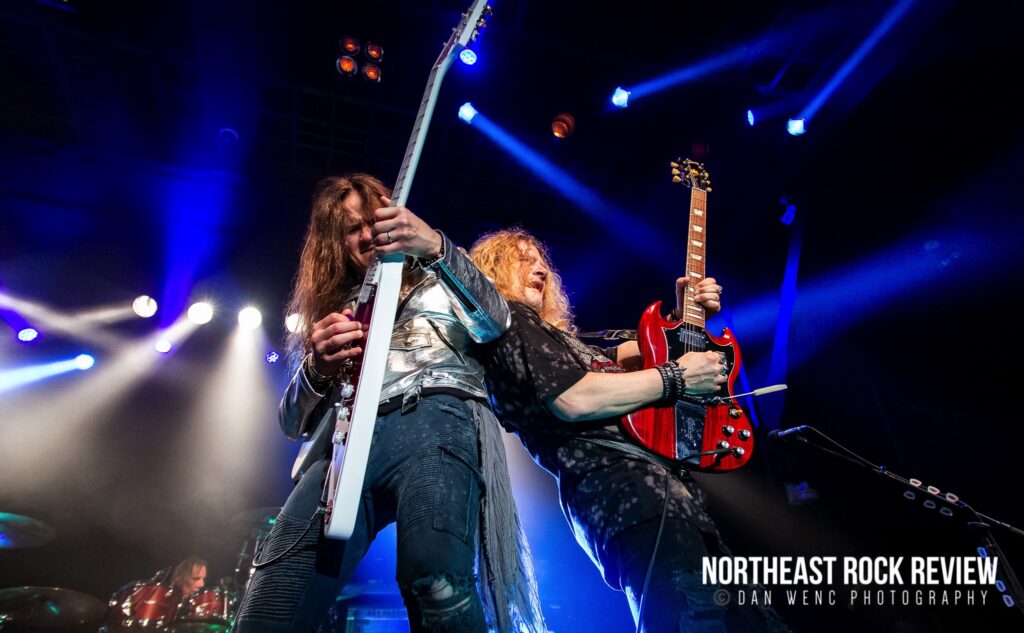 The night started out with local Massachusetts based band, Bad Marriage and then The Cringe. The Casino Ballroom is a great place to see a rock show. On of the best parts of a Casino Ballroom show is that you can see these big time bands in an up close setting. That early spring night didn't bring too much activity to the usually busy Hampton Beach Boardwalk. This night was loaded with die hard 80's rock, Tesla fans out to have a good time and take in some Tesla classics. The energy built within the room and the crowd was fired up to see Tesla here once again.
I have seen Telsa play live six times in the past 14 years, this being the third time at the Casino Ballroom. Each and every one of their performances I have ever seen, including this one, is nothing but 1000% energy and a musically explosive show. Tesla entertains for the from start to finish. The signature vocals of Jeff Keith sound as good as he did from the first album. TESLA is a band that never stops, and as fans, we thank you for that!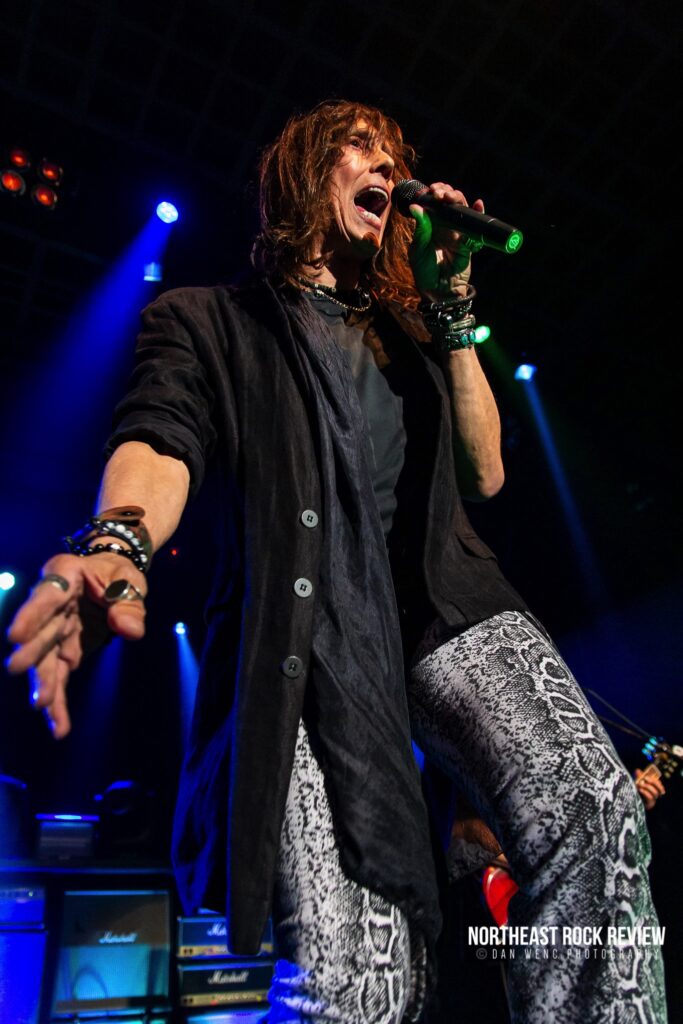 The night started out with Frank Hannon and Dave Rude taking the stage with dueling guitar riffs entering in with intro to "Commin' Atcha Live". A great choice for the first song that describes what is about to come, and played with so much Tesla intensity, a great way to kick off the night. Then came the rest of the band, Troy Luccketta behind his killer looking TAMA drum kit and Brian Wheat on bass. Once the rest of the band kicked in, the energy in the room blew up. It was a night that felt like it went by way to fast. Each song was enjoyable in its own way. And for most Tesla fans, each song marked an era, time and place in their life of when they first heard the songs.
And so began the high intensity and adrenaline filled night of guitar riffs and solos between Hannon and Rude. The powerful vocal stylings of Jeff Keith were amazing. The group combo of musical talent emanated such positive energy into the room. This was a performance that is unmatched by most bands around today. You can tell the band stills enjoys performing, just as much we enjoy listening and watching.
Next up in the set was the 1987 "Modern Day Cowboy" from the Mechanical Resonance album. Yes…1987. Hard to believe it has been that long. Seems like just yesterday was the first time listening to these songs on cassette.  Something to be said for a band like this that can still perform this song with such energy and crowd excitement, as they did 32 years ago when it was released. It was just one of many of the powerhouse songs that got Tesla fan faithfuls fired up and singing along. Such a powerful song to hear and see performed live.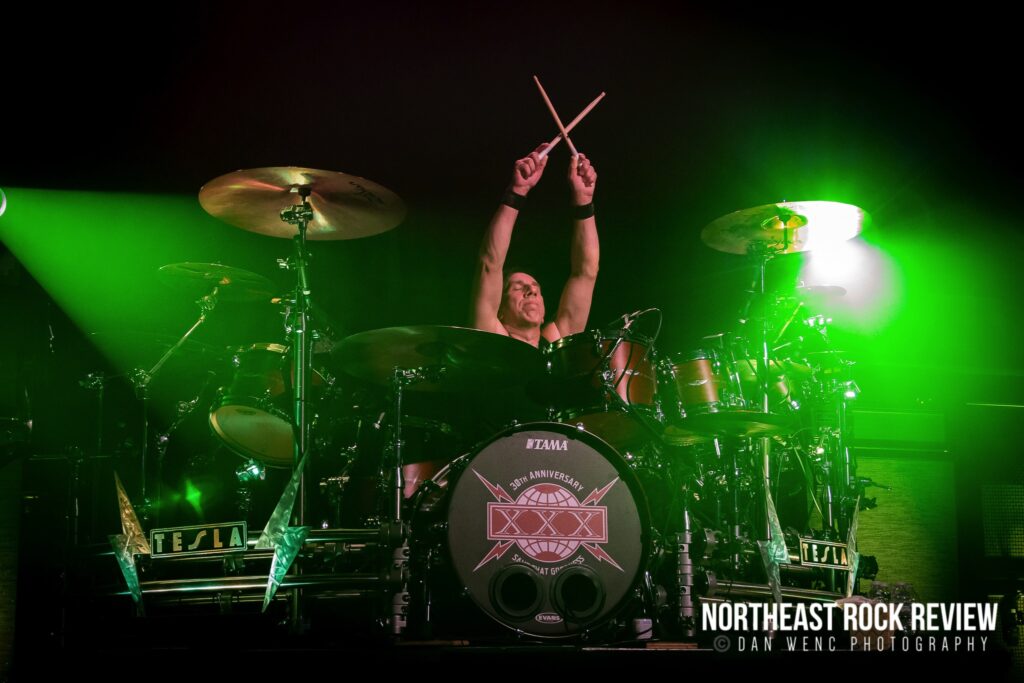 Next on the night's list was "Be A Man", "Heaven's Trail" and "Breaking Free". Hearing these songs live is truly an experience. It leaves you wanting to know when the next time you will see them again live will be. Tesla is a band that features the distinct vocals of Jeff Keith, guitar infused song and a killer rythm section of Troy Luccketta and Brian Wheat. Everything about this band is different than their counterparts of the 80's era. This unique sound, skilled musicians and the bands persona is what has probably helped them to sustain and sell out shows consistently through the past 30 plus years.
From the Bust A Nut album was "Need Your Lovin'" and then "Taste Like" from the new SHOCK album. Each song rolled off one right after another, with some brief commentary from Jeff Keith and Frank Hannon through the night.
Then was "Miles Away" from the Into the Now album and then "Changes". The band changed up the set list a little as they had played other shows in the area. There was not a dull moment in the entire set that night. Overall great selection of music.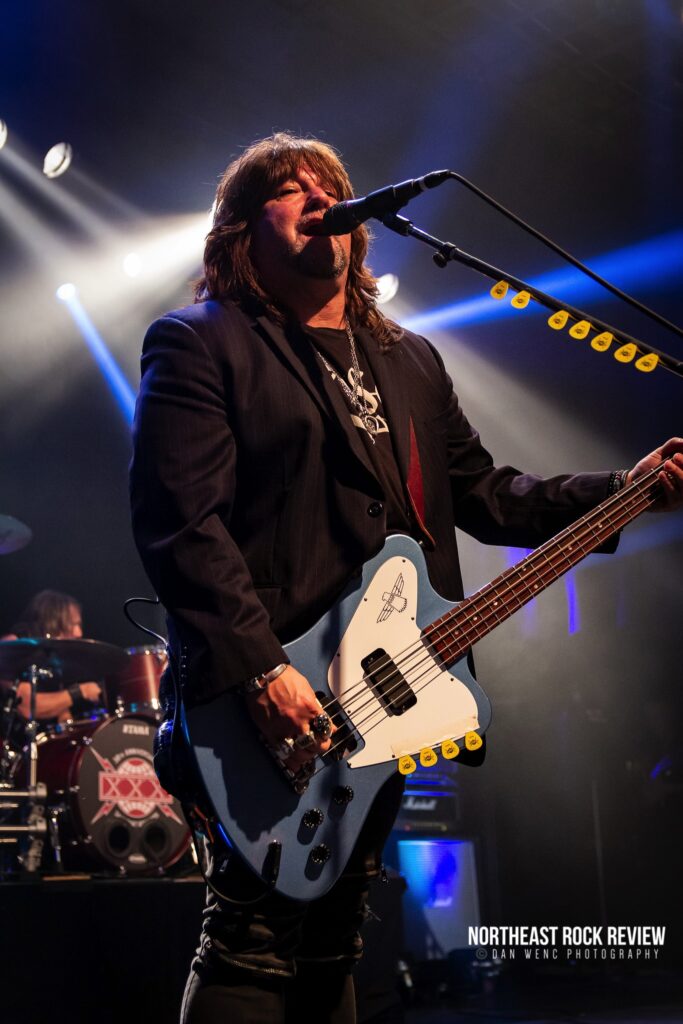 Tesla is a genuine band, that have created a rock sound all of their own. They were friendly and interactive with the crowd and all looked like they were having a blast on stage. Dave Rude with his Flying V Epiphone guitar was highly animated through the night's set with killer guitar solos and displayed his passion for performing. Just a lot of fun to watch. This Tesla show was pure musical bliss.
The 17 song night flew by and closed out with Tesla classics "Edison's Medicine", "Love Song", "Little Suzi" and of course… "Signs".
So… when is the next Tesla show?
PHOTO GALLERY: Tesla
Set List:
Cumin' Atcha Live
Modern Day Cowboy
Be A Man
Breaking Free
Need Your Lovin'
Taste Like (From SHOCK)
Miles Away
Changes
Stir It Up
Call It What You Want
What You Give
Shock (from SHOCK)
Edison's Medicine
Love Song
Lil Suzie
Signs
That night, Tesla and the Casino Ballroom announced that Tesla would be making an encore performance on September 12, 2019 at the Casino Ballroom. Get the tickets now, because they are sure to sell out fast.
Tesla is out on the road for many other SHOCK tour dates, don't miss this show in a city near you!
Visit the Casino Ballroom web page for more upcoming show information at http://www.casinoballroom.com
For more TESLA band news and tour dates, visit: https://teslatheband.com