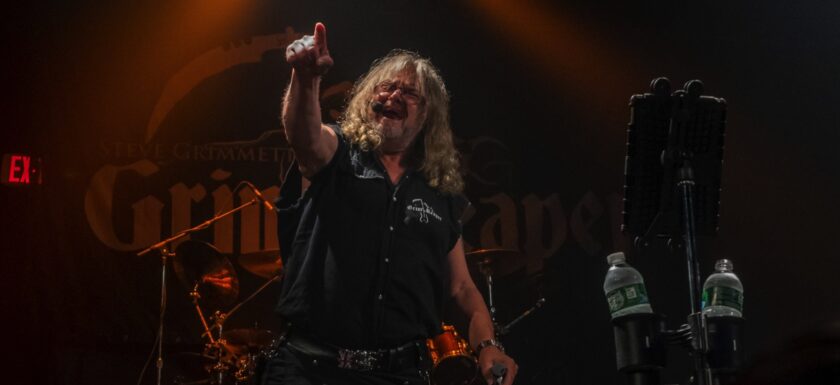 Steve Grimmett's GRIM REAPER
The Chance Theater
Poughkeepsie, New York
August 24, 2019
Photos & Review by Frank Piercy
Steve Grimmett's Grim Reaper, was one of the many bands riding the New Wave of British Heavy Metal back in the late 70s early 80s. With Steve on vocals their debut album "See You In Hell" opening a few doors for them and a video that was making the rounds on MTV and NightFlight (yes NightFlight, Grim Reaper was making a few waves. Unfortunately, like many other bands during that era, many things lead them to make a few line up changes and a small hiatus with vocalist Steve Grimmett returning in the mid 2000's as Steve Grimmett's Grim Reaper.
Currently on a tour of North America, I was able to catch them playing at The Chance Theater with a playlist that included the following tunes that covered albums like 1984's See You In Hell, 1985's Fear No Evil, 1987's Rock You To Hell and so much more. "Venom", "Rock You to Hell", "Night of the Vampire", "Lust for Freedom", "Dead on Arrival", "Wrath of the Ripper", "At the Gates", "All Hell Let Loose", "Suck It and See", "Walking in the Shadows", "Fear No Evil", "Call Me in the Morning", "Wings of Angels", "The Show Must Go On", "Don't Talk to Strangers" (A Dio Cover), "Waysted Love", and of course Grim Reaper's signature song, "See You in Hell".
Bringing these songs to life with Steve is his band, consisting of Ian Nash on guitar, Mart Trail on bass, and Paul 'Needles' White banging on the drums. I really enjoyed listening to Steve sing, his voice really didn't sound much different then it did on those albums oh so long ago. Showing off the paint job on his prosthetic leg, Steve seemed to be in a great mood and the band reflected and played off it very well.
Steve Grimmett's Grim Reaper is set to unleash a new album in October of 2019, At The Gates, pre-order it on Amazon here:
For more info, news and tour dates on Grim Reaper, visit: https://grimreaperofficial.co.uk