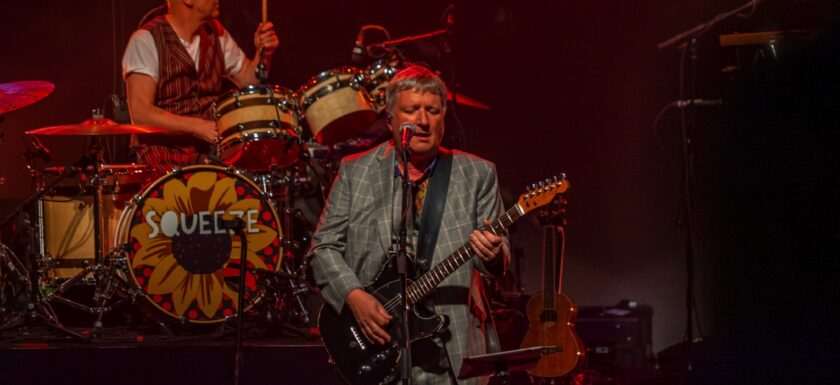 SQUEEZE
Songbook Tour
The Fox Theater at Foxwoods Resort Casino
Mashantucket, Connecticut
August 23, 2019
Photos & Review by Frank Piercy
There are many places I have been to in Connecticut to see a concert, from The Klein in Bridgeport, to palaces in Stamford, Waterbury and Stafford Springs and this is one place I have enjoyed but have only been to once. Comparable in size to the places I just mentioned, seating is just under 2,000.
As I set up for the evening at the soundboard, I watched a very eclectic crowd filling up the theater. Young kids, (well younger than me at least) to people old enough to be my parents being directed to their seats. All connected by the musical stylings of the English band, Squeeze.
This is a very different genre of music then you will normally find me at. With their first full length album having been released in 1978, being part of the New Wave that was washing ashore here in the United States. It took a bit before they had a hit here in the United States with a single off their 1980 album Argybargy, which was the fourth song on this night's setlist.
Alright, enough of my babbling about their history, lets talk about the band's current incarnation. Heading this evenings entertainment on Guitar and Vocals are founding members and primary songwriters thru the years, Glenn Tilbrook and Chris Difford, with Glenn doing most of the singing. The talent doesn't end there, the beautifully talented Yolanda Charles is on Bass, Stephen Large was sitting stage left at his vast array of keyboards. It isn't often I see a band with a drummer and percussionist, but Squeeze has Simon Hanson on drums and Steven Smith on percussion, both were a joy to watch play. There was also an instrument on stage that I was really surprised to see there, and then even more surprised by how much it was used, a Lap Steel Guitar played Melvin Duffy, who also plays electric guitar, slide guitar, acoustic guitar and even a mandolin.
The talent that Glenn and Chris have playing with them, is undeniable. The night started out with "Footprints", "Big Beng", and "Hourglass" before reaching a song that I knew, "Pulling Mussels (From The Shell) and by that point people were no longer sitting in their seats but up and dancing as they sang along.
"Up the Junction", "King George Street", "Someone Else's Heart", "Third Rail", "In Quintessence" and "The Day I Got Home" followed. "Please Be Upstanding", "Annie Get Your Gun", "Cool For Cats", "Cradle To The Grave", "Slap and Tickle", and the only non-Squeeze song of the night, "Loves Crashing Waves" off of the self-titled Difford & Tilbrook album that they had released in 1984, even though it can be argued that it wasn't an official Squeeze album, it was written and performed basically by the brains behind Squeeze, so it must be labeled a Squeeze album. I wonder if that bothers them or if it is something, they anticipated would happen one day?
"Tempted", "Another Nail in My Heart", "Goodbye Girl", and off of their album Argybargy, "If I Didn't Love You", closed out the set.
At least that is what they wanted you to believe. A three-song encore finished off the night, "Take Me I'm Yours", "Is That Love", and "Black Coffee in Bed". I must admit that I enjoyed night of the music and watching the good time everyone around me seemed to be having during this 90 minute set. That was 23 songs, covering almost their entire career, not quite 50 years yet but coming close.
Squeeze is touring the United States until the end of September, go out and see them. ake your significant other, take your kids, take someone you will have a great evening with. It will be well worth it.
And at the Merch booth, you can buy that night's show, I did.
For More Info on Squeeze, visit: http://www.squeezeofficial.com