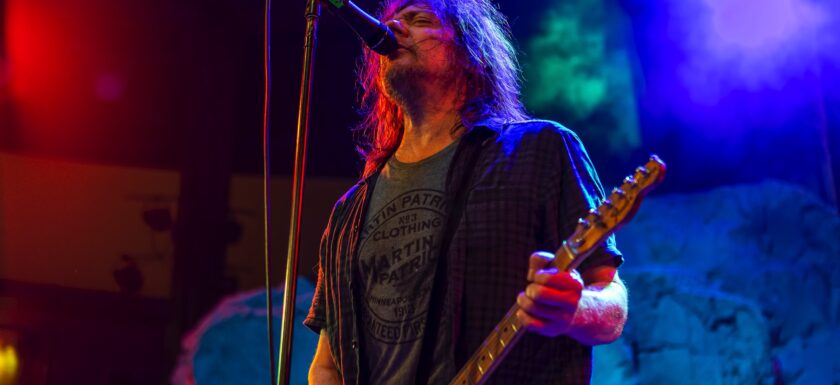 SOUL ASYLUM
Mohegan Sun Casino Wolf Den
Uncasville, Connecticut
December 21, 2019
Photos & Review by Tom Bogus
Grammy Award winning Soul Asylum made their way to the Mohegan Sun Wolf Den in Uncasville, Connecticut on December 21st 2019. The Den was packed that evening with diehard Soul Asylum fans. Soul Asylum has been around since 1981. In that time they released 11 Studio albums and 22 singles. Since it's inception, the band has gone through several lineup changes. The current line-up is founding member Dave Pirner (lead vocals/guitar), Winston Roye (bass), Ryan Smith (lead guitar) and Michael Bland (drums).
They started their set off promptly at 9 pm with "I Will Still Be Laughing" from their eighth studio release. The band sounded amazing and Dave's voice was on point all night. The 21 song Setlist was a good mix of their newer stuff and of course they played several songs off of their 1992 Grave Dancers Union release. I love that Soul Asylum didn't close with their biggest hit. They played that song amongst other hits throughout the Setlist. They closed the night out with two encore songs. First they played "I Did My Best" and then "April Fool".
I would recommend seeing Soul Asylum if they are coming to a city near you. Soul Asylum live is one great sounding experience. The night's setlist introduced me to a selection of few good songs that have come out in recent years.
Soul Asylum Setlist:
1- I Will Still Be Laughing
2- Just Like Anyone
3- Somebody to Shove
4- Lately
5- Crawl
6- Freaks
7- Misery
8- Bus Named Desire
9- Watcha Need
10- String of Pearls
11- Eyes of a Child
12- By the Way
13- Black Gold
14- Runaway Train
15- Closer to the Stars
16- 99%
17- Spinning
18- Hopped Up Feeling
19- Stand Up and Be Strong
ENCORE:
20- I Did My Best
21- April Fool
For More Soul Asylum News, Info, Music and Tour Dates, visit: https://www.soulasylum.com