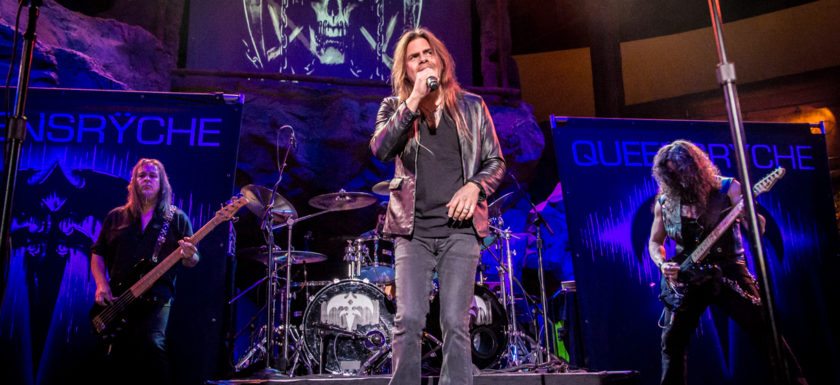 QUEENSRYCHE
Mohegan Sun Casino – Wolf Den
Uncasville, Connecticut
August 25, 2017
Photos & Review by Dan Wenc
Once again Queensryche has made a stop at the Mohegan Sun Casino in Uncasville, Connecticut as part of the 2017/2018 Tour. The band has played here consistently over the past few years. Which makes for happy fans of the Ryche. The Wolf Den is a free show right in the middle of the Casino. Dedicated fans came from all parts of the Northeastern states, getting in line early that day in anticipation of getting into the Wolf Den for the first come, first admitted show. There is common ground among the die hard fans at shows like these; everyone came for the same reason, to enjoy 90 minutes of Queensryche.
The set kicked off with "Guardian" from the Condition Human album. And right into "Operation Mindcrime". The vibe in the room was good and was band energized. Todd La Torre continues to be an incredible asset to the Queensryche legacy. His vocals are phenomenal and does not miss a note.
Queensryche is generally a no nonsense band on stage, but that night the players could be seen with all smiles from time to time on the stage, with obvious positive energy within the band that night.
Casey Grillo filled in for Scott Rockenfield on drums, while Scott is out on paternity leave. With some complicated Scott Rockenfield drum beats to keep up with, Casey did a tremendous job keeping time that night and leaving nothing out of the usual Ryche sound. Michael sporting a new ESP guitar with the Tri Ryche logo. Todd was very interactive with the crowd, at one point taking a fan's cell phone and doing a quick video clip on the fan's phone while singing.
John Arch, original singer of Fates Warning and a couple others came on stage for a few minutes to sing along for "Take Hold of The Flame."
Queensryche is Michael Wilton (guitar), Eddie Jackson (bass), Todd La Torre (vocals), Parker Lundgren (guitar) and Scott Rockenfield (drums). Casey Grillo (drums) filling in for this tour.
Queensryche remains to be a precision musical machine moving at full power in 2017. The band has been on the road over the past couple years, still sounding great with no signs of slowing down.  A band that continues to give the fans something to appreciate and support after all these years.
Queensryche is out on the road with many tour dates on schedule. Check out the Queensryche Official webpage for tour dates:
http://www.queensrycheofficial.com/tour-dates/
Check out the photos here: