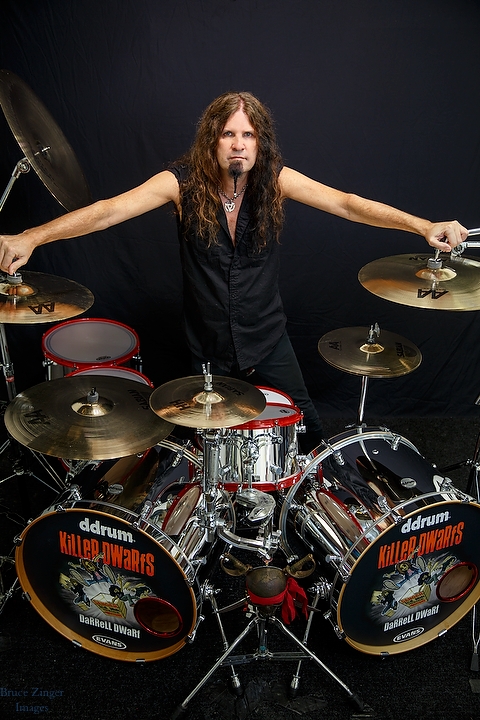 Northeast Metal Media recently got a chance for a Q & A session with Killer Dwarfs drummer, Darrell "Dwarf" Millar.  Killer Dwarfs are a Canadian based metal band that have been around since the early 80's, with hits like, "Stand Tall", "Dirty Weapons", "Keep the Spirit Alive", "Doesn't Matter", just to mention a few.  The Killer Dwarfs have recently announced tour dates for 2015, at M3 and 80's in the Park in Florida.  Darrell and the Killer Dwarfs have made a comeback of sorts over the past couple years.  They just came off a successful 2014 tour in support of "Start @ One", which was released in September of 2013.
[youtube=http://youtu.be/GY-HGhnyfXw]
Here is our interview with Killer Dwarfs, co-founder and drummer, Darrell Millar
NEMM: Killer Dwarfs recently announced the band's new webpage www.killerdwarfsband.com on December 20th, 2014. What kind of new things will we find at the webpage? Will fans be able to purchase Killer Dwarfs merchandise, t-shirts, photos, etc.?
Darrell: KiLLeRDWaRfSBand.com is really a place for DWaRfNation to hang their hat. The site is for them. Its a simple straight forward site of all you need to know about the band right now. Tour, Band, Merch, Bio, Contact and all social media links for the band and band Members.
NEMM: Should we be on the lookout for any new Killer Dwarfs news on the page?  New album, 2015 tour dates etc?
Darrell: There may be bulletins from time to time, but most news will hit FB and Twitter. Tour dates will be announced at the site first.
NEMM: Is there anything that you can share on possibility of re-release of any of the Killer Dwarf's music on iTunes, from Big Deal, Dirty Weapons or Stand Tall?  Is there any new music in the works for Killer Dwarfs?
Darrell: You would have to contact Epic/Sony in NYC about that. New music is a reality in the near future.

NEMM: Darrell, you recently launched your own webpage, The Official Dunks Pirate Shop, that launched last month. You have an assortment of items, signed drum head, Dunk t-shirts, rings, autographed photo and more cool items for fans.  Is there any new merchandise that fans should be looking for?
Darrell: Dunks Pirate Shop is a little side project you
could say in the form of a retail shop of some Rock related pirate trinkets of mine. The Pirate Ring is really cool and truly a collectors item. I'm not sure how many I will have manufactured. They are custom made, one at a time, in Africa on the gold coast where many a Pirate have plundered. The Pirate Shop will evolve with new items as time rolls on. I like to stay busy. When the band has down time I have to be doing something, thus a new retail shop. My other band Automan.ca is not active at the moment by my choice.
NEMM: You also have another webpage, Darrell 'Dwarf' Millar's Time capsule. That page covers your drumming career with the Killer Dwarfs, Automan.ca, Laidlaw and much more. One can spend a few hours, virtually get lost looking through all the content there, there is so much interesting stuff.

Darrell: I appreciate the traffic to the sites. The Time Capsule has been online since 2002 and has had millions of visits. It indeed is a Time Capsule of my career thus far. There is also www.automan.ca. This is a band I put together in 2004 and I am the Frontman and this is where my change of image to the Pirate evolved. As seen in the video Bona Fide via youtube. [youtube=http://youtu.be/7W8_GdFzQw8]
NEMM: I've heard other interviews with you in the past regarding your webpages. I understand that you are the webpage designer and webmaster for your webpages and that it is something you do in the side while not drumming. Did you help create the new Killer Dwarfs webpage?
Darrell: Web Design is something I dabbled in around 2002. Like I said, I like to stay busy. Rock and Roll has a lot of downtime in between records and tours. I really embraced Photo Shop. I'm more of a graphic designer than webmaster. I did build some commercial sites for companies and was paid for it early on. But…I realized that this was not something I want to do in my down time. Reasons? Stressful dealing with clients needs and never seeing the light of day. Its a very time consuming business sitting at a computer for days on end. And YES, I had a big hand in creating KillerDwarfsBand.com
NEMM: You are very social media savvy and you are very interactive on Facebook and Twitter. You put out a lot of cool info to fans on tours, music, merchandise and just everyday stuff. You are very fan friendly and interactive with your fans. Its great to see you interact with fans the way you do. Up until about 2013, the Killer Dwarfs had been quiet, with everyone off on their own projects. Last September (2013), KD released " Start at One", and have had a successful touring, with a good Dwarf Nation turnout. It is abundantly clear that Killer Dwarfs music still lives and fans are still coming out to see you guys.
NEMM: To what extent has the use of social media played a role in revitalizing the Killer Dwarfs and Dwarf Nation?  Has the response from fans on social media and your interactions with fans inspired you to get the Killer Dwarfs back together? And to what extend has social media played in that?

Darrell: Social Media has played a huge roll in the re birth of the Killer Dwarfs. This is the first time in the bands career that we can actually talk to the fans outside of a show, and they get to know us on a personal level. It's up to you how much you want to make them apart of it. My Facebook account is hitting 2500 right now and the majority is DWaRf Nation and they are apart of my life at this point. Twitter is the same. I have two twitter accounts @Automan.ca and @Darrell Dwarf. Killer Dwarfs have twitter @KillerDwarfs and Killer Dwarfs Facebook page. We also see all those posts and respond. All band members have accounts. It's Great. Along with social media. It's nice to say that Radio had a huge hand in getting us back on the road. An old school format dear to our hearts. Sirius/XM Radio. Hair Nation/Ozzys Boneyard has 3 Killer Dwarfs tracks in rotation. They were pounding the DWaRf gospel with Luc Carl at the helm long before we reformed.
NEMM: I think the way that you have connected and interacted with fans via social networks has lit the rock n roll fire of the Killer Dwarfs and its fan, so to speak. Obviously the music industry has changed dramatically, since the heyday of heavy metal.  MTV rarely plays music videos like they used to, we don't go to the local music store to purchase the latest album. It is safe to say that with the advent of SiriusXM, streaming, internet radio, iTunes and other media platforms, listeners can now choose to listen to the music they want, rather than at the mercy of a radio station and current music industry wants us to listen to.  I believe 80's metal as we knew it was killed off around 1990-91.  For such a long time, metal fans were forced to evolve their musical tastes by radio and the music industry to a new genre of music.  Over the past fifteen years or so, when satellite, streaming and itunes came along, our favorite music became more accessible.  In my opinion, a combination of that new music technology and social media, with fans showing the continued interest in artists through social media, has  helped to revitalize heavy metal as we once knew it. What do you think of that?
Darrell: I think your above statement says it all and is well said. I agree with you!! Rock & Roll has always evolved. What is happening today is all apart of  it's evolution. I believe it will survive.
NEMM: Since Killer Dwarfs have been back touring, have you noticed any increase in your fan base and any increase in a younger demographic?

Darrell: Yes I have. At every show, there is always rockers in their 20s and 30s present discovering DWaRfs. Sometimes they show up with their Parents and the fan base is being handed down.
NEMM:I recall first getting on Twitter and discovered that you and Russ Dwarf Graham were active on there and realize, hey I remember these guys, they are still around making music, that is great.
NEMM: Two part question: What is one of your favorite Killer Dwarfs songs to play live? During your most recent touring cycle, what Killer Dwarfs song gets the crowd going the most?
Darrell:  My favorite songs to play live. "Union Of Pride", "Dirty Weapons" and "Hard Luck Town". Hell, I love them all. "Doesn't Matter" is a crowd favorite, but I think when we do a blitzkrieg of Stand Tall/Keep The Spirit/Dirty Weapons back to back, that pretty well does it for them.
NEMM: You and the Killer Dwarfs have toured with so many legendary acts.  What was one of the best tours you were on?

Darrell: Iron Maiden. Michael Schenker, Accept in Texas and Saxon in Texas are memorable. Joe Perry Project early on was magical. I'm a huge Aerosmith fan. Hard to remember all the bands. I remember we did a show with Joan Jett. It was great. Skid Row and Pantera was also a highlight, Dio as well. Sweetheart of a guy.
NEMM: Last year, the Killer Dwarfs had a couple tour dates scheduled in the New England area during that initial round of touring. Unfortunately due to circumstances beyond the band's control (venue or logistics reasons), you guys never made it here. In all your years of touring, do you recall playing any tour dates and/or venues in the New England States (Massachusetts, Rhode Island, Maine, New Hampshire, Connecticut)? If so, when what show was that and when?

Darrell: Yes. We played in Boston at The Channel and one other venue that was on the second floor with glass windows to the street. Bachanal comes to mind for some reason as the name. Not sure. It was around 1988/89.
NEMM: Can you comment on any possible 2015 dates in the Northeast/New England states?
Darrell:  I don't see why we wouldn't play there in 2015. It's a great rock market. Stay Tuned.
NEMM: Thank you for your time with this interview. And thanks for helping to keep your Killer Dwarf fans informed of current events. We hope to see you and the Killer Dwarfs in the New England states in 2015. Is there anything else you would like to add?
Darrell: One thing was just announced. We are excited to be on M3 Festival in Maryland this year. May 2nd and thats my Birthday. Happy Birthday to me. If we don't hit New England you may have to make the trek south. Cheers. #DWaRfNation RULZ!!
Be sure to check out KillerDwarfs.com and check them out in 2015.  Also check out the new album "Start @ One" on iTunes.
Check out Darrell's, Dunk's Pirate Shop for some unique merchandise.
Darrell Dwarf Millar on Facebook
Follow the Killer Dwarfs on Twitter:
@DarrellDWaRf – Darrell
@RussDWaRf – Russ
@GPFinn5 – Gerry
If you enjoyed this article, please share it.
And be sure to follow on Twitter@NEMetalMedia
and