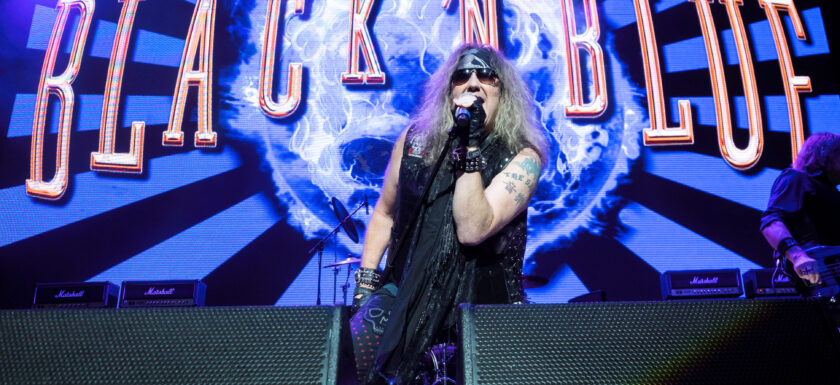 M3 ROCK FESTIVAL 2019
Day 1 – Kip Winger – Enuff Z'Nuff – Black N' Blue – KIX
Merriweather Post Pavilion
Columbia, Maryland
May 3, 2019
Photos & Review by Frank Piercy
It is a long drive from Connecticut to Columbia Maryland, but a drive that I have done now four times over the last
five years. I am sure your asking yourself, "Why?". Well, at the end of April or the beginning of May, there
is a migration of musicians and music fans that flock to the Merriweather Post Pavilion. This was the first day of one of the premiere 80's Rock events on land, The M3 Rock Festival.
KIP WINGER Photo Gallery
Thousands flocked here today for the start of M3 and if you bought a VIP ticket you were lucky enough to catch a short Acoustic set from Kip Winger. Kip played his well known songs and was joined for a song by Paul Taylor on Keyboards. As the gates opened for non-VIP ticket holders, the crowds slowly filed in for one of the more colorful entertainers to hit the stage, Chip Z'Nuff with his band, Enuff Z'Nuff.
I had missed seeing them with their new guitarist, Alex Kane when they played in Connecticut the week before, so I was excited for this set. It got even better when they were joined onstage by Kip Winger and Paul Taylor for "Fly High Michelle".
ENUFF Z' NUFF Photo Gallery
The crowd continued to grow as the rotating stage was spinning the next band's gear into position. Black n' Blue is a band I have been a fan of since the mid 80's, but unfortunately have rarely played the East Coast and I could not wait for this set to begin. Full of energy and all over the stage, they showed why they are one of the West Coasts most popular 80's rock bands. Unfortunately, it was a short set, with about nine songs that included songs like, "Stop The Lightning", "Does She or Doesn't She", "Nasty Nasty" "Miss Mystery" and of course "Hold onto 18".
BLACK N' BLUE Photo Gallery
There is a reason they refer to the first night of M3 as the KIX Off to M3. The local Dirty Boys of The Underground hit the stage next to a crowd that just went wild. KIX is a Baltimore band and Baltimore loves them. Steve Whiteman is a Front Man Extraordinaire, but I guess with well over 30 years of doing this, you know how to work a crowd! One of the highlights of the weekend for me but then they are one of my favorite bands to see live. Their setlist wasn't too different then a month ago at The Wolf Den in Connecticut, playing their hits like "Blow My Fuse", "Don't Close Your Eyes" plus, fan favorites like "Midnight Dynamite" and "Cold Shower". With a cut from their last album, "Love Me with Your Top Down". They definitely "KIX Off "the weekend with a huge amount of energy! And that was just the beginning. Two more days to go.
KIX Photo Gallery