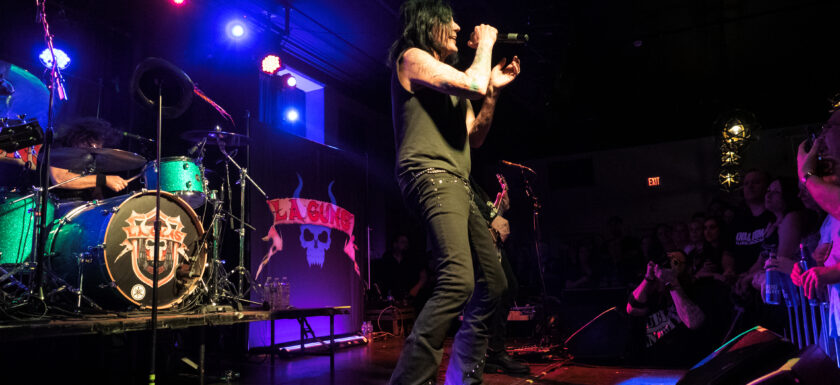 L.A. GUNS
The Vault at Greasy Luck
New Bedford, Massachusetts
April 13, 2019
The Vault is fast becoming my favorite place to see a show. Tight and intimate, with a small (very small (did I say small?)) photo pit. Not only great music, but just a few doors down is what has become a regular stop for many fans and bands coming thru, Purchase Street Records and as luck would have it, that day was also Record Store Day, but I already had my copy of L.A. Guns latest, "Devil You Know", on vinyl.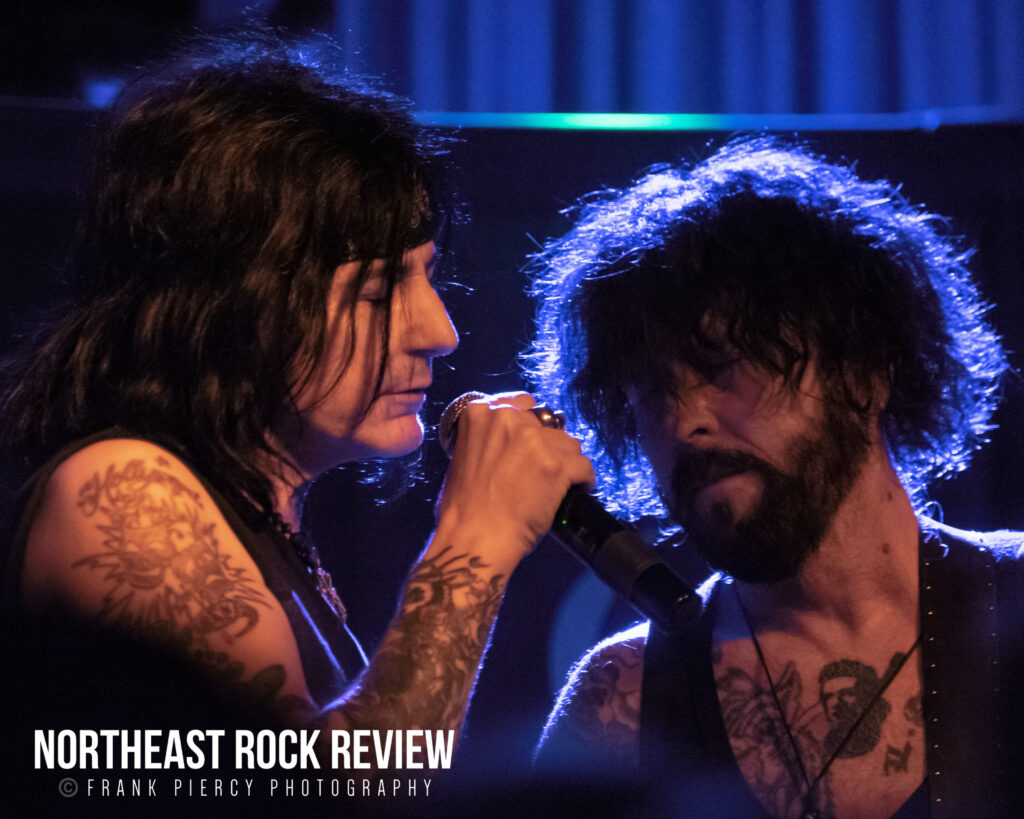 That night I was there on a mission, I was there to see one of my favorite bands, L.A.Guns and I had a VIP Meet n Greet. This was a going to be a great day. I highly recommend buying the VIP package, not only do you get some swag, but you get your picture taken with the band and something signed. Which for me was the album they are currently on tour for, "Devil You Know". Oh yea and watch a portion of the sound check!
THE DARBIES – Photo Gallery
With only one band opening for them, the evening started a little later then normal with doors opening around 8ish and a new band out of all places, Los Angeles. The Darbies, a band consisting of brothers Ronny (guitar) and Nico (drums) with Jani Jakko on vocals and Joe on bass. The Darbies have brought a new sound to New Bedford. Charismatic and energetic they really greased up the crowd for LA Guns with a hard rocking set. I am not sure what the retro 70s look is for with a lot of these younger bands whose parents were probably born in the 70s, but the sound… They kicked ass.
As much as the crowd enjoyed their set, the anticipation for LA Guns was like that sticky, hot, all-encompassing air that you only feel when your roaming cemeteries in the dead of a July night in New Orleans…
We were not to be disappointed.
The night started off with a nod to the beginning with "No Mercy" starting the night off. As I set myself in front of Guitarist, Ace Von Johnson, and bassist Johnny Martin, followed by one of the songs off of their latest and greatest album, "Rage". The fun began as the third song started, as I went to switch the spot I was shooting from, as I weaved and dodged and even darted in between a SOLD OUT crowd to get in a spot in front of THE guitar of L.A. Guns, Tracii Guns, I was lucky enough to get there just as "Sex Action" was coming to a close and he starting one of the more fun guitar solos to watch and photograph, a solo he plays using a bow.
This solo leads into another of their more popular songs, "Over The Edge", its Zeppelinesque feel just makes it the perfect song for that. Then another classic off their first self-titled album, "Electric Gypsy". At that point I have been out of the photo pit for a bit and like the crowd singing along to Phil Lewis.
I am not sure if it can be considered the title track, but "The Devil You Know" started crunching thru the amps and Phil swaggered up to the mic. I loved this tune from the first time I heard it and it sounds so different then you would expect from L.A. Guns, a heavier almost Black Sabbath vibe to it. Scotty Coogan is now on drums for L.A.Guns and really stood out on this track. Then, Phil comes out with this devil mask on its fantastic! You could see how much fun he is having with that part of the set.
Another crowd pleaser came up, off of their third album, "Hollywood Vampires" was "Kiss My Love Good Bye". I remember watching them play this live on MTV's Spring Break coverage. "The Flood's the Fault of the Rain", a definite Animals feel to that song, followed then the crowd went nuts when "I Wanna Be Your Man" started, another song that whoever may have been recording probably got more of the audience singing then Phil's voice.
Closing out the set was another L.A. Guns staple, "Never Enough". As the crowd whistled, hollered and chanted, the house lights did not come up. The roar did as the band came back out with Phil wearing a pair of funky looking goggles and they gave us "Speed" off of "Missing Peace" album, then a song it has been a few years since they have played live, "Crystal Eyes" and then their signature ballad, "The Ballad of Jayne". Truly closing out the set was another staple of their setlist, "Rip and Tear". Unlike me, these songs never grow old.
I have seen many incarnations of this band over the last 30 years, both with and without Tracii, this line up is the best I have seen and heard. From Ace's playing and stage presence, Johnnys low and wide stance and never ending handbanging to the smashing and smiling Scotty it is the perfect backing to Phils hypnotic charisma and Traciis furious fret work
They are having a great time being on that stage and you can hear it.
Go see them.
Don't delay…..
Buy your tickets now….
L.A. GUNS – Photo Gallery:
FOR MORE L.A. GUNS, news, tour dates and more, visit: https://www.lagunsmusic.com