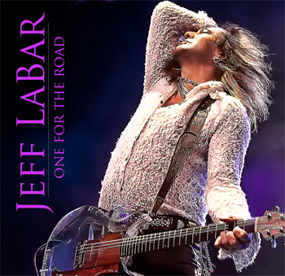 New music from Jeff LaBar, the guitarist who stood right side to Tom Keifer in Cinderella for over 30 years has embarked his first solo album. One for the Road was released in August 2014 on RatPak Records. This is the first solo release in LaBar's music career consisting of seven songs all written and performed by LaBar.  One for the Road showcases LaBar's  talent as a writer, guitarist, and singer.
The CD was released with options for fan packages and purchasing of autographed CD case, guitar picks, t-shirts and even an option for a personal phone call from Jeff himself.
The album was produced by LaBar and engineered by Ronnie Honeycutt. The first title, "No Strings" was mixed by Fred Coury, drummer of Cinderella. This is definitely a unique solo album; in addition to his vocals, LaBar plays guitar, bass and keyboard cello on all tracks. The seven songs on the album cover a wide range of LaBar's musical influences and stylings with a range of the eighties metal sound we all love.  A mix slower songs, acoustic arrangements to hard metal of " Nightmare on My Street" and ending off with a bluesy "One for the Road".
Cut to the chase, from the instant "No Strings" starts off, you know right away it is a great tune. LaBar's guitar has a great groove that carries the listener through the whole song, and its the first occasion we get to hear LaBar sing on his own. This is a song that sticks in your head days later. One of those songs that pops into your head the minute you get up in the morning. "No Strings" has that authentics 80's metal sound that you can appreciate, with a modern twist to it. Troy Luccketta of Tesla plays drums on this song, with a powerful and smooth drum track. Jeff's wife Debinique also appears in the video as the bartender. The song was written following Labar's first marriage and divorce and tells a story of his real life past relationship that has experienced over the years.
"Asking for a Beating" co-written by LaBar and his wife Debinique has a classic original 80's metal guitar track. This tune sounds as if it could be a combination of George Lynch guitar riffs with a touch of RATT.
"Muse" is the third track on the album and consists of a one and a half minute melodic all acoustical. "Muse" has a sound reminiscent of a 70's rock, that of Emerson Lake & Palmer and early Heart. An overall great tune and really enjoyed listening to this song. Although it could leave the listener wanting more of it, almost as if it was an introduction of sorts. A perfect prelude to "Hello or Goodbye".
"Hello or Goodbye" sounds to tell LaBar's story of years on the road touring and missing his love, with the uncertainty of what to find up return. Certainly a well arranged song and definitely carries you through the song with LaBar's guitar riffs.
"Ode to Page", the fifth track and all acoustic using six and twelve string guitars, is a tribute to Jimmy Page of Led Zeppelin. This song is a relatively calm into to what comes next.
Sixth track, "Nightmare on my Street". Here we see another side of LaBar and his musical influences and stylings, different of what we know with Cinderella. "Nightmare on my Street" has a real powerful and heavy sound. Chris Williams puts some amazing double bass drums into this song. Why haven't we heard of Chris Williams before? Fantastic drummer. Overall great song that is heavy metal through and through. Williams also plays drums on "Asking for a Beating". "Nightmare on my Street" sounds like Jeff Labar meets Megadeth and Dokken. This is one of those songs that you would hear during the action sequence on a horror or action movie. Very cool to hear this side of Jeff's musical talents in a different genre of metal.
"One for the Road" is the final song and come in with a bluesy riff and its hard not to have this song stuck in your head for a time after listening. The song tells a story of dealing with addictions and dealing with issues that surround it.
Our top 3 favorite songs:
No Strings
Nightmare On My Street
One For The Road
Don't take our word for it, buy the album or head over to itunes and have a listen on your own. Or order the CD from RatPak Records. Help support our favorite musical artists and support their new music.
In November 2014LaBar played his first ever solo date, in support of the new album,  in Indianapolis, Indiana. We hope there are more tour dates announced soon. Hopefully Jeff will get booked at some northeast locations and add some tour dates at least one of the venues in the New England area.
For more info and links on Jeff LaBar, check out the links below:
Jeff Labar on Twitter @RealJeffLaBar – Jeff is one of the coolest rock stars to follow on Twitter, he is very fan friendly and posts some cool stuff.
Facebook: https://www.facebook.com/OfficialJeffLaBar
For up to date info, merchandise, tour dates, & bookings: Official Jeff LaBar Website
RatPak Records: Jeff LaBar at RatPak Records
Share this review if you enjoyed it. And be sure to follow on Twitter @NEMetalMedia and