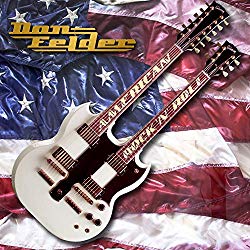 DON FELDER's 'American Rock n Roll' Album Out Now
A former lead guitarist and songwriter of The Eagles, Rock and Roll Hall of Fame Inductee, and New York Times bestselling author Don Felder, announces his highly anticipated all-new album American Rock 'N' Roll. The new album is slated for release on April 5, 2019 on BMG.
Order on Amazon:

The album features some of the biggest names in music including Sammy Hagar, Slash, Richie Sambora, Orianthi, Peter Frampton, Joe Satriani, Mick Fleetwood, Chad Smith, Bob Weir, David Paich, Steve Porcaro, Alex Lifeson and more. The album was mixed by Bob Clearmountain and mastered by Bernie Grundman.
The leadoff single and title track "American Rock 'N' Roll," featuring performances by Slash, Mick Fleetwood, and Chad Smith, is available for download and streaming on January 25, 2019.
Felder will be embarking on a worldwide tour to promote the new album due out April 5 on BMG. In addition, Felder and his iconic double neck Gibson electric guitar, that he recorded and performed with on Hotel California, will be featured at the Metropolitan Museum of Art's new exhibit titled Play It Loud: Instruments of Rock and Roll opening April 8th.
1. American Rock 'N' Roll Don Felder Lead Vocals, Rhythm and Lead Guitars
Special Guest Guitarist Slash
Nathan East Bass
Mick Fleetwood Drums
Chad Smith Drums
Lenny Castro Percussions
Monet Owens Background Vocals
2. CHARMED
Don Felder Lead Vocals, Background Vocals and Electric Guitars
Special Guest Alex Lifeson Acoustic Rhythm on Bridge and Electric Guitar End Solo Nathan East Bass
Lenny Castro Percussions
Timothy Drury Background Vocals
Mike Finnigan Hammond B3 Organ
Robin DiMaggio Drums
3. FALLING IN LOVE
Don Felder Lead Vocals, Acoustic and Electric Guitars
Steve Porcaro Keyboards and Synths
Nathan East Bass
Monet Owens Background Vocals
Robin DiMaggio Drums and Percussions
4. HEARTS ON FIRE
Don Felder Lead Vocals, Electric Guitars
David Paich Keyboards
Joe Williams Background Vocals
Alex Al Bass and Moog Bass
Robin DiMaggio Drums and Programming
5. LIMELIGHT
Don Felder Lead Vocals, Electric Guitars and Lead Solo
Special Guest Orianthi and Richie Sambora on Solos
Mike Finnigan Hammond B3 Organ
Lenny Castro Percussions
Chris Chaney Bass
Sean Holt Background Vocals
Leah Felder Background Vocals
Robin DiMaggio Drums
6. LITTLE LATIN LOVER
Don Felder Lead Vocals and Acoustic Guitars
Abe Laboriel SR. Bass
Alex Alessandroni acoustic Piano
Monet Owens Background Vocals
Christophe Lampidecchia Accordion
Lenny Castro Percussions
Robin DiMaggio Additional Percussions and Hand Claps
7. ROCK YOU
Don Felder Lead Vocals and Electric Guitars
Special Vocal Guest Sammy Hagar
Special Guitar Solo Guest Joe Satriani
Chris Chaney Bass
Bob Weir Background Vocals
Mike Finnigan Hammond B3 Organ
Lenny Castro Percussion
Robin DiMaggio Drums
8. SHE JUST DOESN'T GET IT
Don Felder Lead Vocals, Background Vocals, Acoustic and Electric Guitars
Steve Gadd Drums
Nathan East Bass
Greg Leisz Pedal Steel
Timothy Drury Background Vocals
Robin DiMaggio Percussions
9. SUN
Don Felder Lead Vocals, Background Vocals, Acoustic and Electric Guitars
Steve Gadd Drums
Nathan East Bass
Greg Leisz Pedal Steel
Timothy Drury Background Vocals
Robin DiMaggio Percussions
10.THE WAY THINGS HAVE TO BE
Don Felder Lead Vocals, Acoustic and Electric Guitars
Special Guest on Background Vocals and Telecaster Peter Frampton
Mike Finnigan B3 Hammond Organ
Leah Felder Background Vocals
Chris Chaney Bass
Jim Keltner Drums
David Paich Acoustic Piano
Alesandro Alesandroni Additional Keyboards
Lenny Casto Percussions
11. YOU'RE MY WORLD
Don Felder Lead Vocals, Acoustic and Electric Guitars
Mike Finnigan B3 Hammond Organ
Chris Chaney Bass
Kenneth Crouch Keyboards
Monet Owens Background Vocals
Lenny Castro Percussions
Jim Keltner Drums
Robin DiMaggio Drums