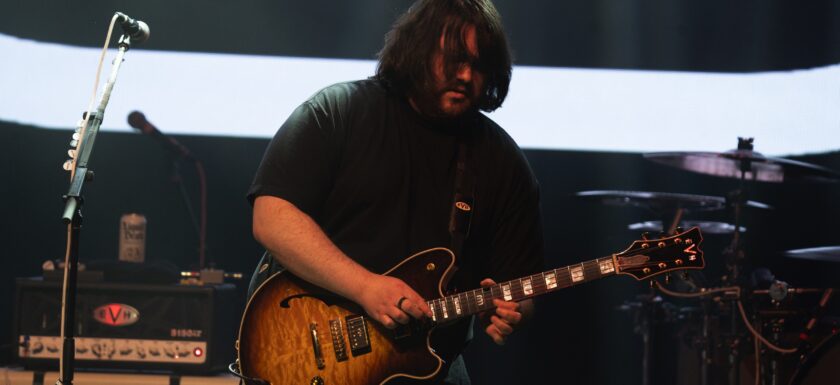 DIRTY HONEY | MAMMOTH WVH
Big Night Live
Boston, Massachusetts
March 26, 2022
Photos & Review by Michael LaFleche
BOSTON, Mass. – Another crazy night in Boston was had on Saturday at Big Night Live, co-located right at TD Garden. The Young Guns tour features some two of the most talented and exciting bands to come out in recent years: Dirty Honey, an honest to goodness old fashion rock'n roll band that doesn't feel old and Mammoth WVH, featuring Wolfgang Van Halen, the guitar genius' son and himself, a musical prodigy playing all the instruments on Mammoth WVH's debut album. Fans were lined up around the garden, young and old alike, many wearing Van Halen regalia as well the sultry Dirty Honey lips logo nostalgic of the Stones.
The show is billed as a double headlining tour, with each of the bands taking turns opening up. Tonight we had the pleasure of Dirty Honey leading off with the hard rocker Gypsy with the fast paced drumming and guitar work of Corey Coverstone and John Notto respectively. The bass kicks in, provided by Justin Smolian and Marc saunters on stage delivering the Robert Plant-esque vocals that Gypsy slathers all over the adoring Boston crowd. By the way, the venue was totally packed and you could sense the energy and excitement of the massive crowd.
Dirty Honey followed up with the bass heavy "Break You" as Marc's mic leapt from his stand and got a bit of stage diving action in much to the band's amusement. What a great follow up the band to then move into a recent hit "The Wire" which really showcases the band's sound, a mix of Aerosmith, The Black Crowes and Zep, but in the modern era.
The set just kept rolling with "Heartbreaker" a groovy rock song that had everybody dancing in place. "Take my hand" was almost grunge-worthy Soundgarden-like sounds mixed with a bit of Whitesnake's David Coverdale. "Tied Up", "Down the Road " and the hit "California Dreamin' " rounded out the middle of the set.
Saturday was going to be emotional for the music industry with the tragic loss of drummer Taylor Hawkins of the Foo Fighters just hours earlier, so it would stand to reason that tonight's show would be an outlet for discussing the news and to pay tribute to Taylor. Appropriately, Marc and Dirty Honey mentioned this, and that Wolfgang would have more to say on the topic as his Dad's loss was so recent. So as not to dwell on this the band mentioned another anniversary that changed the mood up a bit, it was Steven Tyler's birthday! So Boston enjoyed Dirty Honey thrashing a great rendition of "Last Child" expertly done for tonight's show. This was followed by "Another Last Time" and then the band went into some solo highlights, with John on guitars sounding like EVH himself at points, Justin providing us with some psychedelic bass and Corey showcasing his beats on the kit. The show wrapped up with a couple more songs you may have heard on the airwaves, "When I'm Gone" and closing up with "Rolling 7s"
I saw Dirty Honey less than a year ago when they were on tour with the Black Crowes and I have to say that this was even better, the band was really in their element enjoying the Boston crowd. Keep your eyes out for more Dirty Honey, you will not be disappointed.
DIRTY HONEY photo gallery
A short break ensued while the stage crew prepped for Mammoth WVH. Lots of folks were here to hear the next generation of the Van Halenfamily show us what he's got. They got something really impressive. They have a musician in Wolfgang that is without measure, who can play almost any instrument and put together great popular rock sounding music. The kind of music that instantly sounds like a hit, and feels well crafted. Wolfgang does not play all by himself on tour however. He was surrounded by other great musicians using EVH amps and equipment. It had some of the same sounds you would expect to hear out of that equipment, but done in a completely different way than you might expect.
First up was the title track, "Mammoth" to kick off the show, with a four piece band sounding really tight, followed up by the really technical guitar intro of "Mr. Ed", an alternative rock sounding track, almost had a Foo Fighters sound too it. Give it a listen, it is really good! The bass driven "Epiphany" was up next, followed by "Horribly Right" in which you can hear the EVH inspired sound in the guitar work. "You'll be the One" was up after that with the rolling and etheric guitar sounds of "Stone". "I don't know it all" was a really high point for me. The song is extremely professional, everything seemed really well crafted from the lyrical content to the tightness of the band, who sound like they have been playing together for decades.
Midshow we were treated to "You're to Blame" a great sonic wall of guitar layered over each other with the soft sounds of the vocals. This was followed by "Distance" which, if you have seen the music video, elicits huge amounts of tears with a home video of the family" You can hear the passion on the voice here and it's a truly heartfelt connection he had with Eddie. And this followed by the words of the news today of Taylor Hawkin's passing, by playing another one of his hero's songs, by playing "My Hero" from the Foo Fighters, in which they just rehearsed and put together that morning for today's show. It sounded fantastic and there was not a dry eye in the house. The whole crowd was singing in union, it was a very very special moment.
The show wrapped with "Don't Back Down", a great high energy song with an insanely catchy drum beat. The show was amazing, both of these bands are going to be huge starts, there is no way that it can't happen. Please give them a listen and sit up knowing that real great good rock is not going away!!!
MAMMOTH WVH photo gallery
For more Mammoth WVH info, news, music and tour dates, visit: https://www.mammothwvh.com