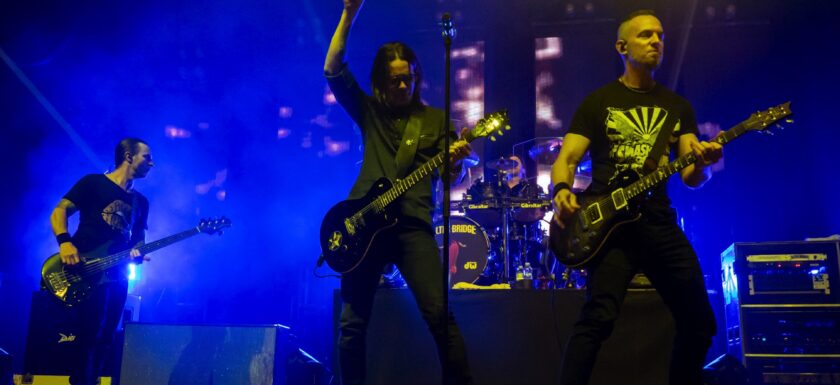 ALTER BRIDGE | SKILLET
WITH DIRTY HONEY
The Palladium
Worcester, Massachusetts
October 3, 2019
Photos & Review by Frank Piercy
You know when a day is going so right, that something will eventually go wrong? Well that was how my day was going, got out of work on time and hit the road to Worcester. What is normally is a 90 minute drive from work turned into just over 3 hours and unfortunately I missed my window to be in the photo pit for the first three songs of the opening band for the evening, Dirty Honey.
Another one of the growing number of Rock n Roll bands with a sound that is incorporating 70s, 80s and a bit of 90s rock. Dirty Honey is singer Marc LaBelle, guitarist John Notto, bassist Justin Smolian and drummer Corey Coverstone. They had the crowd in the palm of their hand when I walked into the Palladium, with Marc standing on the railing melding with the crowd. A short 30 minute set that had everyone wanting more and me wishing I had gotten there on time to shoot.
I have seen Skillet perform in the past and to be honest, I never really paid them much attention until I started reviewing shows and had to pay attention to everyone the bill. I am there to cover the whole show, not just the headliner, and believe it or not, a lot of times there is a rhyme and reason to the way tour packages are put together. After seeing them at Impact Fest in Bangor Maine earlier this year and kicking myself in the self in the ass for not really paying them the attention they deserved, I was really looking forward to their set. Great music and a very photogenic stage presence.
They did not disappoint this evening, a show with a setlist that covered their most popular songs and material off the latest album, Vistorious, which included the following songs; "Feel Invincible", "Not Gonna Die", "You Ain't Ready", "Whispers in the Dark", "Legendary", "Awake and Alive", "Back From the Dead", "Save Me", "Hero", "Undefeated", "Victorious", "Comatose", "Monster" and "The Resistance".
The energy this band exudes on that stage is amazing with Guitarist/Keyboardist Korey Parker all over the stage putting to shame any other guitarist that was on that stage this evening with not only her playing but her stage presence! Her husband and Lead Singer/Bassist John Cooper, is no slouch with the stage presence either, also bouncing all over the stage and when they strap on those CO2 cannons. What a show! Supported by drummer Jen Ledger, who is putting just as much energy into her playing and also when she comes out front and helps sing a bit. The last piece of this puzzle is Seth Morrison on Guitar.
Skillet is amazing, I am kicking myself in the ass for missing their solo shows in the area the week before.
SKILLET Photo Gallery:
Alter Bridge, what can I say… They picked bands on this bill that are going to make them up the ante with their playing. Myles Kennedy and Mark Tremonti did just that.
Touring in support of their soon to be released new album Walk the Sky, set for release on October 18th. Alterbridge gave everyone at the Palladium a solid performance. No tricks, no gimmicks, just straight up pure rock n' roll, with a setlist that covered all of their albums except surprisingly, The Last Hero. The setlist was, "Wouldn't You Rather", "Isolation", "Come to Life", "Pay No Mind", "Rise Today", "Addicted to Pain", "Waters Rising", "Take the Crown", "Cry of Achilles", "Blackbird", "Metalingus", and "Open Your Eyes"
Myles Kennedy sounded great as he roamed around the stage and bassist Brian Marshall was all smiles as he worked the crowd. A pleasant surprise, considering the last time I saw Alterbridge he hardly moved about the stage at all. Now Mark Tremonti, I am surprised that his guitar isn't smoking by the end of the night. Scott Phillips is on drums and definitely an underrated player as he holds it all together.
Knowing the past of certain players in this group, you go to one of their shows with preconceived notions, unfair expectations and unreal hopes.
With soon to be 6 albums under their belt, I believe they have shown that they are more then just their past and current other projects and have given Alter Bridge a definitive sound and feel separate from those. And you will not be disappointed.
ALTER BRIDGE Photo Gallery:
For more info on these bands, visit:
Alter Bridge: https://alterbridge.com
Skillet: https://www.skillet.com/victorious
Dirty Honey: https://www.dirtyhoney.com