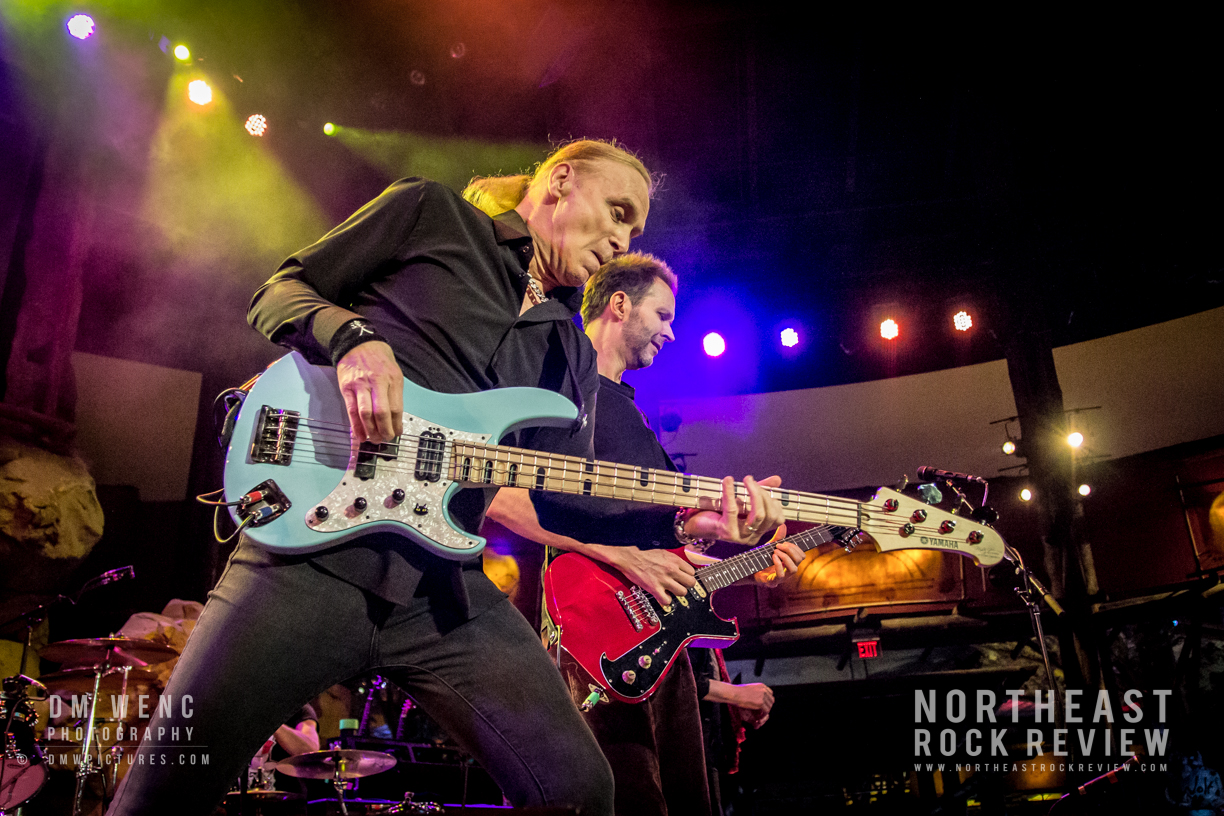 MR. BIG
Mohegan Sun Casino – Wolf Den
Uncasville, Connecticut
June 9, 2017
Was it 1992 again? No, it was 2017, but it sure felt like it was and MR. BIG was Alive and Kickin' again, like a red hot firecracker, ready to light the fuse that night in Uncasville, Connecticut. The lines started forming for entry into the Wolf Den around 3PM for the 8PM show. MR. BIG fans are determined and dedicated. The line grew to span the outside of the casino floor, it was a free show.  The musically intellectual fans came out to show support and appreciation of this miraculous combination of musical talents for what is known as MR. BIG. Fans of this band are comprised of  those who know the band for more that just "To Be With You", these fans have a deeper appreciation of the true musical talents of what MR. BIG is really all about, musical precision and excellence, wrapped up into collection of great songs. That's right, MR. BIG was back, this time out on the road in support of their latest album DEFYING GRAVITY. This is not an album that you have to listen to a few times to get a feel for it. It is an instant hit. Set to release in July of 2017 from Frontiers Music SRL.
MR. BIG has been pumping out great music since 1989 with their debut self titled album, MR. BIG. Followed up with Lean into It. Since the first two albums, they have put out six other albums spanning that time. The Stories We Could Tell probably did not get all the attention that it should have deserved, it was certainly a great album.
Only a band of MR. BIG's musical talents could put together such a rock solid sounding album together in six days. DEFYING GRAVITY brings MR. BIG fans back to the unmistakable sounding music like the days of early MR. BIG with tracks like "Open Your Eyes", "Defying Gravity", "Everybody Needs A Little Trouble", "Mean to Me" and "1992". This new album is great and fans are saying that it's about time to see this band back together and out on the road. The members of the band have kept busy with their own various projects over the years, in between MR. BIG. But now it was back to BIG business.
This was the first leg of the of the DEFYING GRAVITY Tour and one of the stops was Connecticut. The fans filled the the Mohegan Sun Casino Wolf Den and the surrounding area on the outskirts of the casino to watch this long awaited reunion.
MR. BIG is Eric Martin (Vocals), Paul Gilbert (Guitar), Billy Sheehan (Bass), Pat Torpey (Drums/Percussion/Backing Vocals) and Matt Starr (Drums) a Connecticut native. Torpey was unable to perform some of the songs on the album due to a recent diagnosis of Parkinson's disease, Matt Starr has been filling in for him on a majority of the album. Starr also been touring with the band for the past couple of years, with Torpey able to play a couple of songs at each stop. Matt is a talented drummer and great fit for MR. BIG.
The band took to the stage with electric energy and it was on, kicked the night off with "Daddy, Brother, Lover, Little Boy" (The Electric Drill Song). Yes we all remember the amazement of this song when it first came out in 1991 with the Makita drills. Such an amazing song to see and hear be performed live… with drills and all. MR. BIG was back and it was with great anticipation and high energy. The unmistakable voice of MR. BIG, Eric Martin sounded unchanged and as good as it was in 1989. Backed by the virtuosos of the stringed instruments, Billy Sheehan on bass and Paul Gilbert on guitar. The two have always made for some of the most amazing guitar combinations in rock n' roll. Essentially, anything they touch turns to musical gold. Most bands have a guitar solo, MR. BIG has much more punch to the typical guitar solo. Packed with melodic Gilbert guitar solos and complemented with the signature Billy Sheehan style rolling bass lines and some of the most bad ass bass solos around.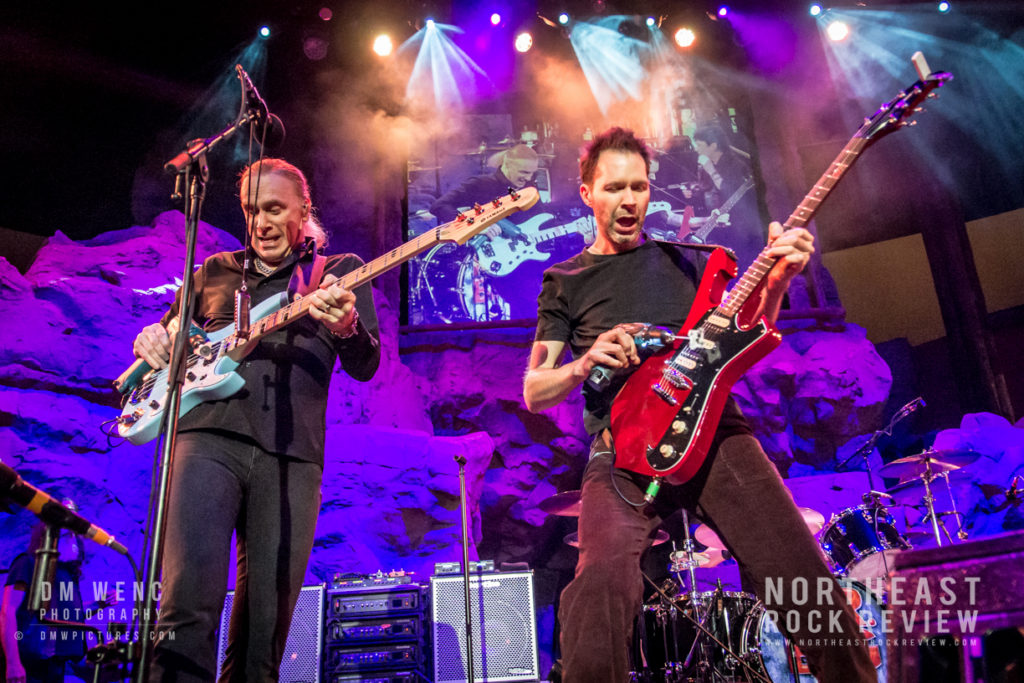 Next in the set was "Undertow" from 2014, a great song. Not sure it got all the recognition that it should have. It sounded great that night. Then was "Alive and Kickin'" with the appearance of Mr. Pat Torpey from the back of the stage. The fans were elated, Pat had such a joyed energy about him and the fans erupted. Pat took to the left side of Matt Starr at a percussion kit and spent the most of the night there on percussion, tambourine and backing vocals. Pat has always been an amazing drummer and was great to see him out on the road. Pat got behind the kit for "Just Take My Heart".
By that point, the night was rolling on filled with the musical energy that is MR. BIG. The band looked like they were having a great time. They sounded great and it was great to be here again watching MR. BIG live. The last time that I saw MR. BIG was in 1991 in a small club in Massachusetts, and have been amazed and continuously drawn to this band and the music that they have created. It was like it was 1992 again.
But wait, they played "1992" from the new album, which is sort of a homage to their time in music and experiences of that time. "1992" has a sound that resonates similar to Lean Into It. Also from DEFYING GRAVITY was "Everybody Needs A Little Trouble". There was no lull in the set list. The new songs were played like they had been playing them since the early days. It was plain to see that the fans have been keeping up with the recent video releases and previews from the new album. Fans were singing along and it was apparent that this new album has some really good material that fans were already familiar with.
Also in the set-list that night was the Cat Stevens cover "Wild World" and the 1991 Billboard Hot 100 #1 hit "To Be With You". For all the mainstream music fans, everyone knows those songs. But true MR. BIG fans know that there is more much more than just those two songs. And everyone in the room knew that also.
Paul is one of the most talented guitarists to come from the 80's rock era. What would the night be without a Paul Gilbert guitar solo. Such a great performer with amazing stage persona who connected with the crowd through his guitar that night.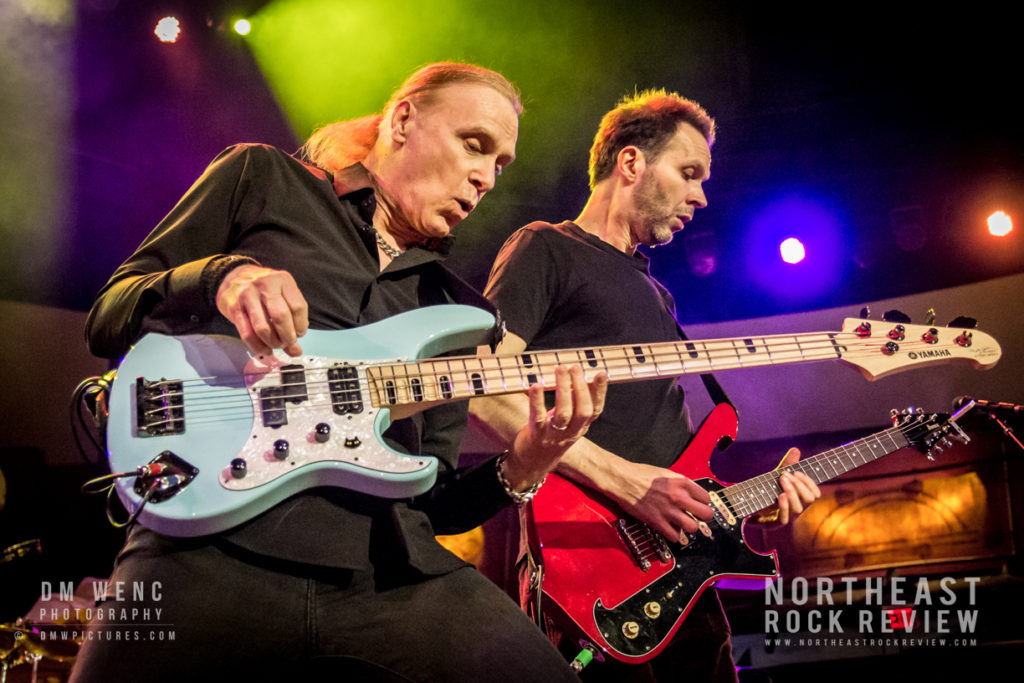 And what can you say about Billy. Of course he had an amazing bass solo which lasted almost some five minutes. The best of the best when it comes to bassists. No words to describe his style, you just have to watch him. With perfect follow up from the bass solo it was right into "Addicted to that Rush", a signature MR. BIG, high intensity song.
Then the band gathered at the front of the stage for "To Be With You". Pat came up and said that it was that point in the show where the audience applauds, the band goes back stage, you applaud more and then we come back on stage and play more songs. He said they weren't going to do that, so they kept on playing. No room for encore theatrics at a MR. BIG show, just a straight up good time is what is all about. The night ended with "1992" and "Colorado Bulldog". Of course there were about twenty other songs I would have liked to heard that night from their collection. But it was a great mix of the MR. BIG catalog plus the new material.
Billy thanked the crowd for coming out and supporting the band and seemed to be joyed with the turnout of the night. Keep playing and we will keep on coming out to see you. You can't put into words the talents and the music from a live performance, you just have to get out and see them. Pick up the new album when it drops in July. You won't be disappointed.
CHECK OUT THE PHOTO GALLERY FROM THE SHOW:

Photos by Dan Wenc at dmwpictures.com
For More on Mr. Big:
http://www.mrbigsite.com/
ORDER MR. BIG – DEFYING GRAVITY HERE:
SET LIST FROM THE NIGHT:
Daddy, Brother, Lover, Little Boy (The Electric Drill Song)
Undertow
Alive and Kickin'
Temperamental
Just Take My Heart
Take Cover
Green-Tinted Sixties Mind
Everybody Needs a Little Trouble
Price You Gotta Pay
Take a Walk
Wild World
Around the World
Addicted to That Rush
To Be With You
1992
Colorado Bulldog
Facebook Comments