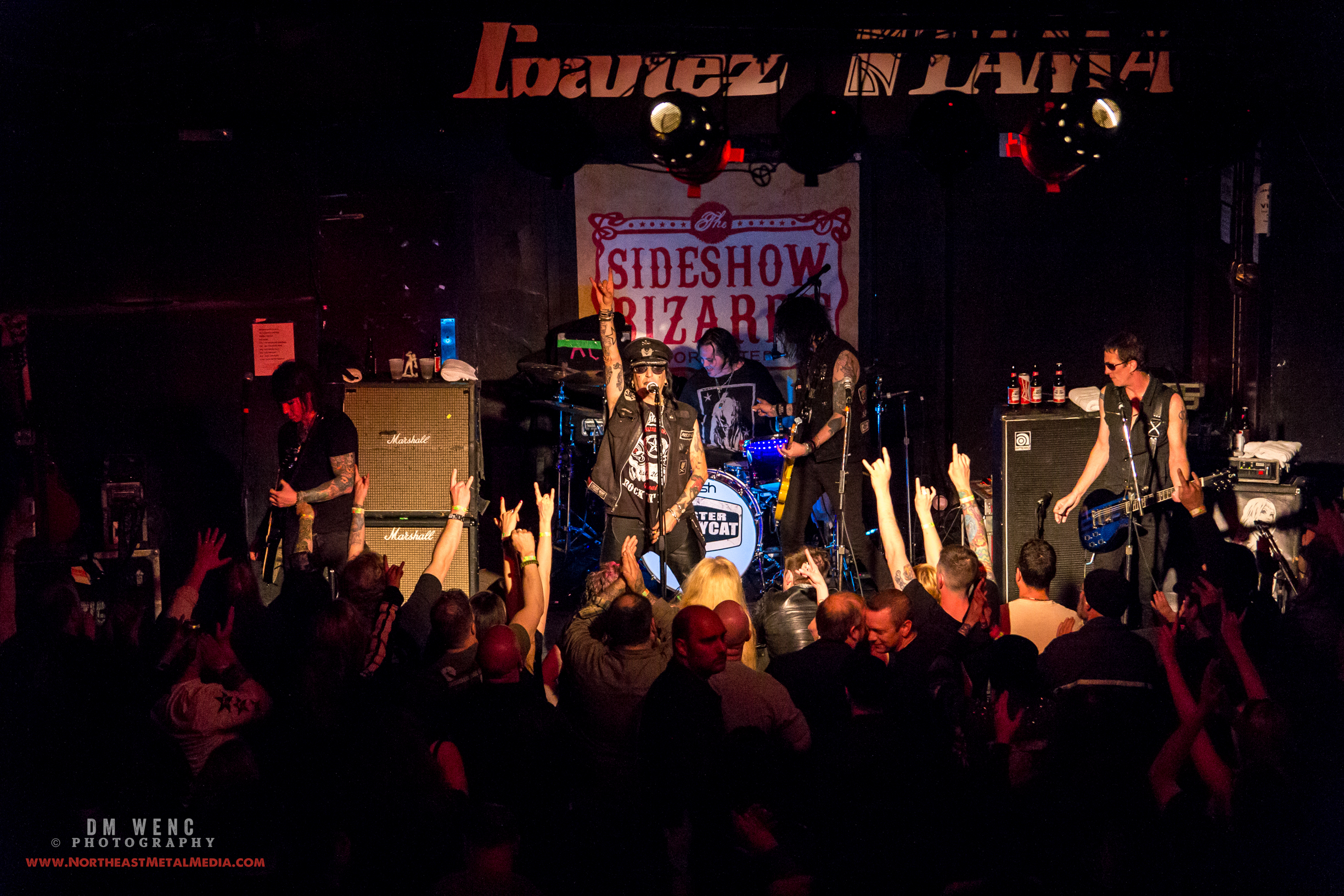 FASTER PUSSYCAT

April 30, 2015
The Palladium
Worcester, MA
From the Hollywood Sunset Strip to Main Street, Worcester, April 30th marked Faster Pussycat's appearance in Worcester, Massachusetts at the Palladium as one of the many stops on their 2015 tour. The Palladium is known as one of Worcester's long time music and entertainment landmarks on Main Street. Over the past decade it has been host to many metal and rock shows.  Faster Pussycat had played other New England dates, the night before at Jewel Nightclub in Manchester, NH, opening for Tom Keifer. They would play The Webster Theater in Connecticut, the night after this show.  They made an area stop at Hampton Beach Casino Ballroom, in summer 2014 with Gilby Clark, Bullet Boys and Quiet Riot, which was also an amazing show.
Some twenty eight years after the birth of Faster Pussycat, fans are enthusiastically showing up to see this legendary band from one of the best eras in music, the 80's. Faster Pussycat came ready to play that night and the crowd would not be disappointed.  They started off the night starting with "Where There's a Whip There's a Way", which is still stuck in my head even as this is written. Faster Pussycat brings an intense, raw and hard rocking show with its line up. Faster Pussycat is, founder, Taime Down (lead singer), Ace Von Johnson (guitar), Xristian Simon (guitar), Danny Nordahl (bass) and Chad Stewart (drums).
Downe and company kept the crowd going through the whole show with many of the Faster Pussycat hits such as "Bathroom Wall", "Poison Ivy", "Slip of the Tongue", "Cathouse", "You're So Vain" to mention only a few.  If you grew up in the late 80's, you are sure to remember "House of Pain" regardless of what kind of music you were into at that time. Taime got down and sat on the edge of the stage for an up close and personal with the crown while he sang "House of Pain", and the crowd sang right along with him.
It was a night of  good old fashioned, hard core, rock n roll, celebrating with the songs of an era of sleaze/glam/rock. The crowd kept up with the band and the songs all night, there were no low points in the show.
Raw, non -stop entertainment can best describe a Faster Pussycat show. A true testament that metal is alive and well. If Faster Pussycat comes to a city near you, be sure to get out and catch this must see show.
The night started off with several local bands including Reflecting Darkness, The Devils Twins,Demon's Alley, Derailer and Love Blast, which was their touring opener. More coverage on the opening bands can found in a related article.
Check out more photos from the show below.
©2015 NortheastRockReview.com / ®All Rights Reserved
Photos by Dan Wenc Photography. All photographs are Copyright protected – Not for use without permission
Facebook Comments