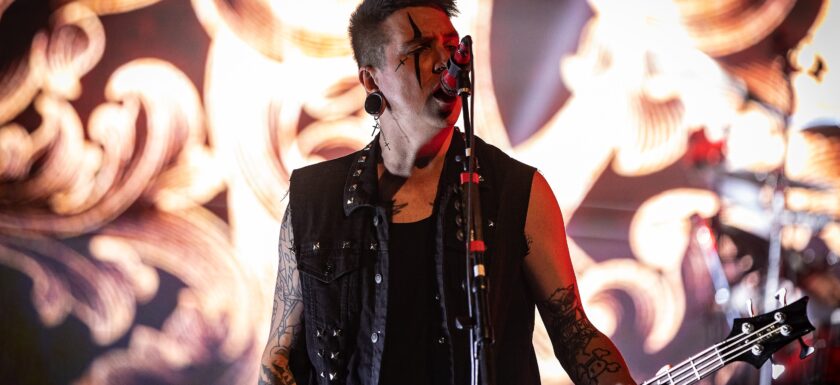 TRINITY OF TERROR TOUR
Black Veil Brides | Motionless in White | Ice Nine Kills
With special guest Lilith Czar
Oakdale Theatre
Wallingford, Connecticut
April 13, 2022
Photos & Review by Tom Bogus
WALLINGFORD, Conn. – The Trinity of Terror Tour rolled through the Oakdale Theatre in Wallingford Connecticut on April 13th 2022, a triple headlining musical extravaganza that featured the Black Veil Brides, Motionless in White and Ice Nine Kills and special guest Lilith Czar (Formerly known as Juliet Simms).
The night started off with Lilith Czar opening with "Feed my Chaos" from her current debut release Created From Filth and Dust. She also played "Lola", "King" and "Anarchy" which are also from her current release. She also fit in a cover of a Juliet Simms song called "100 Little Deaths" and an impressive rendition of Stevie Nicks "Edge of Seventeen."
LILITH CZAR photo gallery
Next up was Black Veil Brides, they kicked off their highly energetic set off with "Faithless" from their 2014 self titled album. Their setlist consisted of songs that spanned their full catalog, playing favorites such as "Knives and Pens", " The Legacy", "Fallen Angels" and closing  with "In the End'.
BLACK VEIL BRIDES photo gallery
Motionless in White took to the stage next. The set was consisted of mostly newer songs from their 2017 release Graveyard Shift and 2019 release Disquise, with hits such as "Necessary Evil," "Voices," "Rats,", "Thoughts and Prayers" and "Brand New Numb".  They introduced a new song "Cyberhex" from their upcoming release Scoring the End of the World which is set to drop on June 10th 2022. They also performed a cover of "Somebody Told Me," originally written by The Killers which sounded amazing. They closed their set with "Eternally Yours". Although bass player Justin Morrow was not present at the show because his significant other is having a baby they still sounded great.
MOTIONLESS IN WHITE photo gallery
Ice Nine Kills closed out the night. The band took to the stage with the opening interlude of "Opening Night." Once all members were in position, they exploded into "Welcome to Horrorwood," from their October 2021 release The Silver Scream 2: Welcome to Horrorwood, the follow up to their successful 2018 release Silver Scream.
Throughout the night actors took the stage dressed as characters from horror movies, such as a goat headed butcher with a chainsaw for the song "Wurst Vacation." During the song "Hip to be Scared", singer Spencer Charnas put on a white overcoat, grabbed an axe and acted out a well known part from the cult classic movie "American Psycho" Spencer also wore various other outfits for characters in the songs they played, including the clown Pennywise for "IT is the End", Ash Williams for "Ex-Mortis" and Freddy Krueger for "American Nightmare".
Ice Nine Kills performance was great. It kept you on your toes, not knowing what to expect next. It was a great example of organized Chaos at its very finest. In closing, all bands performed great and sounded amazing.
ICE NINE KILLS photo gallery
SETLISTS:
Lilith Czar:
1. Feed My Chaos
2. 100 Little Deaths
(Juliet Simms cover)
3. Edge of Seventeen
(Stevie Nicks cover)
4. Lola
5. King
6. Anarchy
Black Veil Brides:
1. Faithless
2. Coffin
3. Crimson Skies
4. Shadows Die
5. Wake Up
6. Scarlet Cross
7. Knives and Pens
8. The Legacy
9. Fallen Angels
10. In the End
Motionless in White:
1. Disguise
2. Reincarnate
3. Necessary Evil
4. Voices
5. Brand New Numb
6. Thoughts & Prayers
7. Rats
8. Cyberhex
9. Another Life
10. Somebody Told Me
(The Killers cover)
11. Eternally Yours
Ice Nine Kills:
1. Welcome to Horrorwood
2. Würst Vacation
3. Hip to Be Scared
4. Stabbing in the Dark
5. Rainy Day
6. IT Is the End
7. Communion of the Cursed
8. Take Your Pick
9. Ex-Mortis
10. The Shower Scene
11. Funeral Derangements
12. The American Nightmare