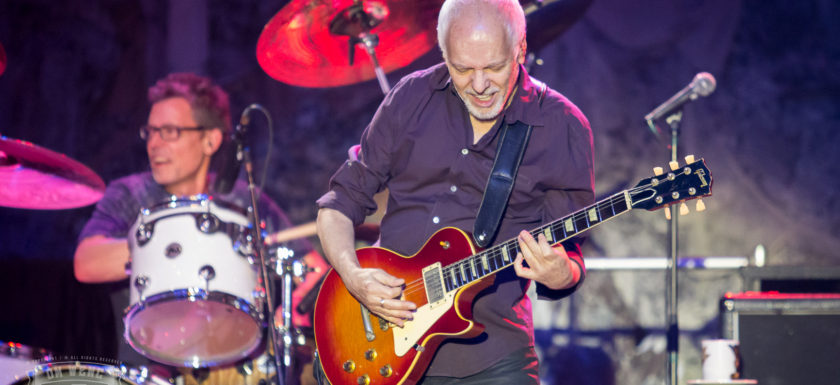 PETER FRAMPTON
Twin River Casino Event Center
Lincoln, Rhode Island
June 17, 2016
Photos & Review by Dan Wenc
FRAMPTON COMES ALIVE IN RHODE ISLAND | 40th ANNIVERSARY
Peter Frampton's music has spanned the course of well over four decades, generations of music fans have grown up enjoying his music since the 1970's. Even going back into the 1960's when Frampton ws with Humble Pie and The Herd. Frampton's songs still are in regular airplay on rock stations throughout the country. Everyone has that Frampton song that stays in their head.
Rock n' Roll royalty was in the house that night. Frampton fans filled the Twin River Event Center at Lincoln, Rhode Island eagerly awaiting the rock icon to take to the stage with his guitar wizardy. There was no opening band, so it was straight to business. Frampton hit the stage around 8:00 p.m. and the crowd was instantaneously energized. Frampton took the stage with his Les Paul slung over his shoulder, with smiles and waves to the crowd. Frampton and his band looked like they were there to have a good time that night. They did just that. The sound was crisp and the band was spot on. After all his time in the music business, playing in front of millions of fans over the years, Frampton still looked and sounded great. He looked like he was having a great time on his guitar playing for his fans. If you didn't leave the concert that night feeling great and thoroughly entertained, then something might have been wrong.
Frampton owned the stage that night with his genuine smiles of enjoyment as he played his Gibson and sang the songs that have made forty years of Frampton. The vibe in the room that was obvious that everyone was having a blast that evening. Of course, the iconic Peter Frampton's talk box swelled the crowd with cheers and applause during the night.
Frampton started out the night with "Something's Happening" and moved right into a cover of David Bowie's "Rebel Rebel". Frampton kept the mood flowing with "Doobie Wah" and "Show Me the Way". Frampton made his guitar do all the singing with his instrumental cover of "Black Hole Sun" by Soundgarden.
Frampton went on to tell the crowd how he wrote two songs one day, the first was "Baby I Love Your Way" and the second was "Do You Feel Like We Do". The crowed were at their feet at that time and people were dancing in the isles and in front of the stage. Frampton and company put off some great energy that night.
Here is the set list from the night:
Something's Happening
Rebel Rebel (David Bowie)
Doobie Wah
Show Me the Way
Lines on My Face
I Wanna Go to the Sun
Black Hole Sun (Soundgarden)
(I'll Give You) Money
Baby I Love Your Way
Do You Feel Like We Do
Encore:
While My Guitar Gently Weeps (The Beatles)
You've most likely heard this song hundreds of times in your lifetime, but watching and listening to Peter Frampton and his band play "Do You Feel Like We Do" live, is an absolute amazing musical experience of a lifetime. If you have never seen Frampton before, please get out and catch one of his shows while he is out on his 40th "Frampton Comes Alive" tour. Peter Frampton is music legend and a must see for any music fan of any age or any genre, he is a musical experience.