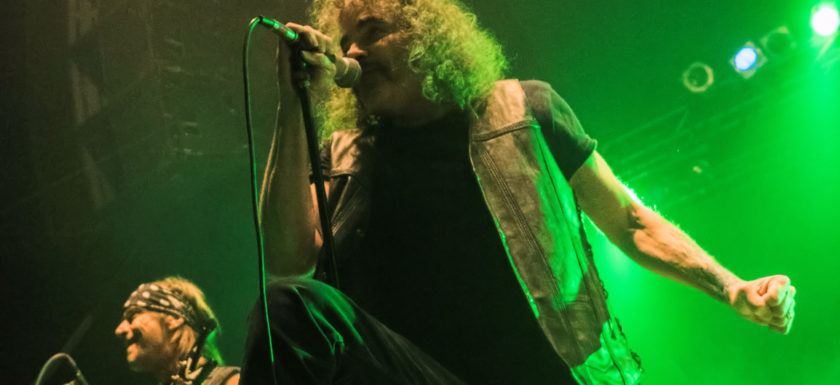 OVERKILL
The Palladium
Worcester, Massachusetts
March 10, 2017
It is always a pain in the ass when I can't get out of work early on a day I plan on going to a show, and this day was no different. I got out at 5:00, met up with my brother in law and then drove almost 2 hours to get to the Palladium in Worcester, to catch one of my favorite thrash bands from the 80s, Overkill.
Unfortunately, I didn't get there in time to catch all the local acts that were laying the foundation for tonight's show, but I did get there in time to see Nile, the band that was tapped to open for Overkill for this short run of shows before they head over to Europe. I am not a huge fan of Death Metal but I was interested in seeing these guys. With lyrics and music heavily influenced by Egypt and H.P. Lovecraft, I had to give them a shot, but to be brutally honest, I wasn't very impressed with their sound, I have to believe that there was an issue with the sound equipment when they played. It sounded muddled, and the vocals were hardly distinguishable from their instruments. They sounded a lot better when I saw them on OzzFest a few years ago, but that did not stop the large number of their fans in the crowd from enjoying their set.
Believing there was an issue with the sound, I was a bit worried about what was going to happen to Overkills set. I shouldn't have been worried. As the lights went down and Eddie Garcia took to the drums and started on their opening song "Mean, Green, Killing Machine" off of their brand new album "The Grinding Wheel", bassist D.D. Verni and the twin guitar attack of Dave Linsk and Derek "The Skull" Tailer walked out onto the stage to the screams of a throng of metalheads. Bobby "Blitz" Ellsworth came rushing out and all hell broke loose and then it was old school thrash as the crowd surfing and moshing began in earnest with "Rotten to the Core" followed by "Electric Rattlesnake"
I started listening to Overkill in the 80's around the time "Taking Over" was released, but it wasn't until the tour for "Under the Influence" that I first saw Overkill and one of my favorite songs off that album was the next one up, "Hello from The Gutter", this was followed by one of my new favorites, "Goddamn Trouble" off of their new album. Another gem from the past was 'Feel the Fire" followed by "Nice Day… For a Funeral", "Infectious", "Hammerhead" and "Armorist" then for the closing of the set, much to my surprise, a Thin Lizzy cover, "Emerald"
This was not the end, there was more!
"Ironbound" started the beginning of the end followed by one of their sing along songs, "Elimination", oh c'mon, what do you mean it isn't a sing along song? The whole crowd was singing along to this. Which was just a warm up for the crowd, as the last song of the night was everyone's favorite cover song by Bobby and the boys, "Fuck You" by the Subhumans.
Check out the photos of Overkill at Worcester, MA:
Overkill released their 18th album in Feb., "The Grinding Wheel" and have been out on the road for the last month supporting it. Despite Bobby looking a bit under the weather for this show, they stomped Worcester a new asshole, with a great set list covering a huge portion of their catalog with an energy that belies their age. You have to remember we are talking about a band that started in 1980 and sounding just as great live as they did back in 1988 when I first saw them. If it wasn't for all the old people, alright not old just my age, I would've sworn I was 20 again and back in the mosh pit at the Agora. They are headed over to Europe soon and hopefully will be coming back and doing another run thru the States after that.