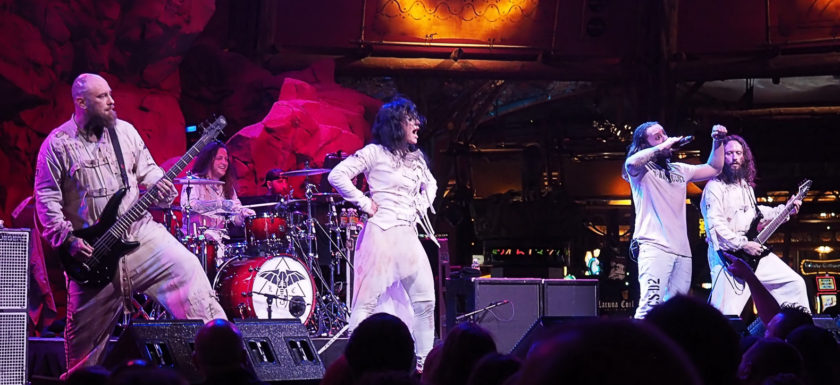 LACUNA COIL
May 26, 2016
Mohegan Sun Wolf Den
Uncasville, Connecticut
delirium
[dih-leer-ee-uh m]
noun, plural deliriums, deliria
[dih-leer-ee-uh]
1. Pathology. a more or less temporary disorder of the mental faculties, as in fevers, disturbances of consciousness, or intoxication, characterized by restlessness, excitement, delusions, hallucinations, etc.
2. a state of violent excitement or emotion.
3. Lacuna Coil's 8th studio album released May 27th 2016 on Century Media
May 26th, one day before the release of their latest studio album, Lacuna Coil was paying Mohegan Sun's Wolf Den a visit and for free!!! Something that had a crowd of rabid fans in a delirium, enough so that many had started waiting in line to get into this tiny venue nestled deep inside the casino early in the day.
The lights grew dim as the fervor of the crowd started to take over, then slowly the band started to take stage with Ryan Blake Folden coming out and greeting the crowd from atop his drum kit, followed by a very quiet and subdued Diego Cavallotti, the band's newest member, who has taken over guitar duties, along with Marco "Maki" Zelati, bassist, and singer Andrea Ferro.
Then she came out. Cristina Scabbia, the female voice of and the face of Lacuna Coil strode out unto the stage to the opening bars of "Nothing Stands in My Way" and immediately brought the audience into a fervor that continued into a setlist consisting of "Die and Rise", "Kill the Light", "Victims", "Spellbound", "The House of Shame", "Heaven's a Lie", "Upsidedown", "Swamped", "To the Edge", "Fire", "Cybersleep", "Delirium", "Enjoy the Silence" (a Depeche Mode cover), "Trip the Darkness", "Zombies", and "Our Truth"
Cristina's performance was just as I was expecting it to be, fantastic, along with Andrea pushing the vocal envelope that is the signature of Lacuna Coil.  Those two working the front of the stage in tandem waving and smiling down at not only the small group of photographers but also the many fans who were there with their phones high in the air.  Maki stood his ground on the left side of the stage the whole set, as if guarding the gates of Hell, as Diego claimed the right side.  Diego's guitar work was impeccable, bringing a bit of a harder sound to Lacuna Coil.  A wise choice to fill this slot.
For me the choice bits for the evening were "Heavens a Lie" and the two new songs off of "Delirium", the title track "Delirium", and "House of Shame", to be honest songs that I feel fit right into the set list, tho I would love to hear more off the new album in their set list.
Lacuna Coils brand of Goth Metal I feel has evolved. And this set list is a great showcase of their progression thru the years.
There are still a few shows left here in the US, and if you're on the east coast at one of my favorite venues in New York City, The Gramercy Theater on June 9th.
For more on Lacuna Coil here are a few websites to check out
Lacuna Coil's website
http://www.lacunacoil.it/
Lacuna Coil's Facebook
https://www.facebook.com/lacunacoil
Lacuna Coil's Twitter
https://twitter.com/lacuna_coil
Lacuna Coil's Youtube
https://www.youtube.com/user/lacunacoil