KIX
Mohegan Sun – Wolf Den
Uncasville, Connecticut
April 5, 2019
Spending an evening at a casino on (or pretty damn close to) my birthday has become somewhat of a tradition for my wife and me. For the last 10 years (I think but could be wrong) KIX has played Mohegan Sun's Wolf Den in April, and 90% of the time it is the week not only of our anniversary but my birthday, and they are actually one of the bands from the 80's that she loves seeing live.
What a birthday celebration it was, not only were we going to see KIX, but I had been approved to shoot the show, not just the usual three songs but the whole set. Talk about a birthday present!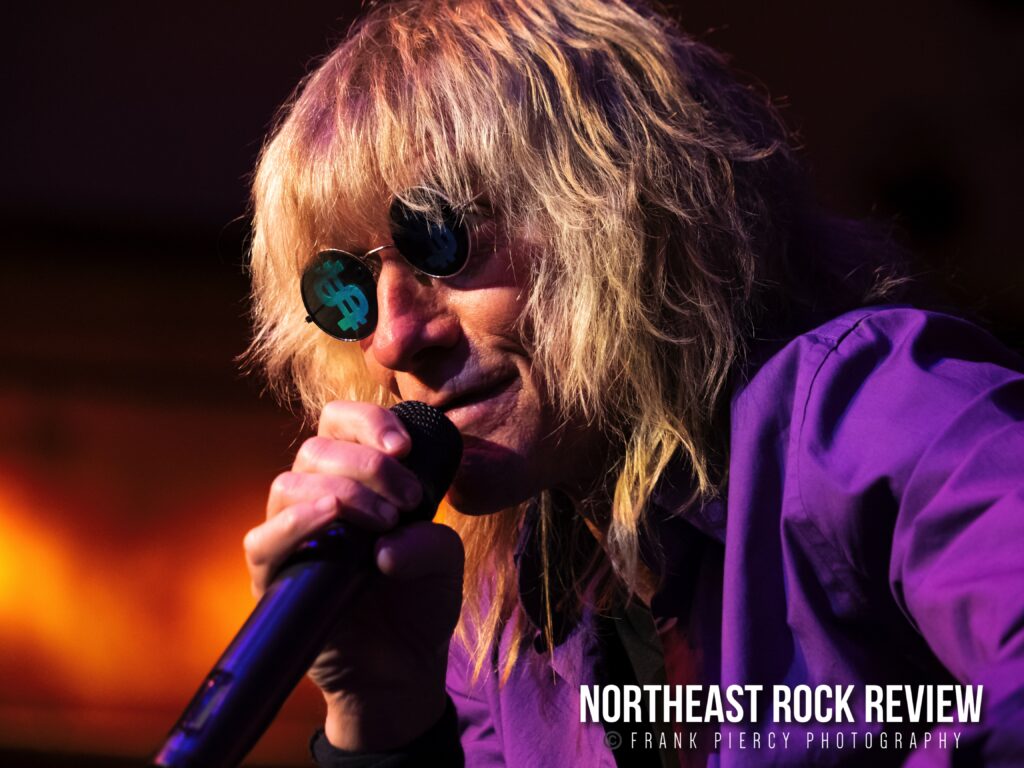 The Mohegan Sun Wolf Den is smaller music venue in the center of the casino gaming area, with a capacity of about 300. Being that the shows there are free, the line usually starts early. Many times I have come to see a show and shown up at 4 pm to a line already at least a hundred people deep, but the good part about that, it gives you a chance to talk with the people also in line with you. I have met some really great people there and have become part of a community of Wolf Den regulars at some of these rock shows.
They usually start letting people into the Wolf Den around 6:30 pm and the front of the stage gets crowded pretty fast. Around 8 pm, the lights came down and the crowd started whistling and hollering, as drummer Jimmy "Chocolate" Chalfant and guitarist Brian "Damage" Forsythe took to the stage. Along with guitarist Ronnie "10/10" Younkins and bassist Mark Schenker and they went into their song "Wheels in Motion" as Frontman Extraordinaire, Steve Whiteman, slowly came to the front of the stage. Then with a burst of energy, they began. The next songs on the setlist were "Lie Like a Rug", "No Ring Around Rosie" and "Get It While It's Hot"
A great beginning to the night's set as Steve was all over the stage. Jumping, spinning and dancing, then the banter with the crowd. One thing to remember if you attend a KIX show,  when Steve says "Thank You", the crowd answers back with "Your Welcome!"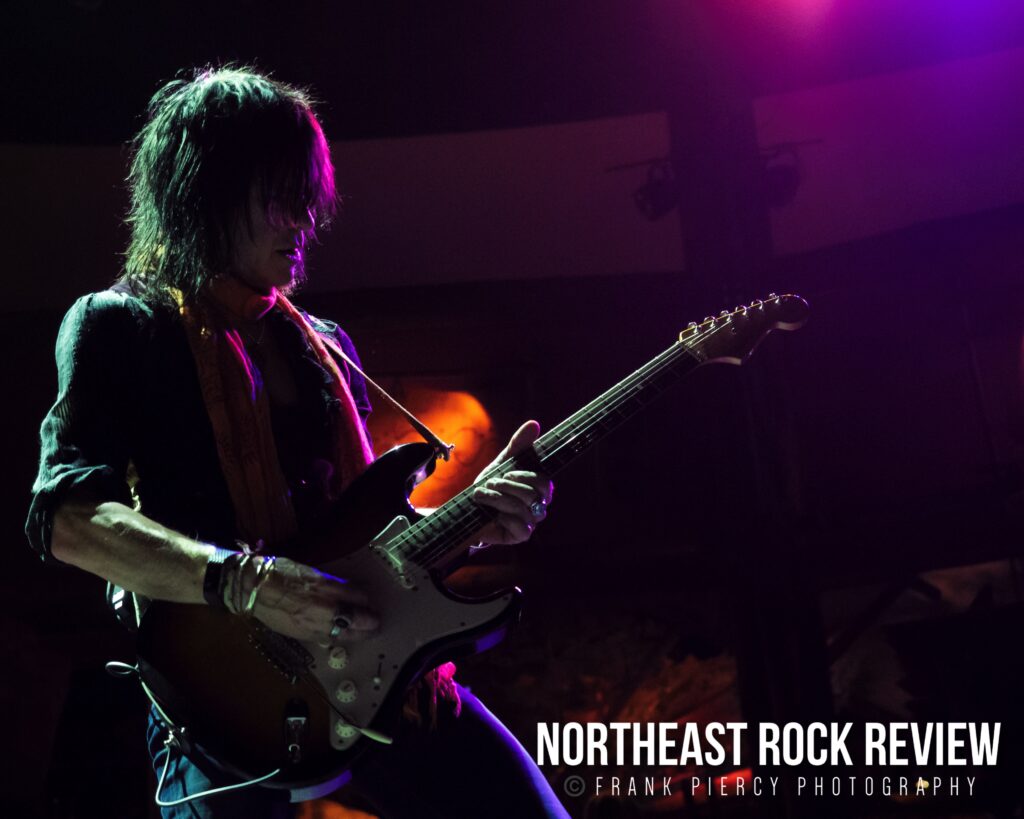 The evening continued with one of my favorite songs, "Midnite Dynamite" it is hard to shoot a show where you are a fan of the band and know the words to the songs and are singing along at the same time.
From the album, Hot Wire, "Same Jane" followed by a song, which I don't remember hearing live before, "Mighty Mouth" off the Cool Kids album.  Followed up by "Cold Shower" which featured Steve playing with an umbrella onstage. Isn't an open umbrella indoors bad luck? Maybe that's why no sparkler on the end of the mic for 'Midnite Dynamite".  The sunglasses were donned… and Steve was looking for his "Girl Money". Hopefully the open umbrella didn't hamper any attempts to win some after the show. This song is another crowd pleaser, with everyone once again singing along to the song. I wonder if they are the same glasses from the video?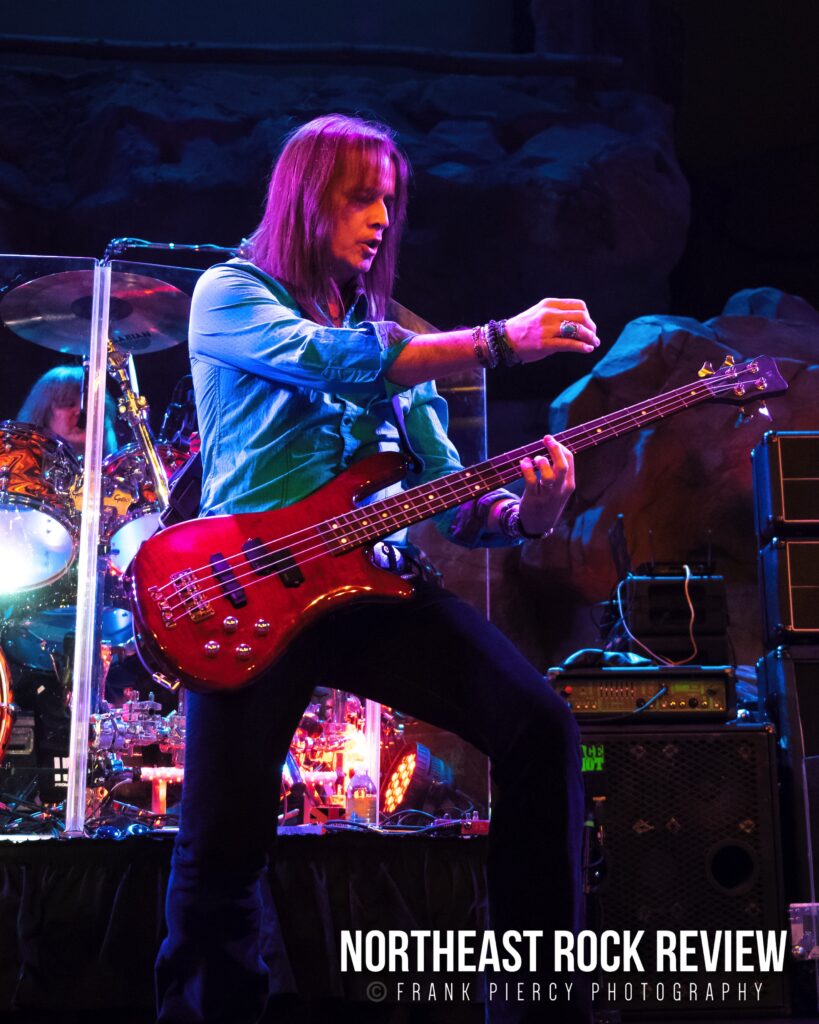 "Don't Close Your Eyes" was the biggest hit that KIX had, which peaked at No. 11 on the Billboard Hot 100 and garnered A LOT of air time on MTV, which went into Brian's guitar solo.
"The Itch" is off their self titled first album and another crowd pleaser which was followed by a song off their last album Rock Your Face Off, "Love Me With Your Top Down". There are bands that just cant keep that energy going, but this song is definitely a sex filled good time from KIX. Coupled with Steve leading the crowd in a sing along, it's one of my favorite live songs.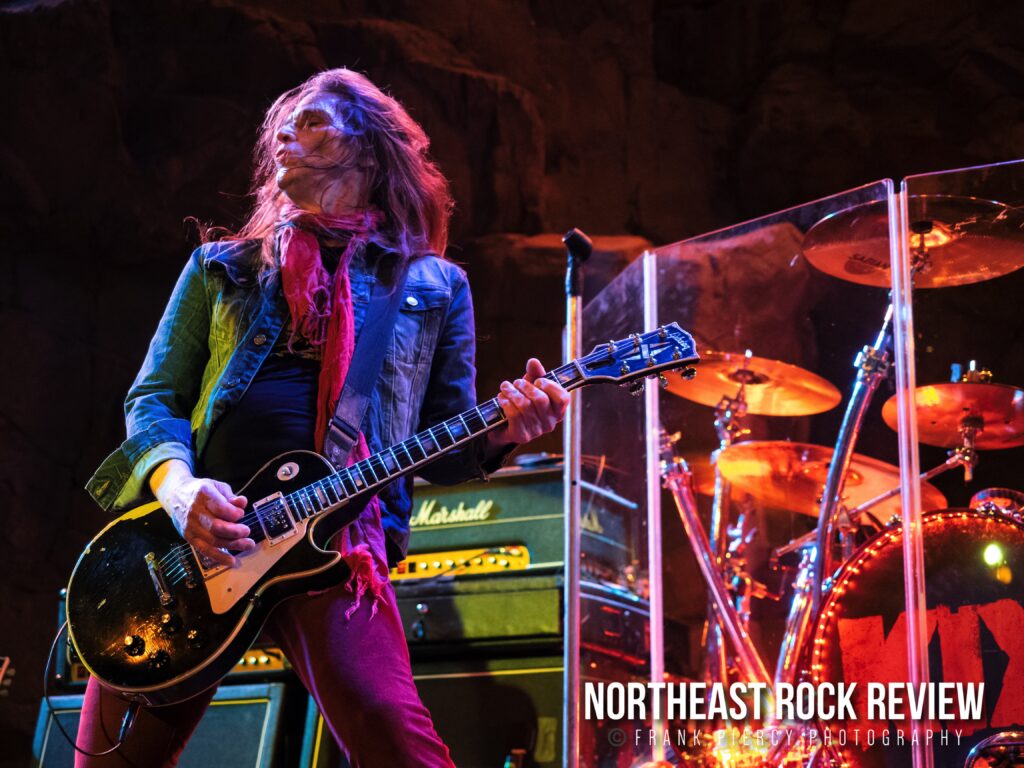 Ronnie showed us why he is one of the foundations of this group as he spent the next few minutes playing his guitar solo before they started with "Cold Blood" another staple of any KIX show. And of course the audience participation is always fun, just one day it would be cool if the person singled out turns out to be a singer and gets it perfect. I wonder what the look on Steve's face would be like?
One of the things your seeing less and less of at shows these days is not only the guitar solos, but the drum solo.  But not this night, Jimmy put his heart and soul into a drum solo. For those wondering that is a drum screen or shield. It seems that when they play at the Wolf Den, Jimmy REALLY pounds the hell out of that kit and will drown out everyone if that wasn't there.
The show is coming to end as they go into the title track of "Blow My Fuse" and if I have to tell you the name of the album… then, never mind. As they went off the stage to a crowd that didn't want them to go, the lights did not come up. After a few moments of the crowd getting rowdier, they came back out onstage. Yes of course, they started playing one of their most popular songs, the tale of Steve's unlucky night. It must have been that umbrella, as he asked for "Yeah, Yeah, Yeah".  The crowd ate it up as they sang along and belted out the words.
Then the hammer came out… and Balloons. Two large bags of balloons that got hammered out of the bags and out into the crowd. Then it was time to say goodnight.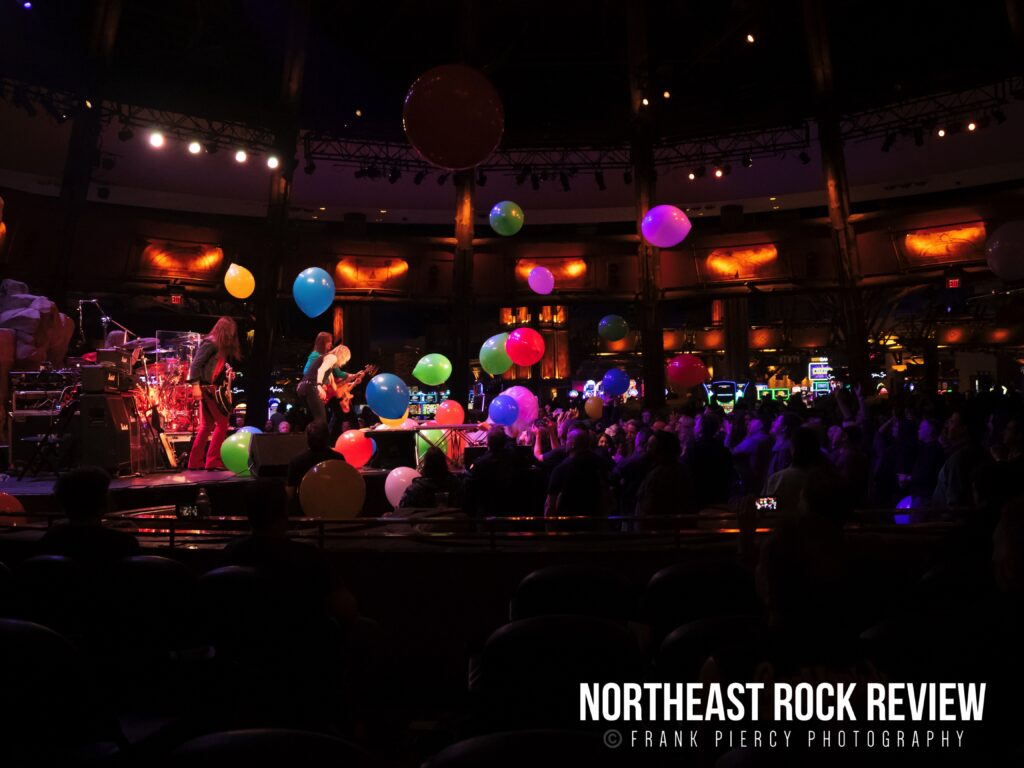 KIX is a powerhouse when they are on the stage. A frontman who is all over and above the stage ALL night long. Working the audience like no one else does these days, Two amazing guitarists who have kept this band going for over 30 years. A bassist and drummer who are close to perfection in their playing. I can not understand why they are still playing small venues like this. Not that I am complaining, as a music fan, these smaller venues are an awesome experience, when taking in a band like KIX for a more up close and personal experience.
The next best place to catch these guys next is in Maryland at The Merriwether Post Pavilion at the M3 Festival. I hope to see ya there!
PHOTO GALLERY – KIX
For more news, tour dates and everything else KIX, visit: http://www.kixband.com