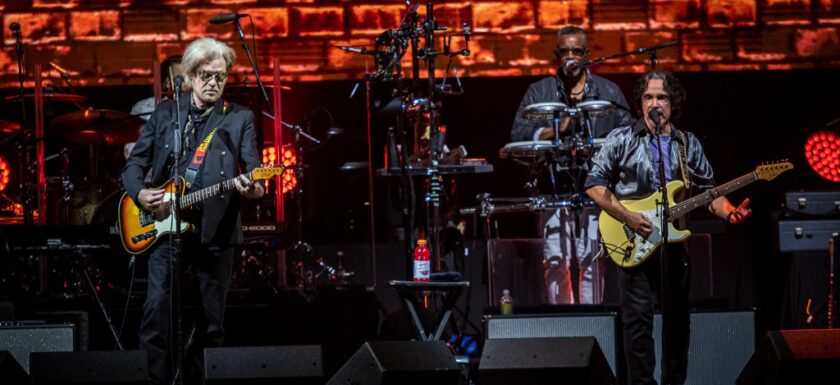 DARYL HALL & JOHN OATES
Mohegan Sun Casino Arena
Uncasville, Connecticut
October 9, 2022
Photos & Review by Dan Wenc
UNCASVILLE, Conn. – The legendary Daryl Hall and John Oates were set to play Mohegan Sun Casino Area on a Sunday night. This was a tour that I have been chasing to see since before Covid. The show had been rescheduled a few times or the timing just didn't click to catch them at other venues. Finally, this night was a chance to catch up with some of the music that played in the soundtrack of the 70s and 80s and continues to go strong today. It was a SOLD OUT show. The time was now and the crowd filed in and took their seats. Before showtime, video screens on each side of the stage played video of Daryl Hall and John Oates playing various songs. Then the house lights went down. Flickers of a vintage television, their records and a brief video history of Daryl Hall and John Oates' through musical career.
The band took the stage and Daryl and John took their spots on the stage. The audience rose to their feet, and welcomed Daryl and John to Connecticut with swells of applause and cheers. The night started off with the 1982 Billboard chart topper, "Maneater," a song that definitely got the vibe going to set the tone for the night.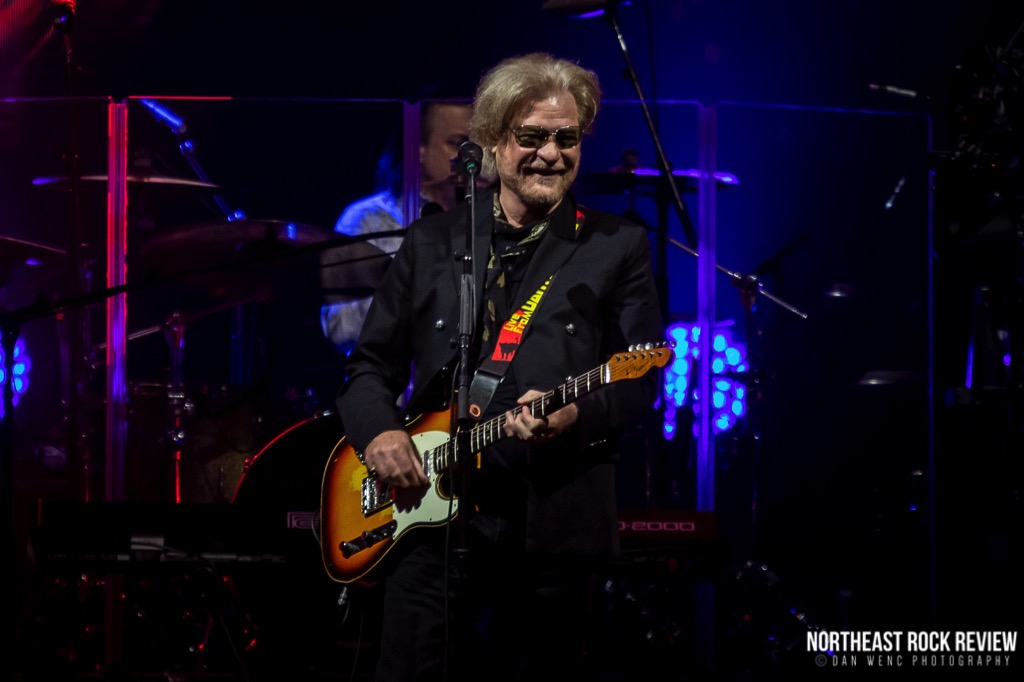 For me, Daryl Hall and John Oates' music has always had a feel of its own, the songs were different than other bands of their time, they had unique sound stood out from others of the vinyl era and even through the MTV era. This night would encompass all of those sounds.
Next up was "Family Man," another take from the H2O album. For the first couple songs, Daryl was experiencing some technical difficulties with his sound and had to motion side stage to make adjustments. On the crowd end, everything sounded good. Daryl obviously heard something he didn't like, and being passionate about his music and live performance he wanted it right and their tech crews worked to fix it. Nonetheless, the night rolled on with a set of classics, continuing on with song "Out Of Touch," the audience danced and sang along everywhere you looked.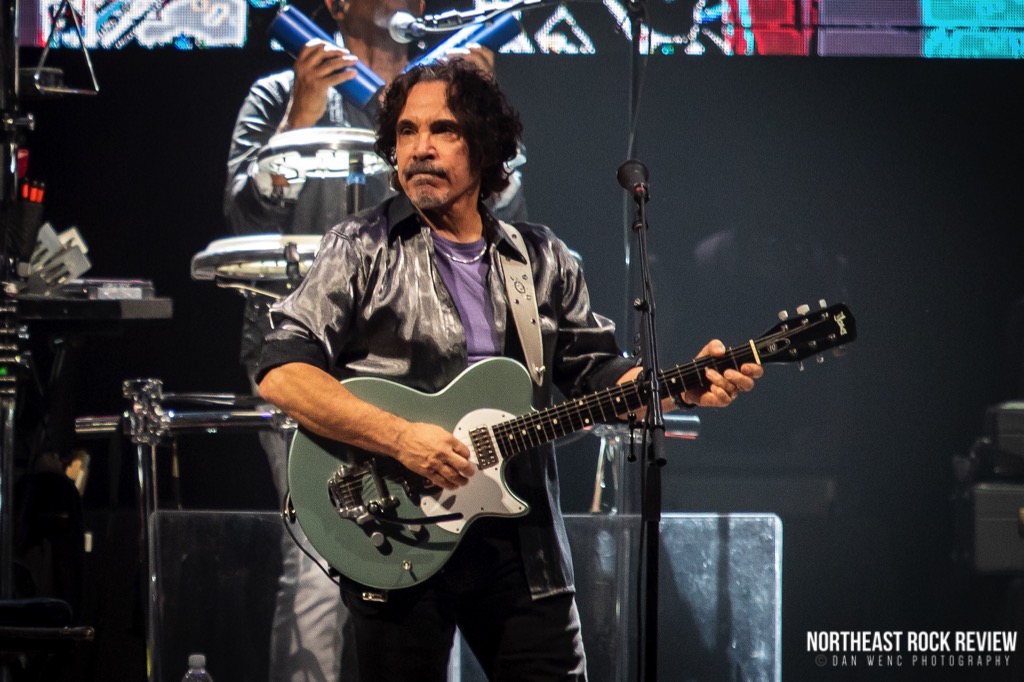 Daryl Hall's voice sounded as great as ever with an overall crisp, studio quality sound to the whole evening. John Oates, to Daryl's left sounded just as great on his leading songs and backing vocals. Collectively, the two have put out eighteen studio albums between 1972 through 2006, along with numerous live albums and compilation albums. I have always been a fan of their popular hit songs that had dominated the radio of the 70s and 80s. But now my next listening assignment would be to delve into their early stuff and listen to the deep tracks and listen album by album, front to back, to truly appreciate the evolution of their sound.
The remainder of the night included "Method of Modern Love," "Say It Isn't So," "You've Lost that Lovin' Feelin'" and "She's Gone." Daryl Hall would take a seat behind the grand piano for "Sara Smile" and "Is it a Star," with John Oates on lead vocals. The due would play "I Can't Go For That (No Can Do)" before departing the stage. The band would return to the stage for an encore performance to close out the night with "Rich Girl," "Kiss On My List, "Private Eyes," and "You Make My Dreams (Come True)."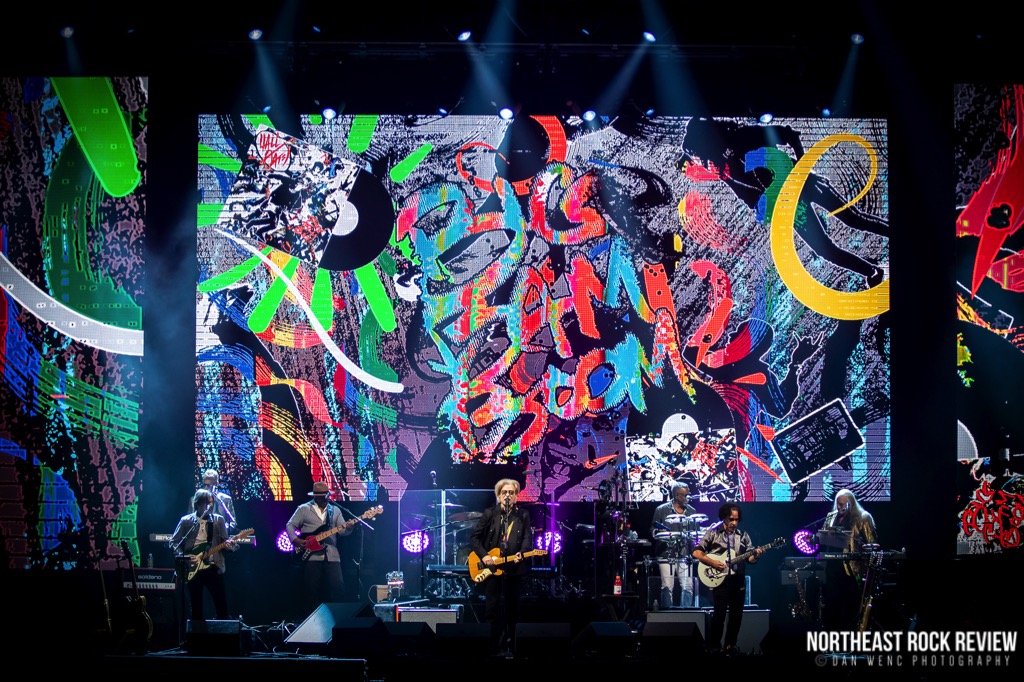 Daryl and John were backed by a full stage of musicians, to include longtime band member Charles DeChant on saxophone, flute and keyboards, Eliot Lewis on keyboards, Brian Dunne on drums, Klyde Jones on bass, Porter Carroll on percussion and Shane Theriot on guitar.
This was a perfect way to spend a Sunday evening and the start to a new week. As a long time fan, since the early 80s, I finally got the chance to see this legendary duo perform all thier classic hits live. This was such a fun show, the music was crisp and everything sounded great. Be sure to catch Daryl Hall & John Oates out on the road at their next stop.
For more info, music and tour dates visit, https://hallandoates.com
DARYL HALL & JOHN OATES photo gallery