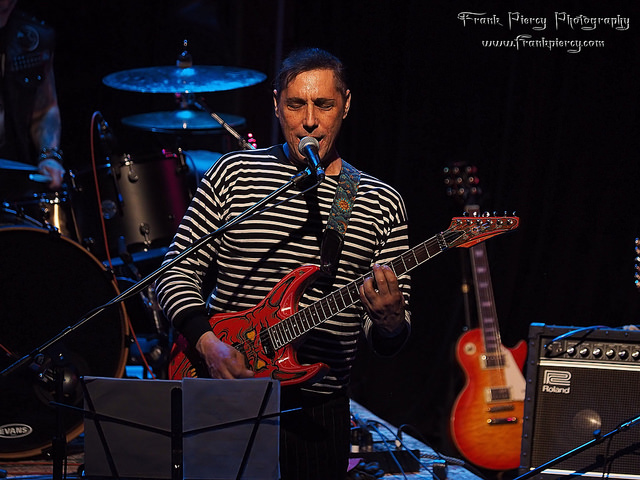 Photos & Review by Frank Piercy
April 4, 2015
I ventured into unfamiliar ground last night at a place in Stafford Springs, Connecticut, that I have never been to before, The Stafford Palace Theater.
My reason was twofold, Daisy Berkowitz, founding member and original guitarist of Marilyn Manson and the Spooky Kids, were playing a show there and I have never been there.I don't know who put the line up together for the show, but they did a fantastic job.
I couldn't believe how fast it was between bands…
BlastforMe hitting the stage next and it was maybe 5 minutes at the most.
Another band with a sound I wasn't really expecting and not sure how to categorize. They describe themselves as an experimental garage punk band. You have to love a band with a charismatic lead singer, who is also female and willing to get off the stage and dance with the crowd. Now for something completely different. A lone keyboard was set up in the middle of the stage, adorned by a shield with an Orc face on it. I wasn't sure what to expect at this point. I sure wasn't expecting what did hit the stage next. A solo act named ORCumentary. What he refers to as Orc Rock. But to me with the deep guttural voice and growls had more of a deathcore sound to it, with keyboards and all the other music prerecorded. Have to love computers these days.
I have to say besides the initial shock of what I was seeing and hearing, I actually found myself tapping my foot and rocking the head back n forth. Another artist who seemed to be having just as much as the two previous bands. I actually liked listening to him and spent part of my afternoon watching and listening to his videos on Youtube.
Then what I had been waiting for. I was a latecomer to the Marilyn Manson bandwagon, I knew and liked the remake of "Sweet Dreams" but I hadn't gone out bought the album it was on. But then I started really listening to them when "Antichrist Superstar" came out and then went out and bought "Portrait of an American Family" and "Smells Like Children". I have a weakness for theatrical bands like, Kiss, Alice Cooper and W.A.S.P. and Marilyn Manson and the Spooky Kids fit right in.
I couldn't let the chance of seeing Daisy Berkowitz get past me, we are talking THE guitarist for Marilyn Manson and the writer of ALOT of their material back then. The man took the stage Dressed in a pin striped dress jacket and pants, I doubt I would have blinked an eye if I had walked past him on the street, much less thought he was part of the debauchery of the early 90s music scene.
Starting with one of my favorites, "Lunch Box" and my night was made. His set this evening consisted of Marilyn Manson and The Spooky Kids material and a lot of tunes from his solo project "Three Ton Gate" with a bit of storytelling thrown in here and there. A very entertaining evening with alot of great music.
His back up band for the nights festivities included Kriz DK from Genitoturers on drums, absolutely killing it!!! I have not had the pleasure of seeing the Genitoturers play live, but if the at whole band fires on the same cylinders. It has to be a great show! On Bass was this freaking animal. Nobody Special from local metal act "We Are Nothing" WOW!!! This guy was all over the place did not stay still the whole show, another band I am going to have to track down and see live. On guitar was another local legend, Jeff Giglio. A well respected guitar player and teacher from that neck of the woods. On keyboards was the ORC. I believe his name is Orc Adams… unfortunately stuck in a dark dank corner of the stage and I really couldn't get good shots of him back there.
I am not going to go thru and talk about every song he played or how well he did or didn't play each song. So here is the set list from the night.
Lunchbox
White Knuckles
Organ Grinder
Thrift
Diary of a Dope Fiend
Spell on You
Wave of Mutilation
Universal Vacuum
Honor
Stars (moment in the sun)
Shadow
No Coffin
Fear Channel
Setting Sun
I enjoyed the show very much, Daisy played great and sounded just as good. The crowd around me were enjoying themselves also with people dancing all around me.
I was shocked at the amount of younger kids were here. Kids barely out of diapers when Marilyn Manson and The Spooky Kids were born.
Daisy Berkowitz is playing shows all over the place over the next few months keep your eyes peeled for a date near you!
You won't be disappointed!
If you enjoyed this article, please share it along.
Follow Frank Piercy on Twitter at @2_piercy
Follow Northeast Metal Media on Twitter @NEMetalMedia
©2015 Northeast Metal Media / ®All Rights Reserved
Photos by Frank Piercy Photography. All photographs are Copyright protected – Not for use without permission