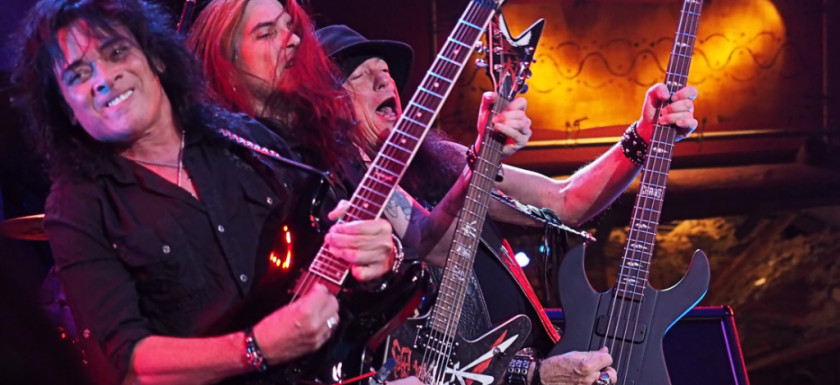 AUTOGRAPH
March 26, 2016
Mohegan Sun's Wolf Den
Uncasville, CT
Back in 1984, I was a young buck of 16. My tastes in music just starting to harden in my head. I didn't have much back then, was living in the middle of nowhere Southern Illinois where the cable company didn't even have Mtv yet. I did have a radio though and when I could, the radio station of choice was a long way off in St. Louis, a rock station with the call letters of KSHE. That is when I first heard of a band called Autograph, and just like so many other kids took an instant liking to it.
I didn't have the chance to see them back then, but now just over 30 years later I have not only the chance to see them live but to shoot the show, another night of mirth and merriment at Mohegan Sun. I really should consider going to a Gamblers Anonymous meeting.
Things have changed a bit with Autograph, with the only two original members being bassist Randy Rand and guitarist Steve Lynch. Simon Daniels is now lead singer and guitarist and Marc Weiland on drums. Two additions to the group that have helped maintain the integrity and sound of this band.
The crowd at Mohegan Sun's Wolf Den started early with a dedicated group of 80s metal fans which grew larger as the afternoon dragged on. What is amazing is the camaraderie between all those people who mostly see each other when other bands from our era play this great venue.
Autograph came to the stage to the jubilation of their fans and went right into the first song of the evening, "Deep End" off their first album Sign In Please. Amazing how you can remember the words to songs you haven't heard in years when the music is playing but once it stops you have no clue. Next on the setlist was "Dance All Night" and "Loud and Clear", Simon is not the original singer, Steve Plunkett, brings his own voice and swagger to the band without detracting from the originals.
Off of "Loud And Clear" is "Bad Boy" followed by another crowd favorite "Blondes in Black Cars."
This is another band that looks and acts onstage like they are actually wanting to be there and playing, with Randy hamming it up for other photographers and also cell phones with Simon and Steve tossing out picks, smiling and pointing at the various audience members throughout the entire show.
"When The Sun Goes Down", and "All I'm Gonna Take" led up to one of the new songs off their "Louder" EP, " I Lost My Mind In America" a song I am a bit surprised hasn't seen any radio play. This was followed by "Send Her To Me" and "Cloud 10." Then it was time for the magic to start, it was time for a demonstration of the two handed playing technique he is famous for. Watching him play while he becomes immersed in his solo is hypnotizing.
"My Girlfriend's Boyfriend Isn't Me" led into another new song, "You Are Us, We Are You".
"She Never Looked That Good For Me" and "Crazy World" closed out the set.
Well almost. There was one more song to go and it was the one song everyone was waiting for all evening, the one that I am sure brought back memories of a youth so long ago. It was, of course, time to "Turn Up The Radio"
It was a very entertaining show, they were energetic, they were spot on with their playing, you can't ask for more.
Photos & Review by Frank Piercy
Follow Frank on Twitter @2_piercy
Additional Photos provided courtesy of MCox Photography
For more on Autograph check out the following links
Autograph Official Webpage
http://www.autographband.com
Autograph On Facebook
https://www.facebook.com/autographband
Autograph On Instagram
https://www.instagram.com/autographband/
Autograph On Twitter
https://twitter.com/autographband