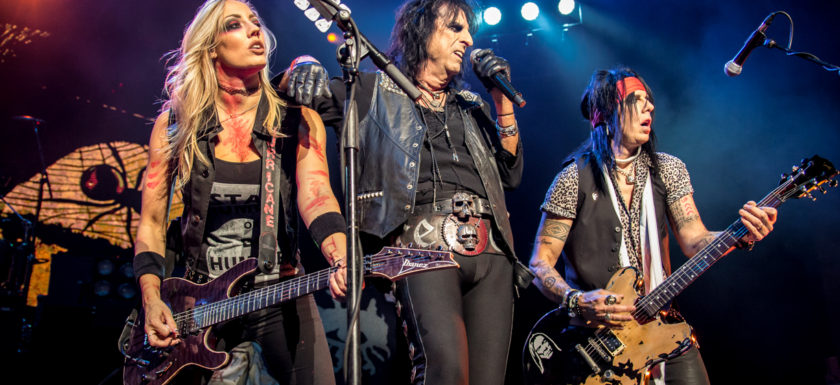 ALICE COOPER
Xfinity Center
Mansfield, Massachusetts
August 27, 2017
Photos & Review by Dan Wenc
Rock N' Roll Hall of Famer Alice Cooper, the king and creator of shock rock, took his traveling show of visual theatrics and talented musicians on the road to perform his music that spans the past five decades. Alice and his band were out on the road in summer of 2017 along with Deep Purple and Edgar Winter. A classic combination of essential classic rock founding fathers. The energy and anticipation was at a high level for this show. The crowd was ready to see this performance. Some even suggested that Cooper should have been the headliner for this set.
Nonetheless, Cooper and company took the middle slot in the show set. Large curtains of Cooper/Spiderweb eyes hung, obscuring the stage, only to add to the mystery of the pending performance. The lights went out, the curtain came down, smoke and bright lights burst on the stage. The crowd was on its feet and energized. Out from the smoke, came Alice Cooper, adorned in a black cloak. His band intensely shot around the stage in the usual typical Alice Cooper shock rock making for a superlative theatrical and musical performance.
Once the smoke cleared, the set kicked off with "Brutal Planet", from the self titled 2000 album. Next up was "No More Mr. Nice Guy". With each song Alice changed up his attire to something different. A show that pulls the audience right it. Alice will keep wanting more and anticipating what comes next. Cooper ruled the stage. A true rock n' roll legend and inspiration to many bands of the past forty years. His persona and stage presence is unmatched. They don't make them like him anymore.
The Alice Cooper band are crew great musicians who are a great support to his performance. Nita Strauss, a truly talented guitarist was really gets into her role on the Alice Cooper stage. A band that has a lot of fun together and sync well on stage. The band is Chuck Garric (bass), Ryan Roxie (guitar), Nita Struass (guitar), Tommy Henriksen (guitar) and Glen Sobel (drums).
As macabre as the stage performance might appear. It is pure entertainment that an Alice Cooper show brings to support his timeless songs. Caution, a Cooper show can be graphic at times… And may be highly addicting, and leaving wanting to see the performance again. Musically and theatrically, an Alice Cooper show is a show that cannot be matched. Alice is a cultural icon. Don't miss a show if it comes to your town.
Check out the latest studio album from Alice Cooper – Paranormal. And for more info on Alice Cooper tour dates and more, visit the official webpage: http://www.alicecooper.com
Photos from Mansfield, MA:
CLICK HERE FOR THE DEEP PURPLE PHOTOS