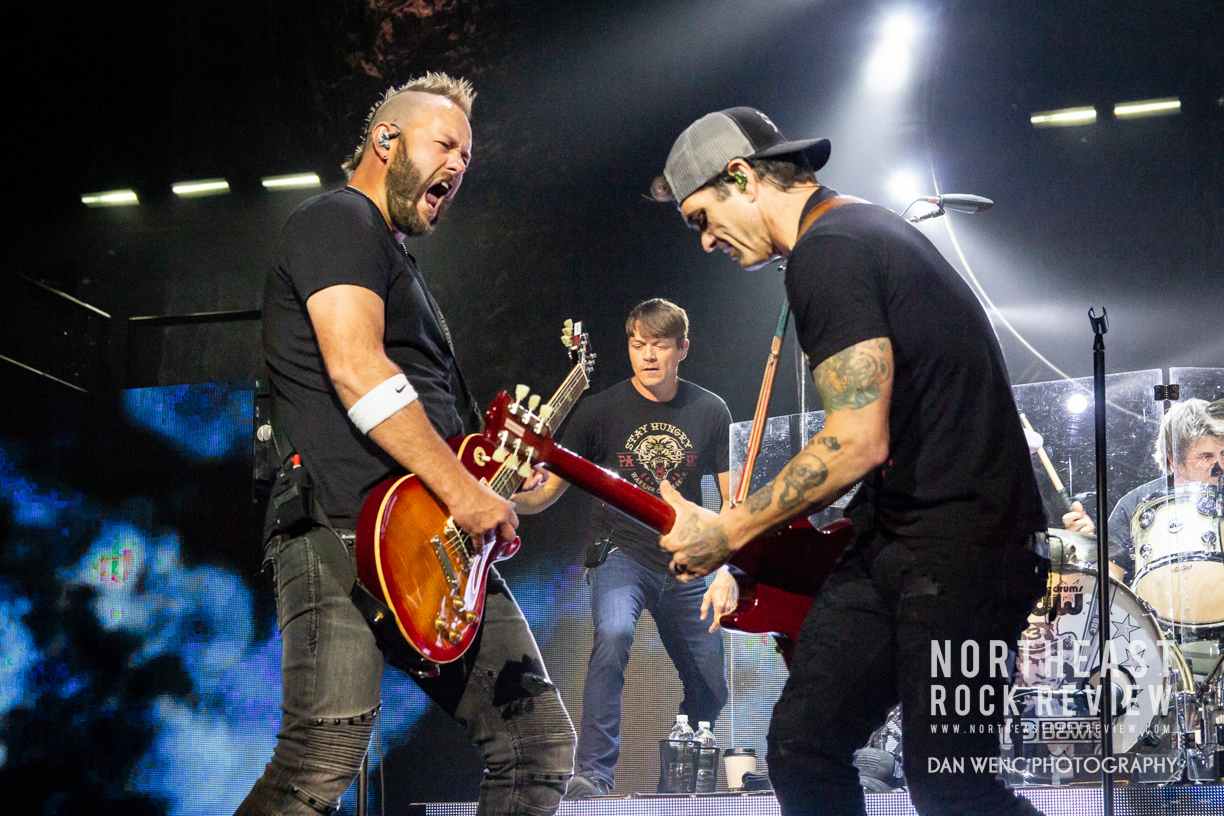 3 DOORS DOWN
Rock & Roll Express Tour
Mohegan Sun Arena
Uncasville, Connecticut
August 16, 2018
Photos & Review by Dan Wenc
The Rock and Roll Express Tour, featuring Collective Soul and 3 Door Down made a stop at the Mohegan Sun Casino Arena for a night of good time and great rock and roll. This was a first time seeing 3 Doors Down for me, and they did not disappoint. 3 Doors Down are the next generation of rockers to continue carrying the torch of rock and roll into the future. Starting out their mainstream success in 2000 with success of "Kryptonite" which topped out at #3 on the Billboard Top 100 Charts they have continued to make great music over the past 18 years.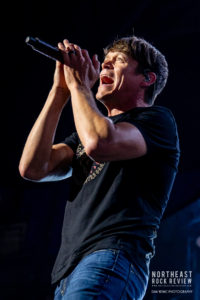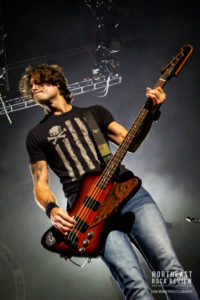 The night's seventeen song set kicked off with "Duck and Run", "Time of My Life" and "Its Not My Time". The band took the stage with high energy, positive energy and smiles. Performers that looked like they were having the time of their life on the stage, with a genuine appreciation for performing for the packed arena that night.
3 Doors Down is Brad Arnold (vocals), Chet Roberts (lead guitar), Chris Henderson (rhythm guitar), Justin Biltonen (bass) and Greg Upchurch (drums). The band sounded great and in what seemed a perfect chemistry onstage. Greg Upchurch sitting at the back of the stage on drums was quite intense, with no shortage of cymbals and drum fills, perfectly keeping time for the band through the night. Henderson and Roberts took up each end of the stage playing to the crowd. Brad Arnold sounded great and moved all over the stage, not wearing his hat for the first few songs, and then eventually donned a baseball cap with an American flag on it.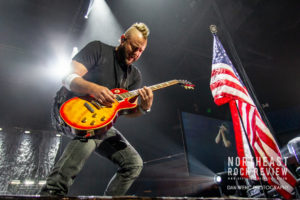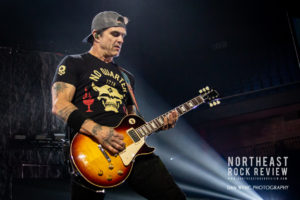 There wasn't too much talk with the crowd during the set, and that was ok, the night was packed with great music from the 3 Doors Down catalog straight through the night. Brad did stop along the way introducing the Charlie Daniels Band cover "In America", which sounded pretty awesome, in a patriotic sense. The context of the song still rings true these days as it did in 1980 when it was first released. 3 Doors Down did a phenomenal job with this Southern Rock classic. Brad did make a shout out of support for members of the Military, Veterans and First Responders with praise and thanks for their service.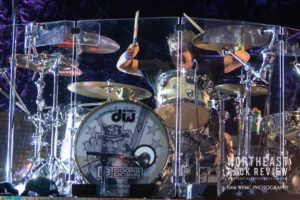 3 Doors Down is a savior to the hard rock music world moving into the 21st Century. In a world where popular music is not played with instruments anymore and all the pop songs sound the same. 3 Doors Down is a hope for new generations of rock fans to come and to bring the current ones along on that journey. 3 Doors Down is a relatively young band with a long future ahead. They have had great success with six studio albums since 2000. There are definitely more good things to come from this band, hopefully with new albums and more tours in the future. Brad did say that he was hoping to see everyone next year, on another tour. Brad also took a moment to talk with the crowd and tell everyone that they enjoy looking at the fan photos posted on social media, and to include the tag #3doorsdown on their posts of photos and videos.
The night moved along seamlessly with other songs "Away from the Sun", "Let Me Go", "The Road That I'm On","Be Like That", "Citizen Soldier", "Still Alive", "Behind Those Eyes" and "My Way".
One word to describe this band is, Genuine. American flags were displayed at each end of the stage. 3 Doors Down is true American Rock for the 21st century. Americana Rock, with a feel good collection of songs and great energy for the crowd.
To round out the night was "Loser" and "Kryptonite" with an encore performance of "Here Without You" and "When I'm Gone". Overall it was a great night of great music. Don't miss out on this show if it comes to a city near you, the Rock and Roll Express Tour will be out into September/October 2018.
3 Doors Down – Mohegan Sun Arena Photos
For more info and tour dates from 3 Doors Down, visit:
https://www.3doorsdown.com