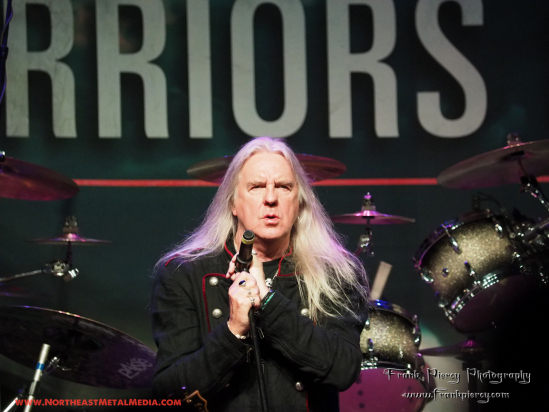 The Stafford Palace Theater
September 12, 2015
Stafford Springs in Northeastern Connecticut has this gem of a place called The Stafford Palace, a former Vaudeville theater with a capacity of about 400 people, with a fantastic and friendly staff who for the last three years now has been bringing some really great shows to this quiet town.
A quiet that was shattered Saturday night by the arrival of three bands, Mindmaze from PA, Armored Saint from L.A. and from across the Atlantic Ocean, one of the New Wave of British Heavy Metal longest running and most underrated bands (at least here in the U.S.) Saxon.
Mindmaze is a band out of Allentown Pennsylvania fronted by Sarah Teets, her brother Jeff Teets on guitar and keyboards and also Rich Pasqualone on bass, I couldn't find the name of their drummer, but they have one to. A great sounding progressive metal band with touches of rock and melodic metal. With the voice and guitar playing of the Teets siblings, I can sense great things down the pike for them. It also doesn't hurt when "This Metal Shows" Don Jamieson asks me about them and states they sound good. Their set was very well received by the rambunctious crowd awaiting the arrival of Armored Saint and Saxon.
Shortly following Mindmaze, a band I haven't seen in almost thirty years. John Bush's voice had not changed at all over the years, Phil Sandoval and Jeff Duncan on guitars blistered the paint on the walls of The Palace with Joey Vera on bass and Gonzo Sandoval on drums hammering the back beat into our heads. Tearing thru a set that included songs off of the new album, such as the title track "Win Hands Down", "An Exercise in Debauchery" and "Mess" interspersed through the classics such as "March of the Saint", "Can You Deliver", "Last Train Home", "Reign of Fire", "Left Hook From Right Field" along with a few more of their songs. Armored Saint tore thru a set and left a crowd standing there with sore necks and ringing ears.
Armored Saint is still touring with Saxon for a few more dates, I highly recommend catching them, you will see why John Bush and Joey Vera both had stints in Anthrax. Check out the Armored Saint photos below.
The turnaround time between bands at The Palace is amazing, could not have been more than fifteen minutes between the time they walked off the stage.
Don Jamieson from VH1 Classic's "This Metal Show" took the stage and revved up the crowd even more introducing the night's headlining band. Saxon!
As the band, Nibbs Carter on bass, Nigel Glockler on drums, Paul Quinn and Doug Scarratt on guitars, take the stage starting into the opening notes of "Motorcycle Man", front man Biff Byford strides out into center stage, and starts into a set that is almost two hours long.
Saxon started out in the mid seventies opening for the likes of Motorhead in Britain and Europe and are also celebrating forty years of being out and rocking the masses. Tearing thru songs such as "Battering Ram", "This Town Rocks", "Sacrifice", and Battering Ram" the night was off to a great start with a mix of the old school and songs off of their upcoming release on October 16th. Biff is a fantastic front man who worked the crowd and banged his head like he was twenty-five again.
The crowd of die hard fans sang along to every word he belted out, to the classics, such as
"Power and the Glory", Solid Ball of Rock", "Broken Heroes", "Heavy Metal Thunder", "Eagle Has Landed", "Never Surrender".
The line up of this band has been together for pretty much since the 80s except for Doug coming aboard around 1996 and you could hear how well they play together all of them putting one hundred percent into the show and reveling in the energy of the crowd.
"Backs to the Wall", "Wheels of Steel", "Ride Like The Wind", "747", "Princess of The Night", and Crusader ended the set, with Biff walking off the stage to a crowd chanting "SAXON" SAXON" "SAXON" a few moments later they come back out to an audience still excited as hell and start into "Strong Arm" and closing the night with a song Biff said was about the audience, about the fans. Then begins "Denim and Leather".
Saxon is currently still touring the U.S., with a handful of dates left before they head back across the water to Europe. This is a classic British Heavy Metal Band, who were never truly appreciated in the States.
Saxon photos below:
Photos & Review by Frank Piercy
Follow Frank Piercy on Twitter at @2_piercy
Follow Northeast Rock Review on Twitter @NERockReview
©2015 NortheastRockReview.com / ®All Rights Reserved Photos by Frank Piercy Photography.
Facebook Comments