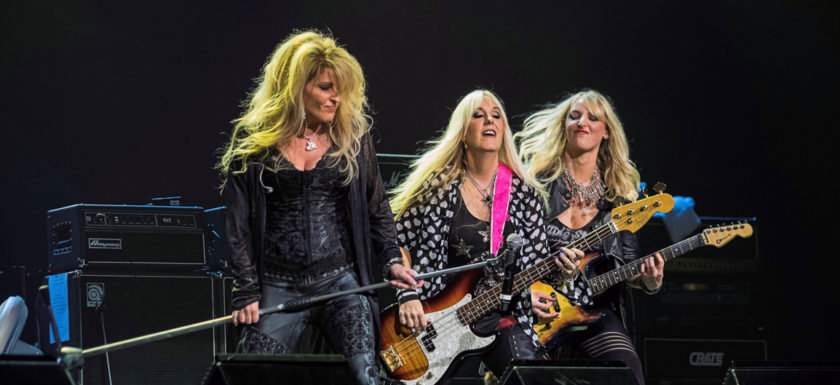 AUTOGRAPH | VIXEN | SLAUGHTER
ROCK OF THE 80's
Mohegan Sun Arena
Uncasville, Connecticut
October 6, 2017
There is nothing like a night at the Casino, and unlike the night before at Hampton Beach Casino in New Hampshire, a Casino with slot machines. This was one of those rare occasions that I actually was given free tickets to a show I actually wanted to go to and get to take the wife with me. I thought what the heck, why not put in to shoot this one, I was going to be there anyways.
Autograph was the first band to hit the stage. I have been a fan of these guys since I first heard "Turn Up The Radio" way back in 1984. Unfortunately, I was not able to see them back then but since lead guitarist Steve Lynch and Bassist Randy Rand put the band back together with Singer/Guitarist Simon Daniels and Drummer Marc Wieland back in 2013, well there is a bit more to that but, needless to say that's the lineup hitting the stage at Mohegan Sun.
AUTOGRAPH
It was also the release date of their newest album, "Get Off Your Ass", nothing like a little CD release party to go with the gambling and the music. The only downside is that they only had 30 minutes to do this and it would be interesting to see what songs they put into the set list.
Well it was only 6 songs long, starting off with "Off The Deep End" and "Loud and Clear" followed by a track off of last years EP "You are Us, We are You" and the lead single off of their new one, "Get Off Your Ass", if you haven't seen the video to this one yet, you need to. I loved it. "Every Generation" kept it going with the newer tunes and they closed out the set with their classic, "Turn Up The Radio" to the singing along of over 5,000 people, quite the change from the 300 or so that usually comes to see them at the Wolf Den here at Mohegan.
The energy given off by Simon during the set is incredible combined with the onstage antics of a ever smiling Randy and it is hard not to have a good time. Steve's playing is just as powerful as it was 30 years ago and is still amazing. Marc ties this all together while sitting behind the drums, consistently pounding out that beat. It was a great set, just wish it was longer than 30 minutes, would've been nice to hear some more off of the new album. Get the new album, go on "Get off Your Ass" and go out and get it.
Next up is another favorite of mine and another Wolf Den regular. Vixen was about to grace the stage with their poise and grace, and some kick ass rock n roll. It was in 1988 that I first spied these lovely women on the television, some archaic station by the name of MTV. Great voice great music and great looking women. Unfortunately, another band I didn't get to see live then, but in 2014 that changed.
Even though I have seen them multiple times over the last 3 years, I was looking forward to seeing them with Britt Lightning, their newest guitarist. The crowd enthusiastically welcomed them out and they started into "Rev It Up" unfortunately there were some sound issues as feedback reared its ugly head a couple of times. Janet Gardner sounded amazing despite it. "How Much Love" and "One Night Alone" followed it up with not much of a break between them. Their hit song "Cryin" was up next. Vixen is one the bands I really enjoy seeing live, I have said it before in my reviews, but I look for bands that act like they are having just as much fun on stage as the audience is having, and Vixen has never disappointed on that. Crowd favorite "I Want You To Rock Me" was next with a bit of Tom Petty's "Free Fallin" thrown into the mix. "Streets of Paradise" followed then Bassist Share Ross took over the mic, and sang "I Don't Need No Doctor" Janet took back over with "Love Made Me" and ended the night with a sing along to "Edge of a Broken Heart."
These women were fantastic and another band that unfortunately needs to have a full set and not a shortened one like that night. Roxy Petrucci is something else behind that drum kit, putting to shame so many other drummers out there today that I have seen. Britt Lightning is a great guitarist and definitely more confident than she was when I saw Vixen at M3 in April. Not much more that I can say without sounding like a rehash of my past reviews.
VIXEN
Lights went down and Jeff "Blando" Bland came out on stage and started abusing his guitar followed by Zoltan Chaney on drums and Dana Strum on bass as they started into "The Wild Life" and then Mark Slaughter comes out blue Solo cup in hand and Slaughter has taken the stage.
Next up is one of my favorite tunes, "Burning Bridges", as a lot of you know Slaughter is made up of the remains of the Vinnie Vincent Invasion and wonder who that song was about. I love songs like that. Mark brings out this beautiful red guitar and they go into "Spend My Life". Watching the band on the stage is the best part of the show, Dana is all over the stage, not standing still for a moment. Amazing how well he plays while doing this. But… it's the drummer, Zoltane is an absolute beast on his kit.  Arms flailing, feet up in the air hitting cymbals sticks flying all over,  jumping off of the kit… Amazing absolutely amazing. Jeff "Blando" Bland is a great guitarist who gave a great performance this evening, under what I am sure was under a great deal of duress, and on behalf of Northeast Rock Review, I would like to offer our deepest condolences. Our thoughts and prayers are with you and your family. Mark Slaughter. This guy was great all over the stage tossing pics and smiling, looking like he was having a great time, even when he came out into the crowd and walked around.
Next up on the bill was a small ditty called "Mad About You" great tune with Jeff's guitar solo in it and a touch of Foghat to it. It was a nice touch. "Eye to Eye" and "Real Love" were next. The night was beginning to draw to close as they went into "Fly to the Angels" another of my favorites from Slaughter since it first was released and then to close out the night their signature song, "Up All Night".
SLAUGHTER
It was a great night of terrific music. Classic 80's style Arena Rock at its best!
Photos & Review by Frank Piercy
Facebook Comments