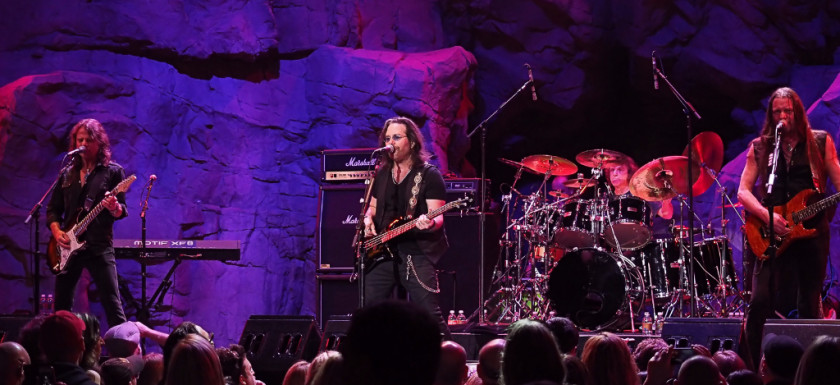 WINGER
March 18, 2016
Mohegan Sun Wolf Den
Uncasville, CT
Once again I am transported back into the 80s, sitting in the New Haven Coliseum watching my favorite shock rocker, Alice Cooper, watching and listening to one of the best backing bands in Rock n Roll back in 1987. Kane Roberts on Guitar, Paul Taylor on keyboards, Ken K. Mary on Drums and a ball of energy who garnered just as much of my attention as Alice and Kane, a bassist who was shortly going to start creating a name for himself with the band I was at Mohegan Sun's Wolf Den on a friday night in 2016 to see. Winger was playing the Wolf Den.
Winger is one of the few bands from the 80s that can claim an almost intact line up, with Kip Winger on bass and lead vocals, Reb Beach and John Roth on guitars and Rod Morgenstein on drums. A group of musicians that are among the most talented out there. You have Reb is also guitarist for Whitesnake, John also plays for Starship, and then there is Rod who is, believe it or not, a Associate Professor at Berklee College of Music. Kip is no slouch either, studying classical music and writing symphonies. Talent, plain and simple.
Bringing them to Connecticut was their latest album, "Better Days Comin", released in April 2014, Winger has been playing around the world in support of this album. The night started off with one of my favorite songs off of "Better Days Comin", "Midnight Driver of a Love Machine", followed by "Easy Come Easy Go" and then another favorite "Hungry" off of their self titled album 'Winger".
I had staked out a spot at the stage in front of guitarist John Roth, and watching him play was a treat, the next time Starship comes around, I will be catching that show.
"Pull Me Under" was next followed by "Deal With The Devil", and "Stone Cold Killer"
Rod Morgenstein followed "Rat Race" with his drum solo, an amazing break in the show while he showcased his talent and showed us why he was awarded Modern Drummers Best Progressive Drummer from 1986 to 1990 and Best All Around Drummer in 1999, but more importantly he teaches percussion at Berklee College of Music.
The crowd inside the Wolf Den along with the people intermingled with the slot machines outside all roared their approval as the drum solo came to an end, and everyone came back out to the stage and started into a block of their most recognizable and loved songs, "Miles Away", Headed For Heartbreak", "Can't Get Enuff" and finally "Madelaine" with Kip all over the stage, interacting with the crowd and his band. Then more of everyone's favorite, the solos.
On the set list it is listed as Saint solo's, and to be honest I don't quite remember this part, other than watching and listening to John play with an uncontrolled passion. I had moved away from the stage and was standing in the back of the Wolf Den dealing with a camera issue that I gave up on as Reb Beach started into his solo.
Kip talked up Reb's solo joking with him as he started playing. Listening to him play and you understand why he is also Whitesnake's guitarist, have I mentioned he has also played with Alice Cooper? His personality came thru in his playing, another musician on the Wolf Den stage who was enjoying what he was doing.
Then into the song everyone was hoping and waiting for "Seventeen" this was supposed to be the end of the set for Winger, but Kip had other ideas, and pulled up an audience member, Alyson Hell from Rhode Island's, "Dead Girls Don't Say No" to sing "Time To Surrender" looks like another local band to watch out for, but that wasn't the end either, a bit of a surprise as another person from the audience to play bass while they played Van Halen's "Ain't Talkin Bout Love" I didn't catch his name, but it was a great sing along to end the show to.
It was a great show with Kip all over the stage working the crowd with a smile on his face the whole show, from high fives to pulling up audience members to the stage, he wowed us all. It is hard to tell that it has been almost thirty years since I had seen him on stage with Alice, the energy was still there, dare I say it… Even more energy now.

You can find out more about Winger at their website
www.wingertheband.com
Facebook
https://www.facebook.com/Officialwinger
Photos & Review by Frank Piercy
Follow Frank on Twitter