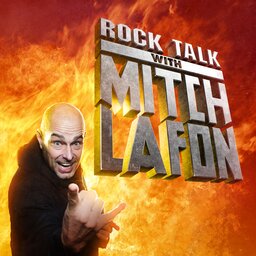 ROCK TALK WITH MITCH LAFON: Uriah Heep, Jim Peterik and Jim Vallance
May 9, 2019
On this episode of ROCK TALK WITH MITCH LAFON. New interviews with Uriah Heep's Mick Box, Jim Peterik and songwriter Jim Vallance. Co-host is Jim Peterik.
The show starts off with Mitch Lafon and co-host Jim Peterik discussing Uriah Heep's cover of his song "Across The Miles".
In the first interview, Uriah Heep's Mick Box discussed the band's current tour with Judas Priest, the latest album Living The Dream, making new music, drummer Lee Kerslake, Heep singers, how his songwriting has changed, upcoming 50th anniversary plans, keeping the brand name alive, keyboardist Phil Lanzon, and much more. Listen and find out why Ozzy has a lot to thank Mick for.
In the second interview, Grammy winner Jim Peterik of the Ides of March (formerly of Survivor and of .38 Special fame) discusses his new album (Jim Peterik & World Stage – Winds Of Change), the different guests on the album including Loverboy's Mike Reno, Dennis DeYoung, Jimi Jamison, REO Speedwagon's Kevin Cronin and many more. Also, he talks about meeting Work Of Art and melodicrock's Andrew McNiece, new recording techniques, being in so many band/brands, where do the songs 'come from', writing with CHEAP TRICK for their Woke Up With A Monster album, and much more.
The episode ends with a new interview with JIM VALLANCE a part two if you will from our previous chat, but this time ALAN NIVEN sits in. They discuss songwriting, Summer Of '69, Aerosmith, cover versions of his songs, The Beatles, Pretty Woman: The Musical on Broadway and more. VISIT: https://prettywomanthemusical.com
FOLLOW MITCH LAFON at:
Twitter: @mitchlafon
Instagram: @mitch_lafon

MITCH MERCH available now: https://loudtrax.com/search/?s=mitch