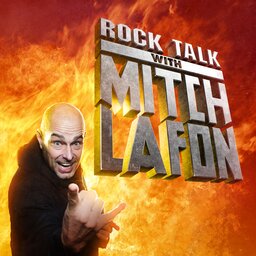 ROCK TALK WITH MITCH LAFON
Multi-Interview Edition
Listen to this assortment of recent Rock related Podcast Interviews.
June 12, 2019
Geoff Tate discusses his latest project SWEET OBLIVION, comments on current Queensrÿche, touring with Avantasia, the 'ordeal' of recording in a studio, new material that he's been working on and wants to release, is Operation:Mindcrime the band continuing or will he be Geoff Tate solo from now on, will the Operation:Mindcrime album ever die, playing with different musicians over the last few years, his time living in Montreal and more.
Corey Glover discusses mental health, thirty years of Vivid, looks back at his Hymns solo album, upcoming projects, the next new Living Colour album, being labelled in rock, Ultraphonix with George Lynch, how the song Middle Man from their debut album VIVID was actually a suicide note that he penned, Celebrating Bowie, and much more.
Steve Stevents of Billy Idol. In the interview, we discuss his new band Deadland Ritual (with Geezer Butler, Matt Sorum and Franky Perez), the upcoming Bryan Adams/Billy Idol tour, Vince Neil, his guitar style & approach, new Billy Idol music, thinking about doing a solo record, the REBEL YELL album producer Keith Forsey, manager Bill Aucoin and much more.
Ginger Wildheart & Alan Niven discuss mental health and are open & honest about their recent suicide attempts.
SUICIDE PREVENTION HOTLINE in Canada: http://www.crisisservicescanada.ca
SUICIDE PREVENTION in the US: https://suicidepreventionlifeline.org
IN THE UK: https://www.nhs.uk/conditions/suicide/
Mitch Lafon
Music journalist
Rock Talk With Mitch Lafon
FOR MORE MITCH LAFON, Follow:
Twitter: @mitchlafon
Instagram: @mitch_lafon
LISTEN to Rock Talk With Mitch Lafon on iHeart:
https://www.iheart.com/podcast/269-rock-talk-with-mitch-lafon-30756303/
Get your MITCH MERCH here: https://loudtrax.com/search/Mitch
Rock Talk With Mitch Lafon is available via:
1. iHeart radio
2. Spotify
3. Apple Podcasts
4. GooglePlay
5. Amazon Alexa
6. TuneIn
7. Google Podcasts
8. Stitcher
9. YouTube