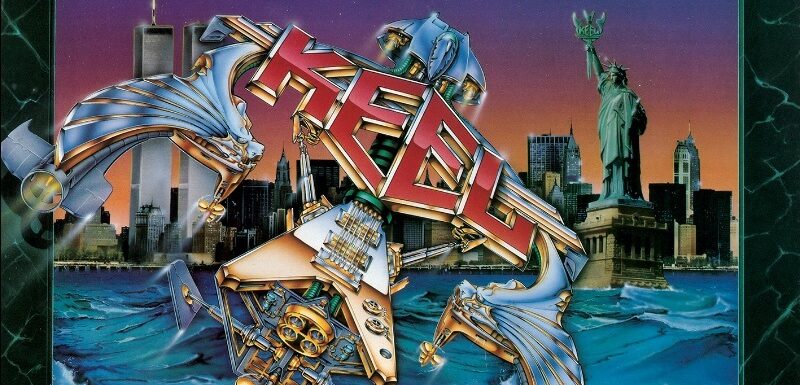 Rock Candy Records Announces Release of Remastered KEEL and FASTWAY Albums
KEEL "THE FINAL FRONTIER" & "KEEL | FASTWAY "TRICK OR TREAT"
November 20, 2019
Rock Candy Records have announced the release of remastered albums from KEEL and FASTWAY. These Rock Candy Records releases are 24-bit remastering from the original source tapes, weighty essays about the making of the album, full artist involvement, new interviews, enhanced artwork and additional photos spread out over large full-color booklets. See below for full details about each release.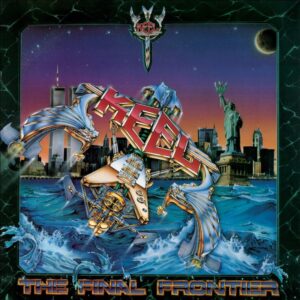 KEEL – THE FINAL FRONTIER
Produced by mentor and KISS bassist, Gene Simmons, 'The Final Frontier' is a superbly crafted album that fully underscored Keel's potential. The record boasts ten razor-sharp hard rock nuggets, cementing a musical reputation that fully justified their stature. Issued in 1986, the record boasted a lean and mean selection of tracks, including 'Tears Of Fire', 'Rock And Roll Animal' and a captivating cover of the Bruce Springsteen/Patti Smith penned 'Because The Night'. Wrapped up in one of the most compelling sleeves of the era, the album stands proud as a high-point in a career that accelerated this fine band into the hearts and minds of rock fans across the globe.
Fully Remastered Audio, 16 page full color booklet, 3,500 word essay, new liner notes by Malcolm Dome, enhanced artwork, previously unpublished photos and new band interview.
The Final Frontier Track Listing
1.THE FINAL FRONTIER
2.ROCK AND ROLL ANIMAL
3.BECAUSE THE NIGHT
4.HERE TODAY, GONE TOMORROW
5.ARM AND A LEG
6.RAISED ON ROCK
7.JUST ANOTHER GIRL
8.TEARS OF FIRE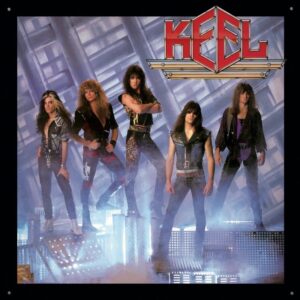 KEEL – KEEL
Recruiting super producer Michael Wagener (MOTLEY CRUE, OZZY OSBOURNE and ACCEPT), Keel wasted little time in laying down the law for their next album, crafting a sound that combined all the exciting elements of contemporary hard rock. Wagener's crystal clean production paid handsome dividends, whilst one or two of the songs benefited by choice co-writes from Jack Ponti (Bon Jovi co writer) and Dio's Jimmy Bain. Check out 'Calm Before The Storm', 'Cherry Lane', the cheeky 'I Said The Wrong Thing To The Right Girl', and the album's first single 'Somebody's Waiting'. This album is a fine and near perfect example of red hot rock from an era that embraced the style and sound that Keel perfectly embodied.
This album contains fully remastered audio, a 16 page full color booklet, 3,500 word essay, enhanced artwork, unseen photos and new interview with the band.
Keel Track Listing:
1.UNITED NATIONS
2. SOMEBODY'S WAITING
3.CHERRY LANE
4.CALM BEFORE THE STORM
5.KING OF ROCK
6.IT'S A JUNGLE OUT THERE
7.I SAID THE WRONG THING TO THE RIGHT GIRL
8.DON'T SAY YOU LOVE ME
9.IF LOVE IS A CRIME (I WANNA BE CONVICTED)
10.4TH OF JULY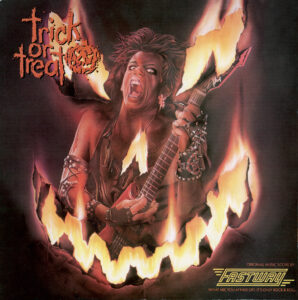 FASTWAY – TRICK OR TREAT
Despite Fastway's early acceptance and good fortune with their debut album, subsequent albums failed to capitalize on that initial success. 'Trick Or Treat' was the band's fourth album, and showcased solid songwriting of some new songs and a sound and swagger crafted from the very best of British blues rock. It was an unusual creation, being effectively the soundtrack to a fairly successful heavy metal horror film, issued November 1986, one month after the film's commercial release. Their thick raunchy sound was firmly back on track, allowing 'Fast' Eddie Clarke to rip it up in fine form with Dave King's vocals taking center stage.
This album contains fully remastered audio, a 16 page full color booklet, 3,500 word essay, enhanced artwork, memorabilia, rare photos and quotes from Fast Eddie Clarke.
Trick or Treat Track Listing:
1.TRICK OR TREAT
2.AFTER MIDNIGHT
3.DON'T STOP THE FIGHT
4.STAND UP
5.TEAR DOWN THE WALLS
6.GET TOUGH
7.HOLD ON TO THE NIGHT
8.HEFT
9.IF YOU COULD SEE
These great albums are available now from ROCK CANDY RECORDS at https://www.rockcandyrecords.com