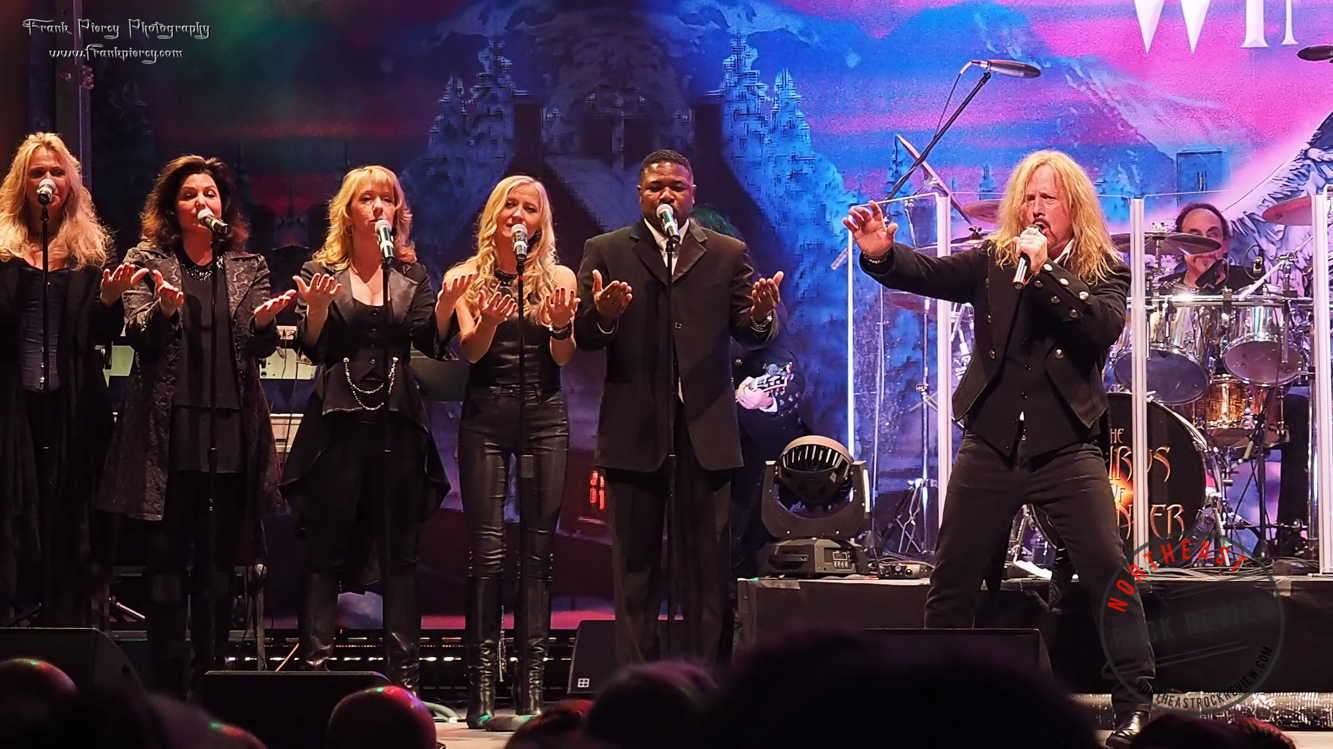 December 9, 2015
Ridgefield Playhouse
Ridgefield, CT
There are a few things that are a traditions this time of year. Houses emblazoned with festive lights, Christmas Tree vendors on every corner, Salvation Army bell ringers at every store, Rudolph the Red Nosed Reindeer on TV and Christmas music.
And speaking of Christmas Music…
There is a group of Progressive Rock Musicians from around here in the New York, New Jersey and Connecticut area that have banded together to perform their own and renderings of classic Christmas songs in a style very similar to Trans Siberian Orchestra.
Wizards of Winter started as the brainchild of Scott Kelly as a way for him to help a local food pantry raise funds. This TSO tribute band grew from there, playing to packed houses and releasing two albums of their own inspired music and no longer a TSO tribute band. It is this success and growing popularity that brought them to a very packed Ridgefield Playhouse.
The crowd was full of people of all ages, from a young teenage girl sitting next to me working on her math homework, when I found my seat, to the group of friends my age sitting behind me who were filling their evening with wine and camaraderie. The lights came down and the cheers came up as the evening began.
Scott Kelly took his spot at the keyboards, Tommy Ference sat down at his drums and guitarists Fred Gorhau and TW Durfy took their spots as well as pianist/vocalist Mary McIntyre, violinist Natalia Nierezka and Sharon Kelly flutist/vocalist along with bass Greg Smith.
Then the music began…
After a few moments the first of two former Tran Siberian Orchestra players makes his entrance, the narrator of the evening's story, and former narrator for TSO, Tony Gaynor. A few songs later and unfortunately after my three song limit, another former TSO member came to the stage for a song, vocalist Guy LeMonnier. It was shortly after that other members came to the stage, Donna DeLucia, vocalist and Vinny Giovino the long haired rock n roll vocalist to Guy's classic voice.
As they were so kind to point out to the excited audience at The Ridgefield Playhouse, they are not Trans Siberian Orchestra. Honestly if you came to this expecting to see TSO or an elaborate show like that, you will be disappointed. There is no strobes flashing every couple of seconds, no snow falling from the ceiling, no catwalks out over the audience.
I was not disappointed, I was very impressed. The guitar skills of Fred and TW were fantastic and both complimented each other very well. Listening to Tony's voice narrate this show was like listening to an old friend and the vocal performances were on the money. Scott's playing and friendly chats to the audience were fantastic. Natalia is the violinist and watching her play was great, smiling the whole show. Sharon brought an ethereal feeling to the set with her flute playing. Listening to the different styles of music weaved into this showcasing the differences in voices that Sharon, Guy, Donna, Vinny and Mary have.
They did two sets with a brief intermission between the two sets with a mix of songs off of their two albums, "Wizards of Winter" and their newest "The Magic of Winter" along with a couple of TSO tunes thrown in for good measure. Then after a few moments they came out to lobby and met with fans young and old. It is heartwarming to see older folks (well older than me, there were a few in their 60s and 70s there this evening) excited to be in a line to get autographs and shake hands.I had a great evening and can't wait till the next they are in town.
They are on tour for the few weeks and you can find their tour dates on their website.
For more on Wizards of Winter check out the following links.
Wizards of Winter Website
http://www.thewizardsofwinter.com/home
Wizards of Winter Facebook Page
https://www.facebook.com/TheWizardsofWinter
Wizards of Winter Twitter Page
https://twitter.com/wizardsofwinter
Wizards of Winter Youtube Page
https://www.youtube.com/user/thewizardsofwinter
Photos & Review by Frank Piercy
Follow Frank on Twitter
Facebook Comments