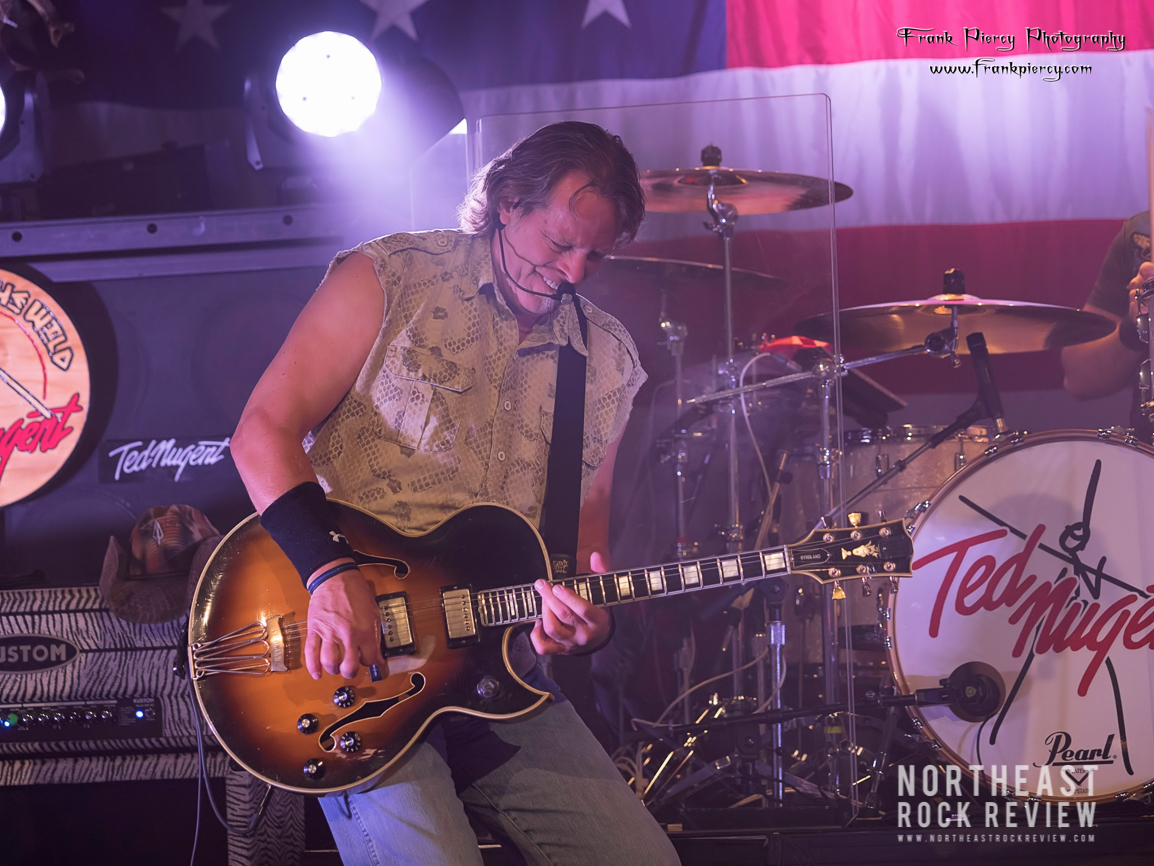 TED NUGENT
The Chance Theater
Poughkeepsie NY
August 14, 2017
Mondays suck. The weekend is over and it is back to work for 7am. They really suck. There is only one thing that can put any kind of dent into that dreaded funk of having the Mondays, and that is a kick ass live Rock n Roll show! Ted Nugent knocked that arrow and pulled the bowstring back… Monday was about to be taken out by The Whackmaster himself.
As per usual, I didn't show up when the doors opened at The Chance. I showed up about 20 minutes after they opened, but still had a lot of time. Especially considering there was still a very long line waiting to get in. The turn out for a Monday night show was amazing, but then it was Ted Nugent.
The opening band for Ted, is a band that is Los Angeles based. Derek Day, an up and coming guitarist with a lot of energy and a great band. Derek was all over the stage while his drummer Tosha Jones, beat the HOLY CRAP out of her drums. Steak Lyons is the bassist that held it all together for the set.
Derek Day
That trio put on a great set of original songs and a cover or two, well worth getting there
and seeing this trio. I recommend giving them a shot.
It was time for the hunt to begin. The Chance was packed, when the lights went down the roar was deafening. Bright lights lit up the stage blinding us as Ted took the stage as a silhouette.
The night started with a rendition of the "The Star Spangled Banner" and continued on with a mix of his classics, 'Cat Scratch Fever", Stranglehold", "Free For All", "Good Friends and a Bottle of Wine", "Fred Bear" and I want to say he played on of my favorites, "Spirit of the Wild" but I could be wrong, He did close the night out with everyone's favorite "Great White Buffalo".
Of course that's just a smattering of what was played.
Ted did not disappoint, with fantastic playing and not too much banter thrown in. Though, personally, I would've liked to have heard some more talking, especially a little bit more about the songs. He has a 50 year career that I am sure has some really colorful moments.
Ted's backing band is down to just a couple of players, Greg Smith on Bass, who has played with Alice Cooper, Wizards of Winter and many more. On drums is a young kid from Detroit, Jason Hartless. A talented kid who has already made his mark.
There are still a few more dates to this summer tour, ticket prices are not bad at all.
Get out of the house, go see a show. Go see Ted live!
Check out the photos from the show:

Facebook Comments