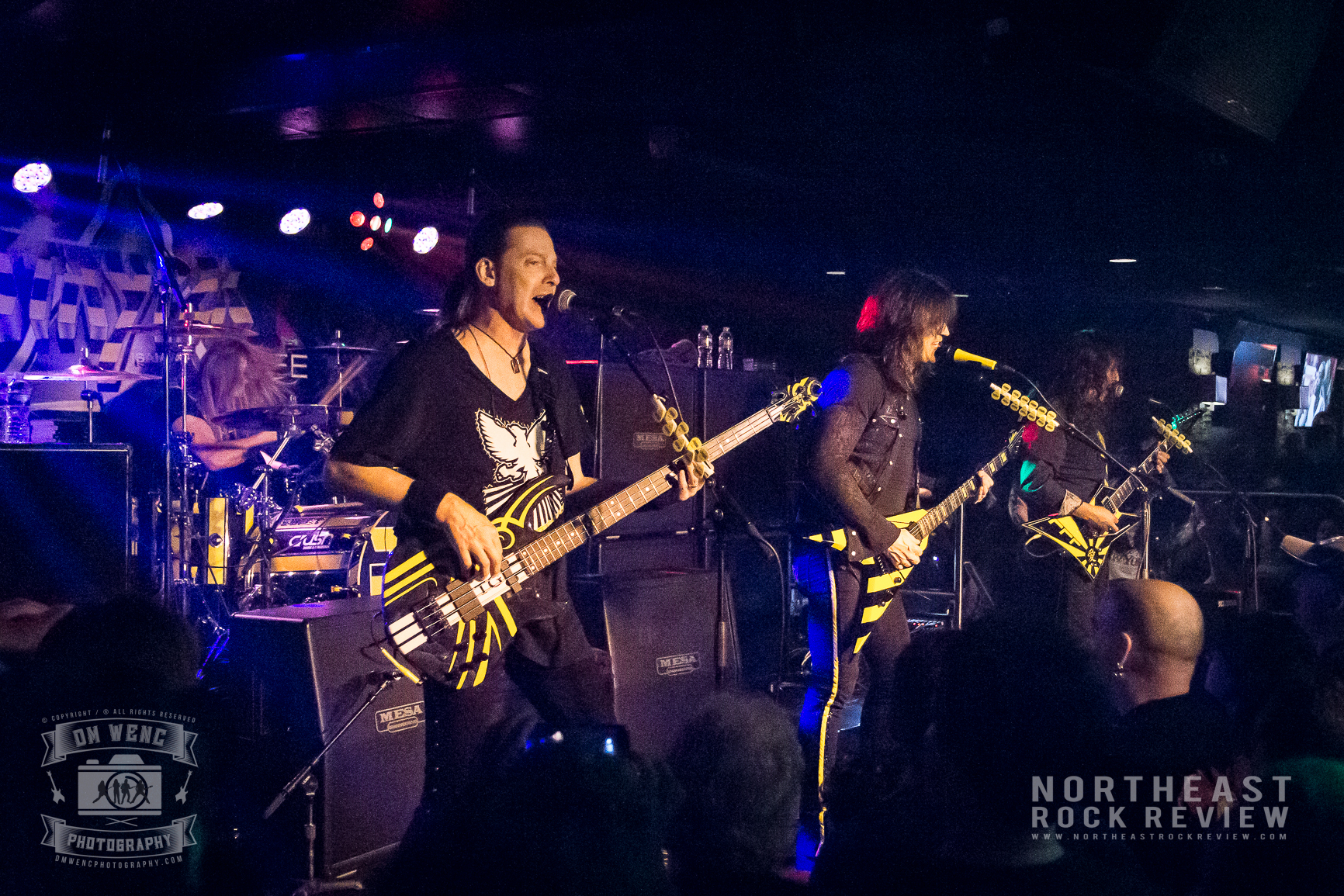 STRYPER
June 10, 2016
MIXX 360 Nightlife
Malden, Massachusetts
Reason #777 why rock is not dead, STRYPER. The Yellow and Black Attack provided the SOLD OUT crowd full of die hard fans with a spectacular show that night at MIXX 360 Nightlife in Malden, Massachusetts. It really is something amazing when you head out to a rock show to see a legendary band from one of the greatest eras of rock n' roll, the 80's, and they continue to sound as amazing as they did thirty years ago.
That night was the second stop for STRYPER as part of their 2016 Fallen tour. It was a high energy show filled with STRYPER classics with sound quality and musicianship as the day they were first recorded. The crowd was filled with fans bearing STRYPER shirts, hats and even a Massachusetts STRYPER license plate was spotted.
MIXX 360 in Malden was a pretty cool place to see a show. It was clean and very spacious, with plenty of good spots to see the stage. They also offered VIP tables that seemed to sell out way ahead of time.
The night started off with local, Boston area based band, MASS. MASS had been making music since the mid 80's also. In 1988, MASS released their fourth record, Voices in the Night, on Enigma. Michael Sweet was the producer. MASS has performed with many bands of the 80's rock era in the past. MASS performed a great thirteen song set filled with a mix of songs from their various albums over the years. CLICK HERE TO SEE THE PHOTOS FROM MASS
At around 11:00 PM STRYPER took the stage and the crowd were soldiers under their command. Michael Sweet and the band took the stage and Michael began with some greetings to the crowd and started off the night with "Yahweh".
Throughout the night, Michael engaged in some genuine conversation, stories and more with the crowd between songs. Michael talked about how it was clear that rock was not dead, and it was evident from the turnout that night by the fans. Michael also spoke of the possibilities that the next STRYPER tour may have the band back in the old yellow and black apparel from days gone by and jokingly encouraged fans to break out their old spandex also. This performance was somewhat of a 'hometown' show for Michael. He said that he moved to Massachusetts from California in 1995 and it has been his home ever since. Michael had many friends and family along with him to watch the show.
STRYPER has always had a signature drum sound courtesy of Robert Sweet. That distinct STRYPER drum sounds mixed in with the hard and heavy bass styling of Timothy Gaines, a combo that sounded great that night and you could feel the sound going right through you.
STRYPER is one of the handful of bands of the 80's that has retained all original members, plus they still have the great hair to go along with it. STRYPER sounds almost better than ever, and it is great to see them still out on the road, making new music and playing all the classics.
STRYPER also included covers of Black Sabbath's (RJD) "Heaven & Hell" followed up with KISS' "Shout It Out Loud".
Here is the complete set list from the night:
Yahweh
You Know What TO Do
Always There For You
God
Revelation
Rock The People
Come On Rock
Lady
All For One
Surrender
In God We Trust
No More Hell to Pay
King of Kings
Soldiers Under Command
Encore:
Makes Me Wanna Sing
Calling On You / Free / To Hell With The Devil Medley
STRYPER is still out on tour for 2016, be sure to check them out at a city near you. CLICK HERE for STRYPER 2016 Tour Dates.
STRYPER is:
Michael Sweet – Lead vocals/Guitar
Oz Fox – Guitar
Timothy Gaines – Bass
Robert Sweet – Drums
Check out the photos from the show:

Photos by Dan Wenc at dmwpictures.com
For more info on STRYPER:
STRYPER on Facebook
@STRYPER on Twitter
STRYPER on YouTube
Facebook Comments