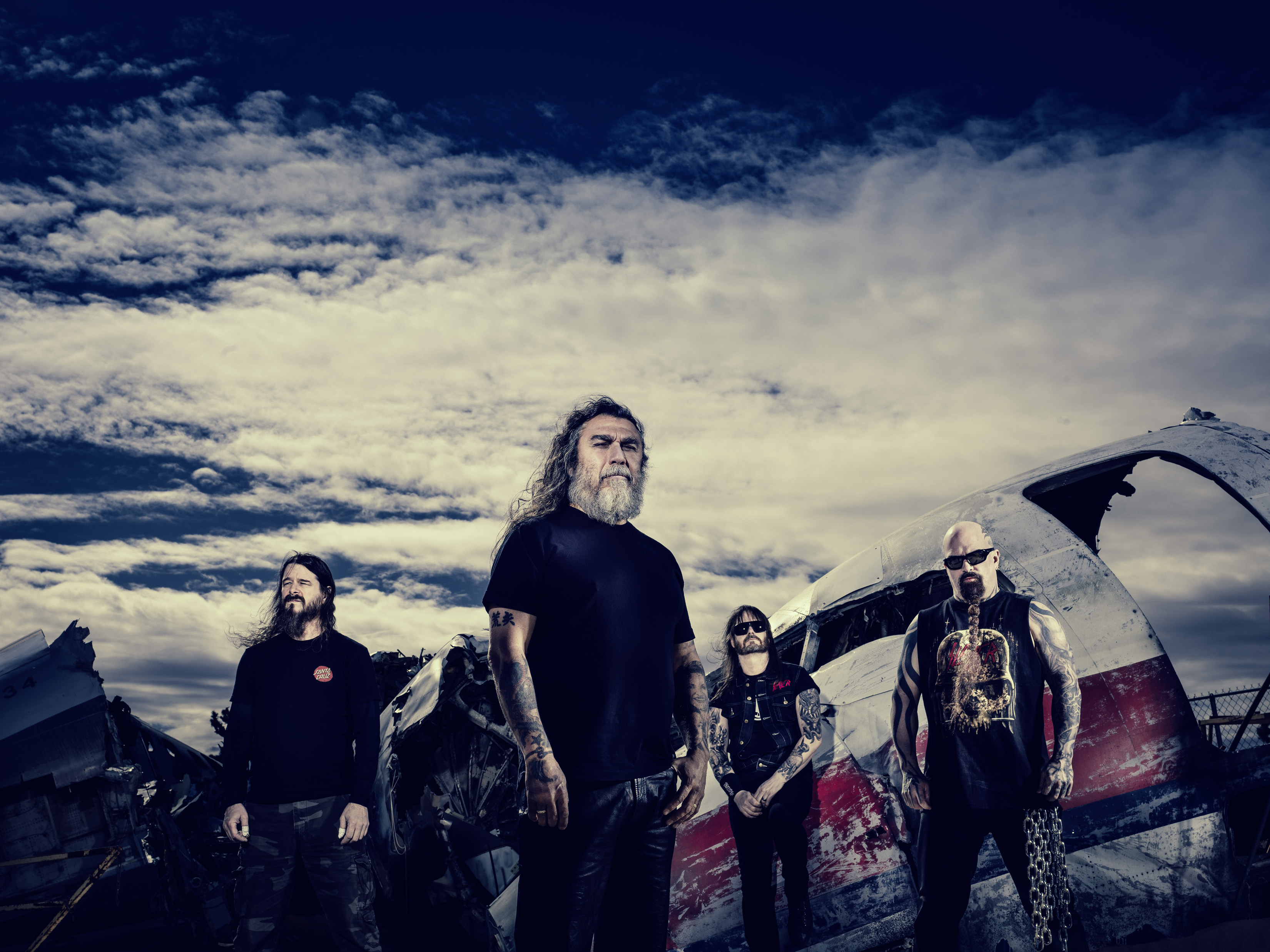 SLAYER – LAMB OF GOD – BEHEMOTH
Spreading The Apocalypyse This Summer – Tour About to Get Underway
Cover Photo Courtesy herFITZpr: : L-R: Paul Bostaph, Tom Araya, Gary Holt, Kerry King — Photo credit: Martin Hausler
July 6, 2017
There are many perilous ways one can spend time off – Volcano-boarding down Cerro Negro, Nicaragua's active volcano, or maybe bungee jumping from a helicopter over the bubbling crater of Chile's Villarrica volcano. How about a visit to Sao Paulo's Snake Island, home of some 4000 golden lancehead vipers whose venom can melt human flesh, or shark diving without a cage in South Africa. But nothing is quite as hazardous or risky as a night in the pit at a Slayer concert. Add to that the ferociousness of Lamb of God and Behemoth, and you've got a Satan-approved triple bill of Biblical proportions.
The six-week expedition will rage across North America beginning July 12 in Bemidji, MN, winding up in Phoenix, AZ on August 20. Slayer and Lamb of God will also play Wisconsin's Rock Fest 2017 (7/13) and Rock USA 2017 (7/15), and then meet up with Behemoth at the Chicago Open Air Festival on July 16. For tickets, log on to www.slayer.net/tour for all purchasing details.
Kerry King of Slayer said about the tour, "As metal tours go, this is the one that your fellow metal heads will be bragging about if you miss it! Not very often I get to go on tour where we are all friends to start. That being said, the potential for greatness at these events is mind blowing. I look forward to being a part of it, and hanging with old friends- bands as well as fanatical fans! Let the festivities begin!!"
For more than three decades, Slayer's onslaught has proven the band to be the supreme thrash-metal band on the planet, the band that other heavy acts are measured against and aspire to. Their membership in "The Big Four" – Metallica, Slayer, Megadeth and Anthrax – the four bands that defined the thrash/metal genre – secures their place in music history. The two-time Grammy-winners have also accumulated an abundance of certified Gold Albums along with "Best…" awards from media outlets all over the world, including Kerrang!, SPIN, Metal Hammer, Revolver, and Esquire. Throughout Slayer's history, the band has never faltered in unleashing its extreme and focused sonic assault, and, unlike many of its contemporaries who commercialized their sound, Slayer has remained crushing and brutal, steadfastly refusing to cater to the mainstream. Slayer's founding member, guitarist Jeff Hanneman passed in 2013, and Exodus guitarist Gary Holt has been filling in for him since. Paul Bostaph, who was Slayer's drummer from '94 – '01, has rejoined bassist/vocalist Tom Araya and guitarist Kerry King, and is back behind the kit.
Randy Blythe of Lamb of God said "It's been a while since we've toured with the almighty Slayer, & even longer since we've hit the road with our friends in Behemoth- I can't wait! This tour is gonna be the feel-good event of the summer- the gigs are gonna be like the Haight-Ashbury during the Summer of Love in '67! Ok, so that's complete bullshit, it's gonna be absolutely nothing like that, so don't show up with flowers in your hair looking for free hugs or anything stupid like that. It will definitely be a good fucking time though (as long as your definition of a good time means brutal, caustic, and hideously loud music) – see ya there!"
In September 2015, Slayer released Repentless, the band's 12th studio album, the first without Hanneman and first with producer Terry Date, to widespread rave reviews and the highest chart debut of the band's career. The band also teamed up with director BJ McDonnell for three high-concept and brutal music videos for the album's title track, then for "You Against You," and the most recent, "Pride in Prejudice." Dark Horse Comics is publishing a three-issue comic book series based on McDonnell's original story concept for the videos and written by "Metalocalypse" director Jon Schnepp. Issue #1 was released January 25, 2017, with #2 and #3 were released in February and late March, respectively.
Adam "Nergal" Darski' of Behemoth said "It is with the utmost pride we are announcing the Slayer, Lamb Of God and Behemoth Summer tour! We are beyond excited to be joining this bill with these living legends and our friends one more time! We are also stoked about coming back to North American shores for the last time before kicking off the next album cycle. Come and join this EXTREME metal feast with us!"
ORDER IT HERE:
SLAYER is:
Tom Araya – Bass/Lead Vocals
Kerry King – Guitar/Vocals
Paul Bostaph – Drums/Percussion
Gary Holt – Guitar
CHECK OUT THE TOUR DATES IN YOUR AREA:
JULY
12 Sanford Center, Bemidji, MN
13 Rock Fest 2017, Cadott, WI (Slayer and Lamb of God on this bill)
15 Rock USA 2017, Ford Festival Park, Oshkosh, WI (Slayer and Lamb of God on this bill)
16 Chicago Open Air Festival, Toyota Park, Chicago, IL (Slayer, Lamb of God and Behemoth on this bill)
18 Express Live!, Columbus, OH
20 Red Hat Amphitheater, Raleigh, NC
21 St. Augustine Amphitheater, St. Augustine, FL
23 Electric Factory Outdoors, Philadelphia, PA
25 Blue Hills Bank Pavilion, Boston, MA
27 Theater at Madison Square Garden, New York, NY
28 Pier Six Pavilion, Baltimore, MD
30 Municipal Auditorium, Nashville, TN
AUGUST
1 Providence Medical Center Amphitheater, Bonner Springs, KS
2 1stBank Center, Denver, CO
4 The Joint/Hard Rock Hotel, Las Vegas, NV
5 The Forum, Los Angeles, CA
9 Bill Graham Civic Auditorium, San Francisco, CA
11 The Cuthbert Amphitheater, Eugene, OR
12 WaMu Theatre, Seattle, WA
14 Encana Events Center, Dawson Creek, BC CANADA
15 SMS Equipment Stadium, Fort McMurray, AB CANADA
17 KettleHouse Amphitheater, Missoula, MT
19 Isleta Amphitheater, Albuquerque, NM
20 Comerica Theatre, Phoenix, AZ
FOR MORE INFO CHECK OUT:
SLAYER OFFICIAL WEBPAGE
https://www.slayer.com
Facebook
https://www.facebook.com/slayer
YouTube
https://www.youtube.com/user/slayer
Twitter: @Slayer
Facebook Comments