ROCK TALK WITH MITCH LAFON: Sons Of Apollo, Van Halen & Act Of Defiance
Rock Talk With Mitch Lafon is your source for extraordinary interviews with some of the best artists in the world of rock n' roll.
LISTEN HERE:
In this episode, keyboardist Derek Sherinian discusses new band Sons Of Apollo and their new album Psychotic Symphony, the future of Black Country Communion, and look back at his work with KISS, Alice Cooper and Billy Idol.
Mitch's second interview is with former Van Halen & Sex Pistols insider, Noel E. Monk. He discusses his new book Runnin' With the Devil: A Backstage Pass Into the Wild Times, Loud Rock and the Down and Dirty Truth Behind the Making of Van Halen. Sammy Hagar fans be warned!
And lastly, guitarist Chris Broderick discusses Act Of Defiance's latest album, Old Scars New Wounds.
Mitch also discusses the upcoming Judas Priest Firepower tour with Black Star Riders & Saxon. And walks you through singer Ricky Warwick's solo discography.
Mitch Lafon
Music journalist and so much more…
Listen to Rock Talk With Mitch Lafon (part of The Jericho Network) on PodcastOne.
For More on Mitch Lafon
Twitter: @mitchlafon
"Rock Talk with Mitch Lafon" – iTunes link
https://itunes.apple.com/us/podcast/id1218868456
"Rock Talk with Mitch Lafon" – PodcastOne link
www.podcastone.com/rock-talk-with-mitch-lafon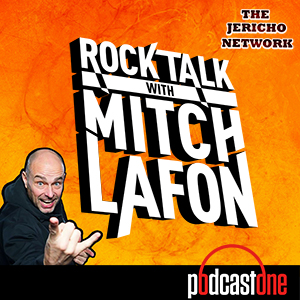 Facebook Comments